Tom Ehrlich - 2007-12-03 SOB's NYC
PEDRO MARTÍNEZ PROJECT WITH ILEANA SANTAMARÍA
"CHANGÓ CELEBRATION"
SOB'S NEW YORK CITY DECEMBER 3, 2007
PHOTOS AND TEXT BY TOM EHRLICH ©2007
PEDRO MARTÍNEZ PROJECT WAS:
PEDRO MARTÍNEZ - Leader, vocals, dance, percussion
MAURICIO HERRERA- drum set, congas
AXEL TOCA LAUGART - keyboards
PANAGIOTIS ANDREOU - bass
RON BLAKE - sax
MICHAEL RODRÍGUEZ - trumpet
ILEANA SANTAMARÍA - vocals and dance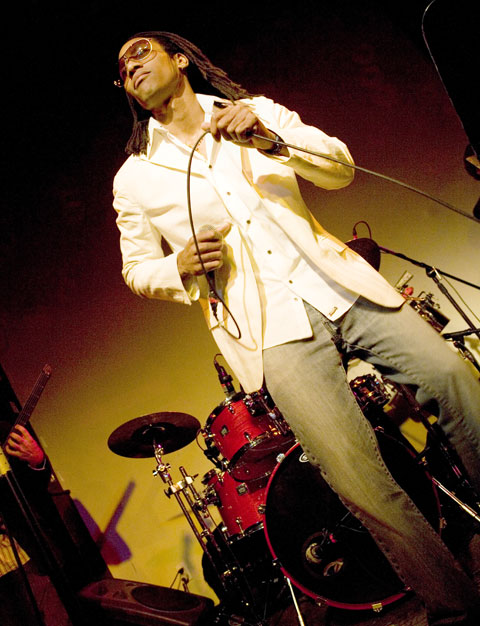 Pedro Martínez
The Pedro Martínez Project performed at SOB's in New York City in what was billed as a Changó Celebration. The music was an exciting combination of rumba, timba and yoruban and other afro-cuban chants/rhythms. For most of the two sets timba type music predominated, keeping the dance floor full. Pedro Martínez, one of the best young percussionists in the world, is a first call percussionist and afro-cuban singer for many dance and jazz projects, as well as being a major member of the New York City group, Yerba Buena. Pedro did perform a few rumba type numbers on congas with Mauricio Herrera also on congas. Mauricio is a former member of Paulito's band as well as Pachito Alonso's. He is a dynamic, butt kicking drummer on the drum set as well as on the congas. Ileana Santamaría, the youngest daughter of the legendary Mongo Santamaría, shared vocals and dance duties with Pedro. She combines a good voice and dance skills with a great stage personality. The horn section included two heavy duty jazz players, Ron Blake on sax and Michael Rodríguez on trumpet. Both of these players have their own groups and recordings as well as playing on many other jazz projects. All in all this was a great band with an exciting sound, with strong performances by all. The only suggestion I would have is more horn parts would have improved the arrangements. My appologies for not including a photo of bass player Panagiotis Andreou.
In-between sets, the Afro-Peruvian group Kambalache Negro performed, including two different Afro-Peruvian dance groups. Their percussion based music was also exciting and they kept the crowd engaged during their performance.
After Pedro Martínez's second set, Pedro and two other drummers broke out the batás and performed an authentic Changó ceremony which included dancer Félix (Pupy) Insua, who performed with the famous group Yoruba Andabo in Cuba.
The crowd got more than their money's worth with this show, with a great variety of Afro-Caribbean music presented by producer Pagán and SOB's.
Check out Ileana Santamaría's group Timba/Son/Rumba with Pedro Martínez at SOB's in NYC on 12/16/2007 for a San Lázaro Celebration for some more exciting afro-cuban dance music.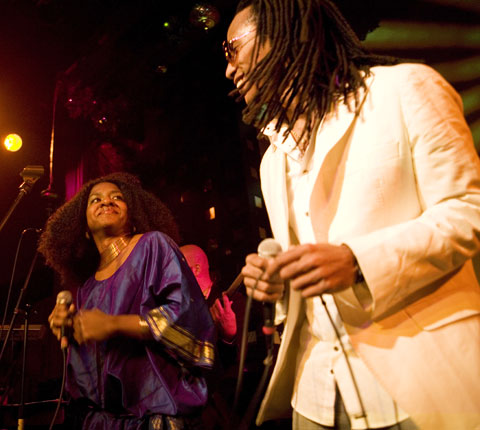 Ileana Santamaría and Pedro Martínez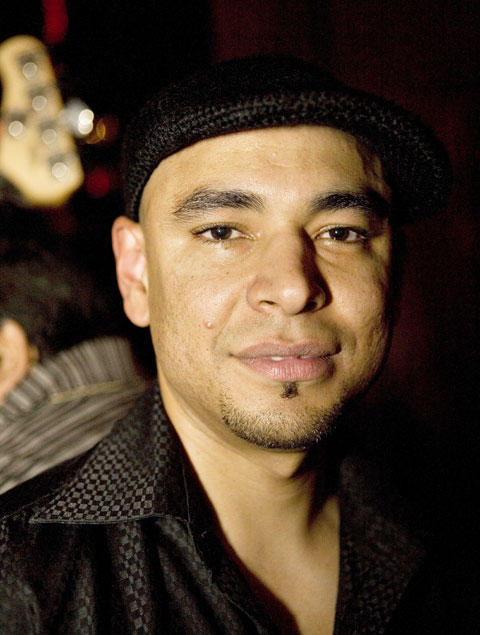 Mauricio Herrera - drum set and congas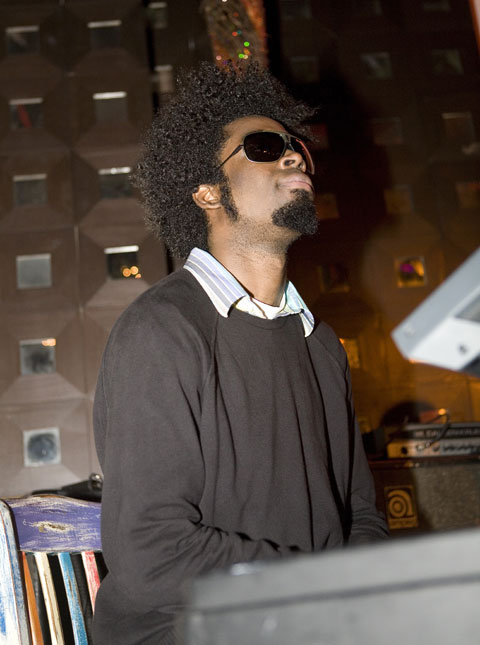 Axel Toca Laugart - keyboards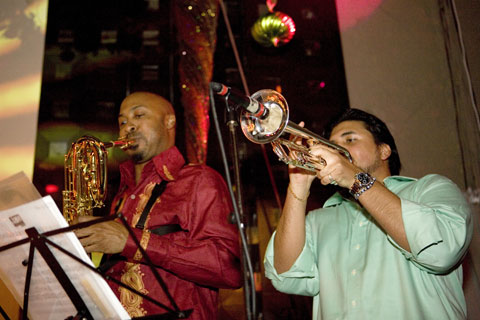 Ron Blake, sax and Michael Rodriguez, trumpet

Ileana Santamaría vocals and dance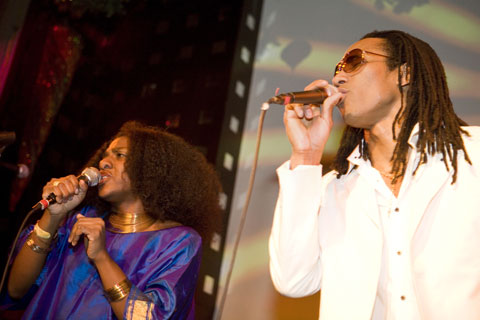 Ileana Santamaría and Pedro Martínez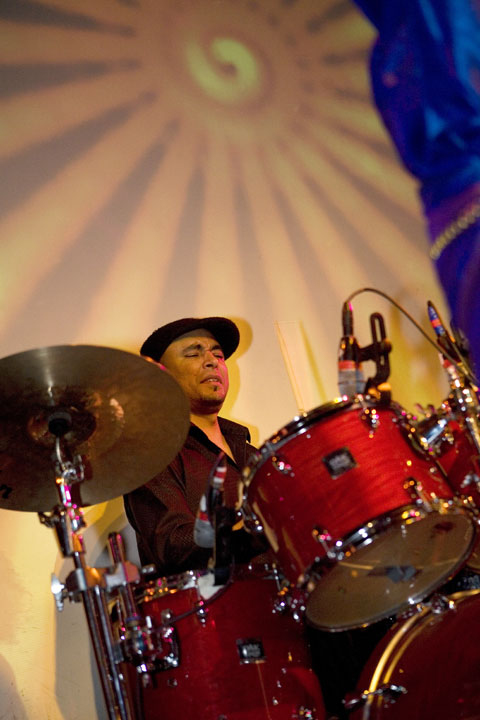 Mauricio Herrera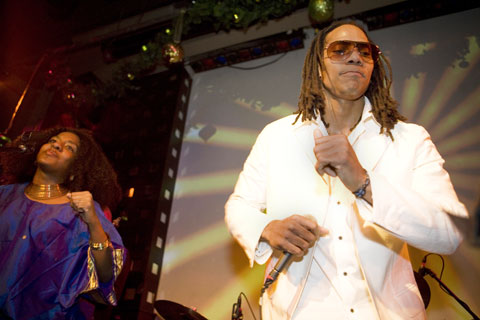 Ileana Santamaría and Pedro Martínez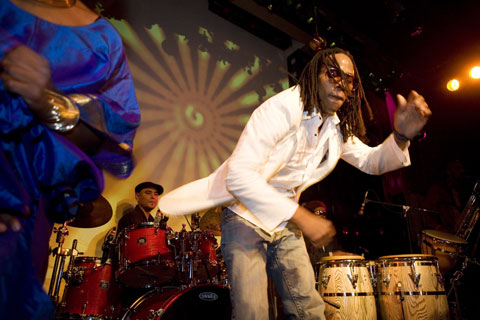 Pedro Martínez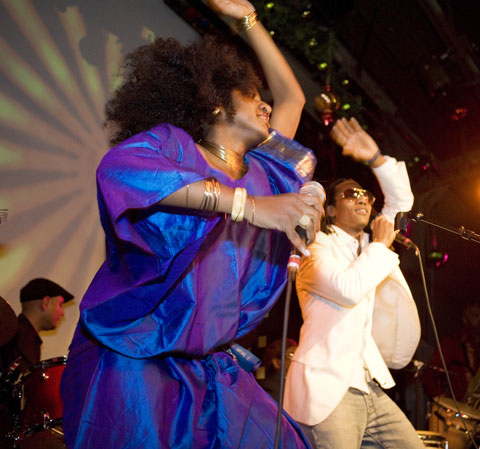 Ileana Santamaría and Pedro Martínez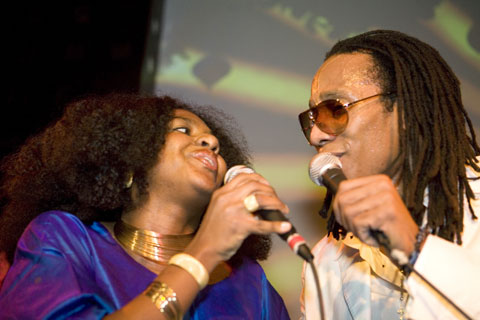 Ileana Santamaría and Pedro Martínez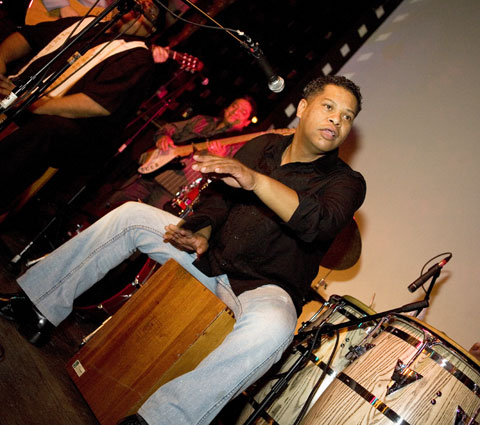 Drummer with Kambalache Negro (Afro-Peruvian Group)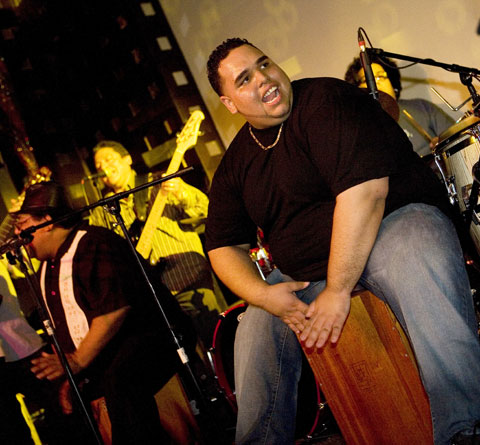 Jhair Salas with Kambalache Negro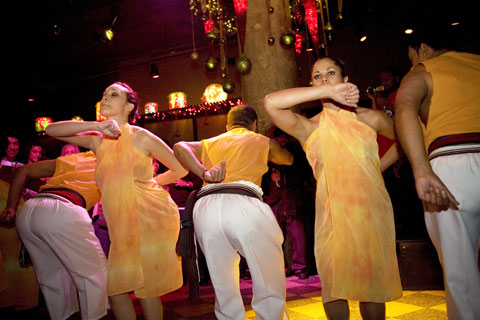 Afro Peruvian Dancers with Kambalache Negro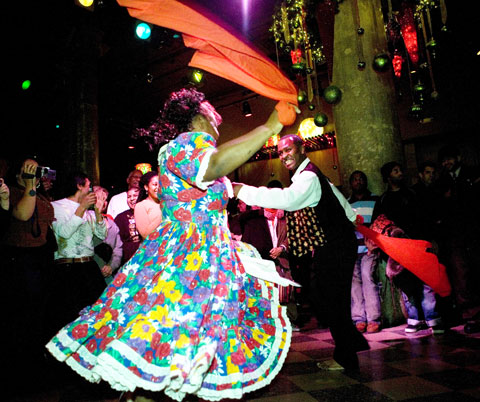 Afro Peruvian Dancers with Kambalache Negro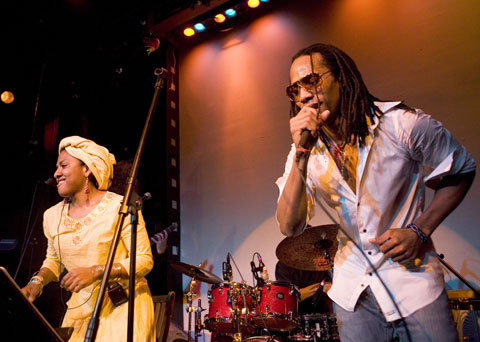 Ileana Santamaría and Pedro Martínez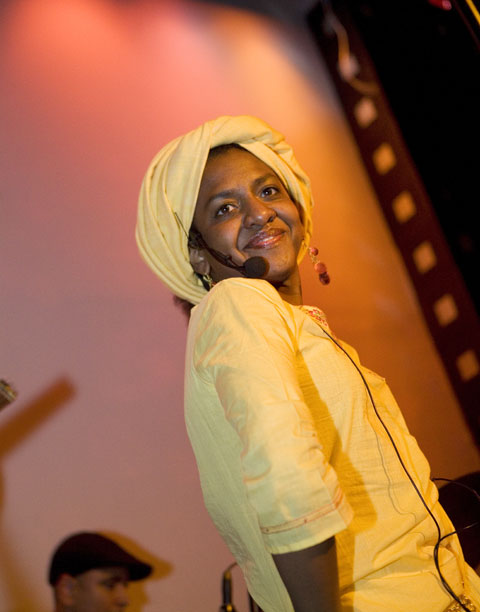 Ileana Santamaría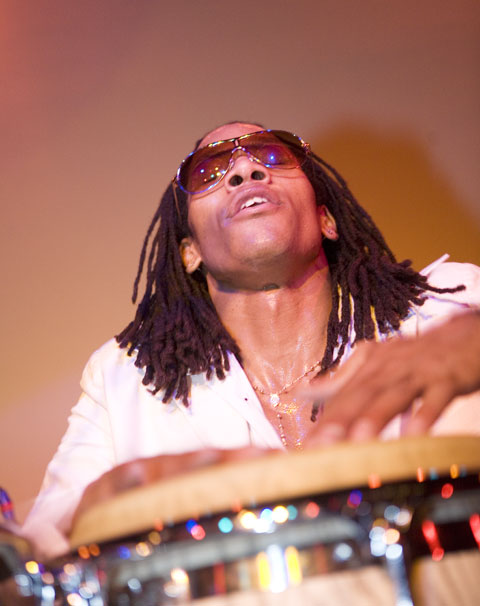 Pedro Martínez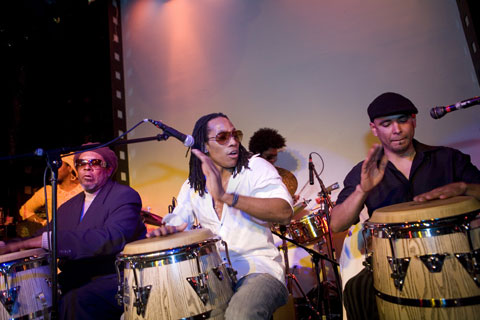 Román Díaz, Pedro Martínez and Mauricio Herrera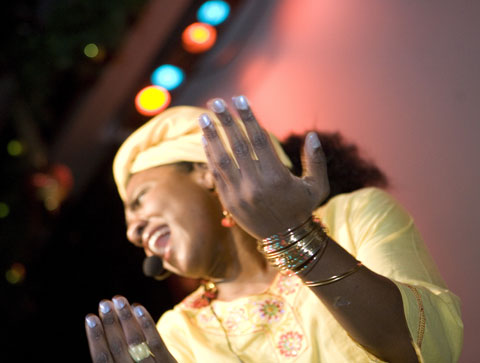 Ileana Santamaría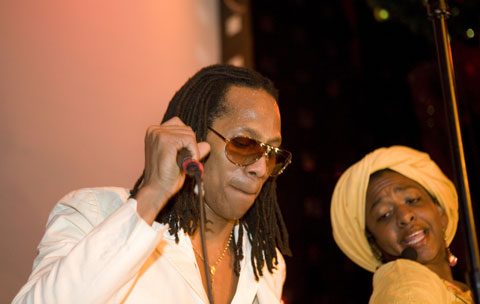 Pedro Martínez and Ileana Santamaría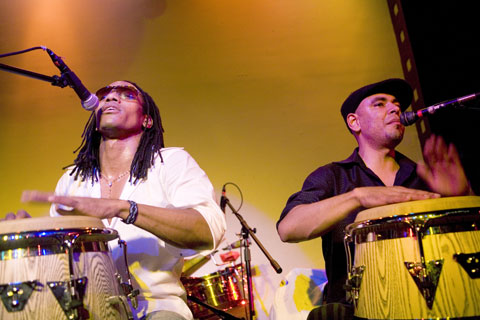 Pedro Martínez and Mauricio Herrera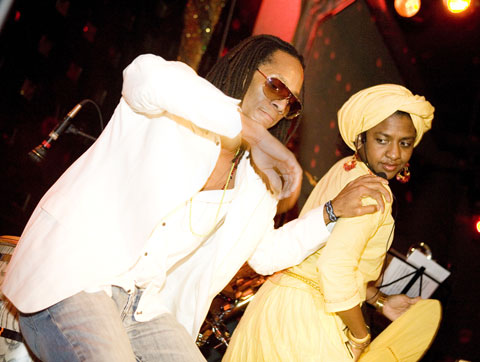 Pedro Martínez and Ileana Santamaría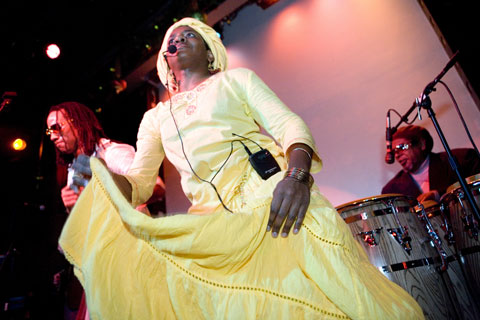 Pedro Martínez, Ileana Santamaría and Román Díaz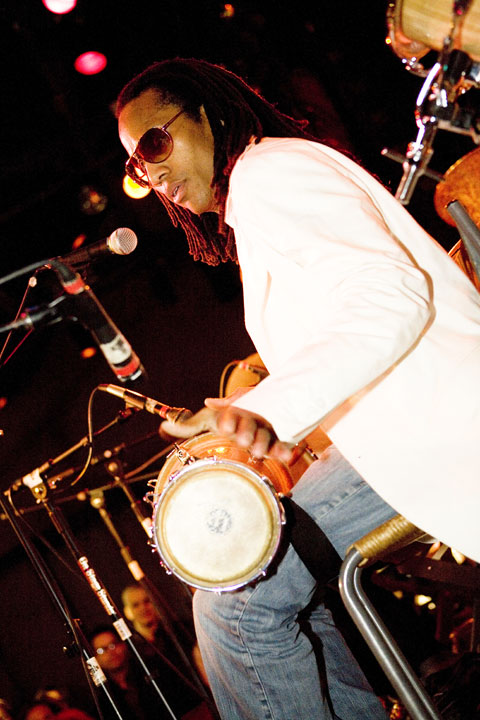 Pedro Martínez on batá during Changó ceremony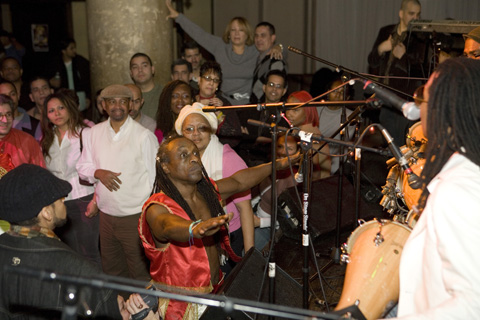 Felix (Pupy) Insua - dancer during Changó ceremony
Saturday, 14 May 2016, 05:22 PM