Michelle White - Timba Jazz with Latin Groove Orquesta
Latin Groove Orquesta is the project of Argentinian pianist Hernan Lugano. He brought together a group of elite Cuban musicians for a tour of Europe. The band consists of names that require no introduction for most harcore timba fans, but for those of you who are just beginning to delve into the world of timba a short description of the band members.
Alexander Abreu: Cuba's most sought after trumpet player at this time, Alexander was voted Best Timba Trumpet Player in the 2003 Timba.com awards. He plays a mean trumpet, he sings, he dances. Is there anything he can't do?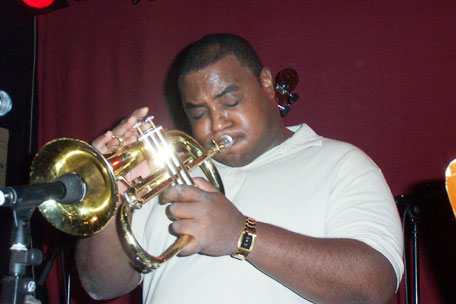 Alexander Abreu
Germán Velázco: on tenor sax, soprano sax, flute and even a little campana. He is one of the most important Cuban saxophonists of the past decade, his style had a great influence on the sound of Irakére, and he played with and arranged for NG La Banda. Germán has recorded with a great number of the major timba bands. Check the credits on some of your CDs and you'll find his name.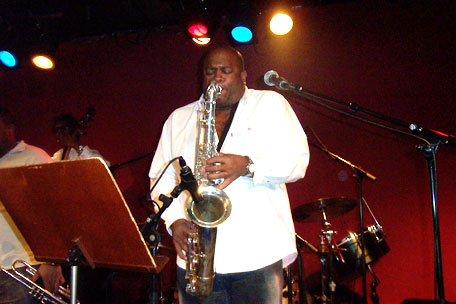 Germán Velazco
Calixto Oviedo: the maestro of drums and "father of the high hat" who played with NG La Banda, the band that defined timba in it's infancy. Today Calixto is constantly on tour with his own bands or as a guest with other bands.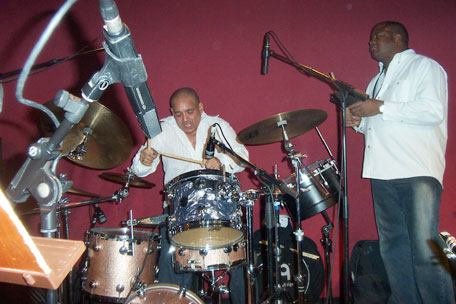 Calixto Oviedo
Felipe Cabrera: Cuban bassist who has relocated to Paris where he has been writing and producing CDs especially in the Latin Jazz genre.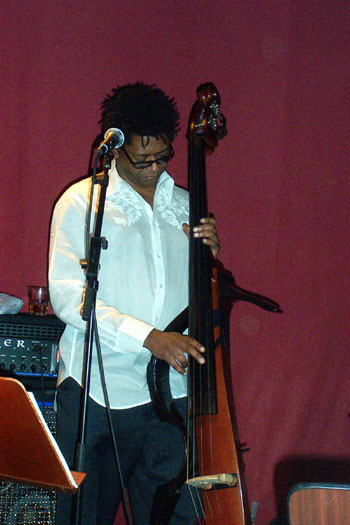 Filipe Cabrera
Abraham Mansarrol on congas, el maestro de manana who also is living in Paris these days.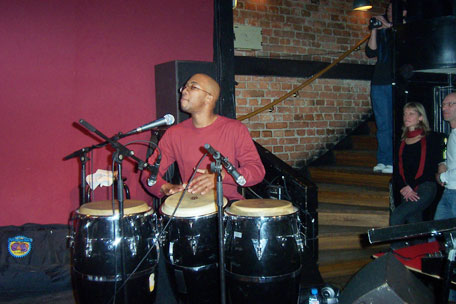 Abraham Mansfarrol
And the jefe himself Argentinian pianist Hernán Lugano who now resides in Denmark.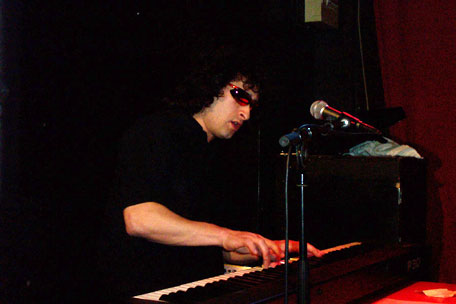 El jefe - Hernán Lugano
This list of names should be giving you chills, and last night that's what the band did for us. Personally I'm not a jazz fan. All the pictures of famous jazz musicians on the walls of Fasching are new faces to me, and I'm only just begining to listenb to latin Jazz.. But let me tell you that the level of playing to which we were treated last night was phenomenal! The music included Latin Jazz, Latin Funk, descargas and they even played the montuno section of a danzón that had everyone up dancing chachacha, or the jazz fan approximation of chachacha. The flavor and power of the arrangements was beyond the ordinary. This was the timba version of jazz!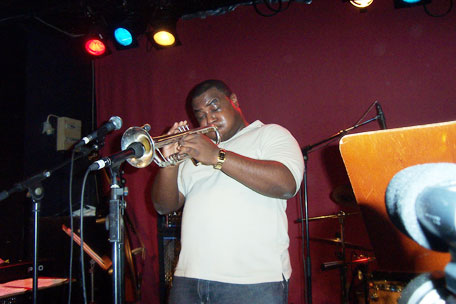 Alexander performing one of his amazing solos
Most of the songs featured solos by Germán, Alexander and Hernán. A couple of time we were treated to solos by the rhythm section as well. The repertoire consists of songs written by Hernán and Filipe and had the audience cheering all night. The band performed 3 sets and a DJ played some very good, very up-to-date timba during the breaks, so those who were dying for a dance fix were also satisfied.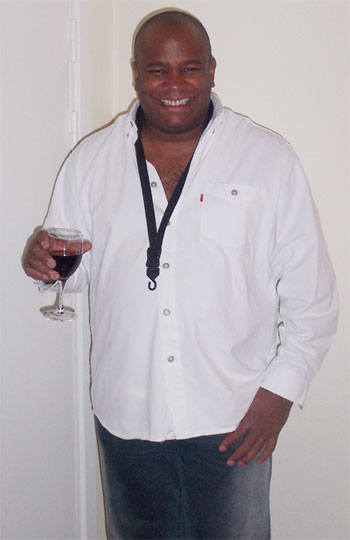 Germán relaxing between sets
Latin Groove Orquesta will be playing in Finland, Sweden and Denmark during the month or March. Take a look at their tour schedule, and if you get the chance, go see them. Each solo will leave you breathless.
martes, 22 marzo 2011, 07:32 pm