New Stuff
[hide]
Photos of the Day
[hide]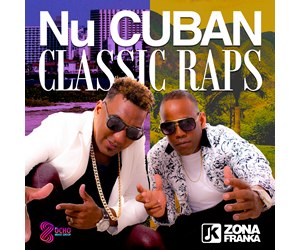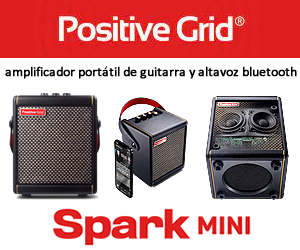 CHARANGA HABANERA - LIVE IN THE USA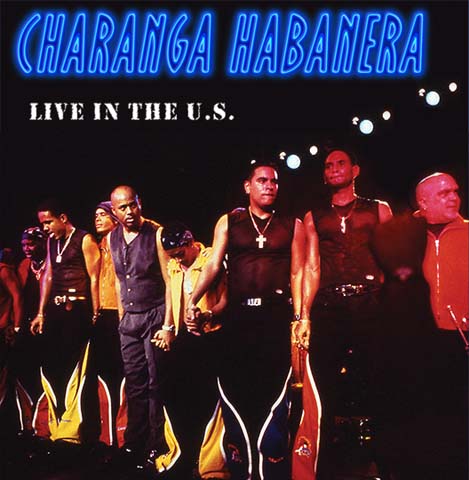 by Kevin Moore
©2002
click here to hear an mp3 of "Usa Condón".
This live double CD documents the final tour of one of Timba's greatest groups, the Charanga Habanera which recorded "Charanguero Mayor". It was recorded in Miami in late 2000, near the end of Charanga Habanera's only tour (to date) of the United States. Almost immediately after the tour two key members left - singer/pianist/writer Tirso Duarte and timbale prodigy Yulién Oviedo. Oviedo returned last summer, but Duarte moved on first to NG La Banda, and now to Pupy Pedroso's Los Que Son Son.
"Live in the USA" was recorded about 6 months after the release of Charanguero Mayor, but at that point the album had very little US distribution, so CH mixed four songs from that album with five from the previous disc, "Tremendo Delirio", plus Pila Cerra, which would be recorded the following year on "Chan Chan Charanga".
Here's the full track list:
1 - spoken introduction
2 - Charanguéate
3 - Un Disparo en la Mirada
4 - Riki Ricón
5 - Popurrí
6 - Lola, Lola
7 - El Cantinero
8 - Pila Cerra
9 - El Bla Bla Bla
10 - Hagamos un Chen
11 - Usa Condón
If the choice of material was on the conservative side, the performance was not. Adhering to the old adage, "when in the Yuma, do as the Yumas do", CH took advantage of the freedom of speech amendment and reverted to some of the controversial coros which got them suspended in Cuba, inventing a few new ones while they were at it, to the delight of the wild young Miami crowd.
CH doesn't bring a güirero on tour, so Angel "Pututi II" Arces of Manolín's band was brought in to overdub güiro and some clave in the studio, giving us at least an idea what it might be like to combine Timba's 2 most famous child prodigy percussionists in the same band.
I haven't heard the whole album yet, but I'm ecstatic with what has come my way via mp3. It's wonderful to have a solid live recording of one of Timba's greatest rhythm sections: Tirso Duarte on piano, Yulién Oviedo on timbales, Helder Rojas on synth and piano, Randolf Chacón on bass, the Mengual brothers on congas and bongó, and Pututi II added in after the fact. It was also clearly one of the best shows of the tour -- the intensity of being in Miami had everyone's adrenaline pumping.
As the mp3 makes clear, there are major differences between recorded and live Timba, and most hardcore Timba fans have a healthy collection of ultra lo-fi live cassettes of their favorite bands. This type of album is the best of both worlds -- a professional recording of a fiery and historic concert. Hopefully this, and the upcoming live Manolín CD will start a new trend. Here's a list of the only other live Timba CD's I'm aware of:
(late addition!) - Manolín: El Puente - This is the 2nd in the series of live 2-disc set recorded at Rancho Gaspar by Ciocan Music. Click here for a full review. This is the second in a great trend and more are rumored to be on the way.
Concierto Europtropical I - This double CD has 5 tracks from Klimax and 4 from Manolito and is very highly recommended. It's Manolito from the El Gallo period and Klimax with Calunga on vocals and Huicho on piano, shortly after the release of Juego de Manos. The performance of "Catarro Chino" is electrifying - proving to any doubters that Klimax is much more than "musician's music".
Concierto Eurotropical II - This one is single CD with no Manolito and only one Klimax track, the excellent and very rare "El Ventilador", which was never released on a studio album due to censorship. For collectors and Klimax freaks it's worth buying for just this track.
Los Van Van - Lo Último en Vivo - This album features all new material, recorded in front of a live audience at La Tropical. It's miked so tightly and played so cleanly and concisely that one can forget that it's live. In any case, it's one of Van Van greatest albums and one of the best and most important in the history of Timba. Indispensible for all Timba fans.
Los Van Van - Live in America - This is from the first of Van Van many US tours, in early 1997, with lead vocalists Mayito Rivera, Roberto Guayacán and Pedro Calvo. The current studio album was "Ay Dios Ampárame" and the set includes three songs from that album, including Soy Todo, along with older hits like Sandunguera and Que le Den Candela, and even Chirrin, Chirran from the early 70's.
Bamboleo - ñño! - this has 4 live tracks and a lot of non-Timba hiphop remixes using Bamboleo material. Bamboleo's rhythm section is absolutely incredible live and this CD is highly recommended even if you hate the remixes, which you probably will. It also has one song, "Sin Requisitos", which isn't available on any studio album. Since this album, bassist Rafael Paceiro Monzón has left for Pupy Pedroso's band, and it's rumored that at least one of the percussionists is also gone, so this, along with the 3rd studio CD, Ya No Hace Falta, are the only official releases of one of the all-time great rhythm sections.
NG La Banda - En Directo desde el patio de mi casa - Like "Lo Último", this is an album of new material recorded in front of a live crowd. Recorded in '95, NG had begun its gradual decline fromr its earlier brilliance, but was still capable of generating some high voltage.
Tuesday, 22 March 2011, 07:31 PM