Rehearsal Report - La Habana - May 23, 2006
Rehearsal: Aquí el que baila gana tour
2006-05-23 La Tropical - La Habana
by Michelle White © Timba.com 2006
On June 17 2006, Los Van Van will be giving a Grand Concert at the Karl Marx Theater in Havana as part of their Aquí el que baila gana tour and DVD. Participating in the concert will be former members such as César "Pupy" Pedroso and Pedrito Calvo. I was fortunate to be invited to attend one of the rehearsals by Pupy himself, so I took my cameras and headed to La Tropical.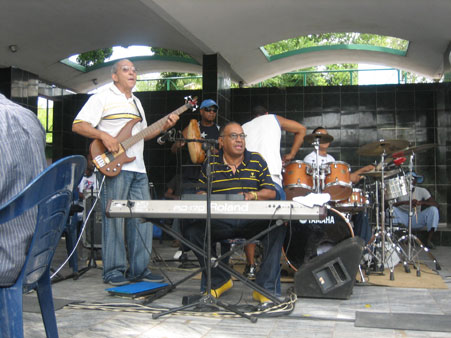 England had Lennon & McCartney, Cuba has Formell & Pedroso
Seeing these two creative geniuses together was a welcome sight. The contribution they have made to the history of Cuban music and, in fact, continue to make to this day in the current development of music in Cuba, is of tremendous significance. According to publicity, the DVD will not contain new songs, although the band is also working on new material as well.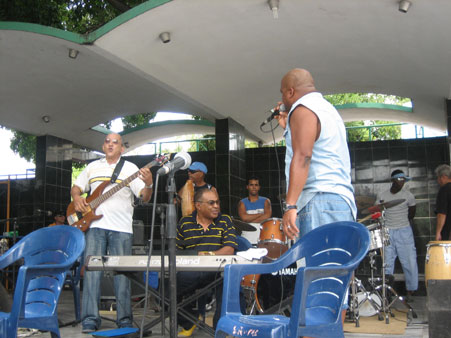 Formell, Pupy and Robertón
When I arrived they were rehearsing something I didn't recognize. The coro was "solamente amigos". I don't know if it's a new song or just a new coro on an old song. I couldn't help but notice Formell was not playing the trademark white baby bass. I was told that he had an operation on his hand and had to switch to playing an electric bass, this one is a 4-string. But Kevin tells me that Formell used to play the electric bass until Ay Dios Ampárame, so maybe this was just to maintain the authenticity of the classic songs.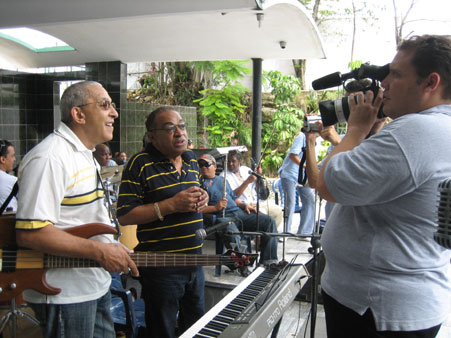 An interview for the DVD
After rehearsing "amigos" for 15 minutes or so, the DVD crew arrived and set up to film some "behind the scenes" shots and to interview Formell and Pupy. I, in turn, filmed the guys filming the DVD, so ha...I have behind the scenes footage of the behind the scenes footage, so to speak. Since you can't hear anything they are saying, I feel safe in uploading a clip of the filming of the DVD. This may be something only a true timba geek can love, but click here to see the filming of the filming of the DVD.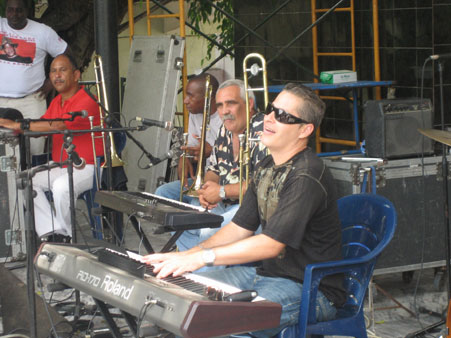 Boris on piano because Cucurucho was sick - los metales waiting their turn
After the interview, Pupy left and the band started rehearsing again, this time El baile del buey cansao. They must have spent a good 45 minutes on this song. I guess I'll just ruin the surprise and tell you right now that they have added a rap section to the song and were working out the details of the rap as well as the transitions to and from the new section.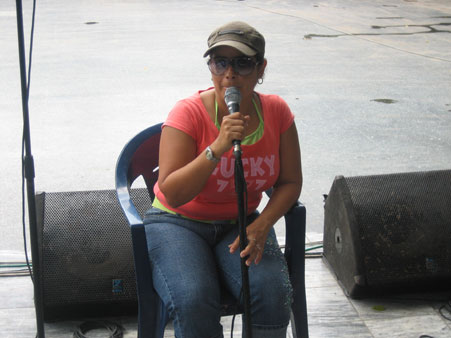 Yeni
Yeni and Mayito were fortunate enough to have chairs, but Lele was standing at the beginning of rehearsal. When they started Buey cansao he was even doing a little of the baile, but after 30 minutes of so he got cansao himself and spent the rest of the rehearsal reclining gracefully on his monitor.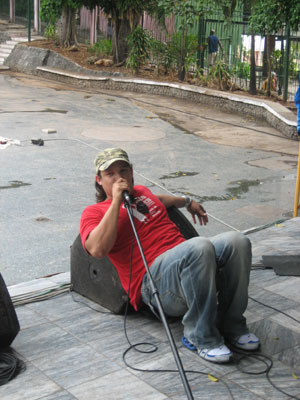 El Cantante Cansao - Lele
Manolo was also missing from this rehearsal, so for most of the time that I was there, Robertón took over congas. Of course Samuel was on drum and timbales as ever. He has a couple of key moments in the transition to the rap.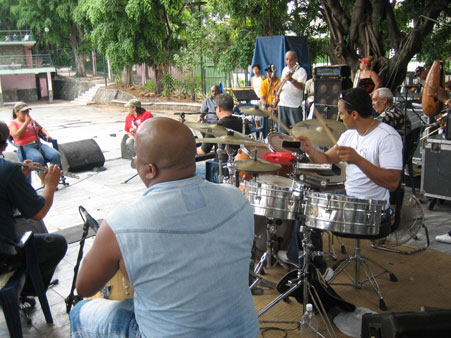 Robertón on congas and Samuel on drums con timbales of course
As they finished rehearsing Buey cansao and moved on to El negro está cocinando, Mayito spent some extra time going over the rap section with the young raperos. Pedrito wasn't at this rehearsal (although he performed as a guest at Pupy's concert at Galiano the night before) so they just rehearsed the music and coros. It didn't take too long before they decided to call it a day.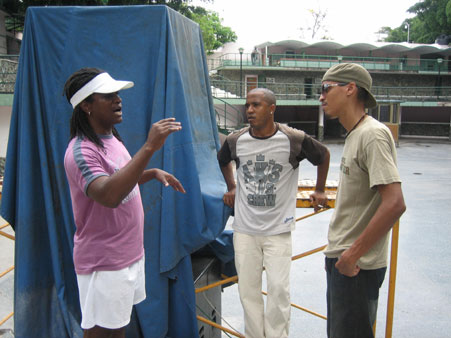 Mayito coaching the raperos
I was invited to come back the next day to do an interview with Formell, but due to the flooding that night in Havana, I was up all night sweeping mud and water out of the apartment and didn't make it to the interview the next day. And thereby hangs a tale...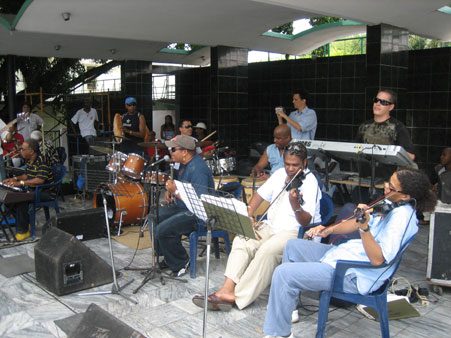 The flute and strings - essential to the Los Van Van sello
martes, 22 marzo 2011, 07:31 pm