Calixto's Way
photos courtesy of Ztefan Bertha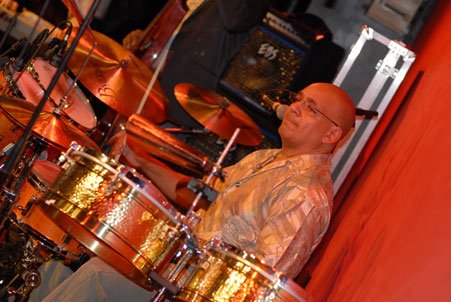 Calixto - timba pioneer
Since the summer concerts in Germany, I have been hearing that Calixto is back after his latin jazz tours and he has some new timba. I finally got to hear the songs live at two concerts in Stockholm. The first concert was held at Mosebacke on September 23 and the second at Fasching on October 10th. You might think that with just over two weeks between concerts, the turn-out might be small. But when Calixto brings his timba, the venues are filled.
The Fasching concert also featured special guest bassist Eduardo Céspedes known to timberos for being one of the founding members of Bamboleo before he relocated to Italy. Eduardo and Calixto have collaborated on various projects including the CD Calixtos Way.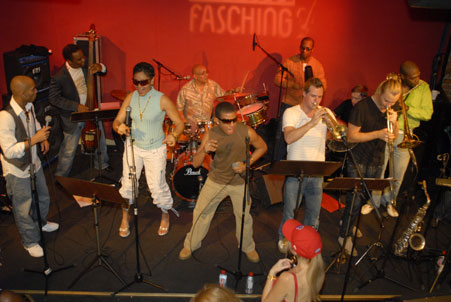 Calixto Oviedo y su grupo
Calixto opened the concert with an introduction from the song "Latin Funk" from "Calixtos Way", which segued into "La Protagonista," one of the new songs in their repertoire. The song started with a kick *ss tumbao and then went back to the cuerpo. In general the new songs have a melodic, soft cuerpo which explodes into timba when they reach the coros. The music has moments suited to both casino and despelote. For me the bomba and pedal sections are essential to timba. I love to combine casino with despelote, así se baila la timba.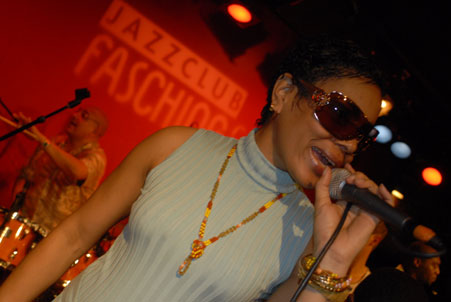 Lily buscando un protagonista principal
Lily Hernández, who also happens to be Calixto's wife, sings lead on Protagonista as well as El Adios and Algo anda mal. Lily was given the apodo "La Amazona de la Salsa" by Ralph Irizarry when she sang at the New Yorican Poets Cafe earlier this year. She has a smooth, cool voice which works well with both jazz and timba. To describe her voice let me say that during the soundcheck when she was testing her microphone she sang "Tú y yo, una misma cosa" in the style of Vannia and sounded great. Unfortunately I wasn't filming then. I think her a cappella version was worthy of an upload to the videos section.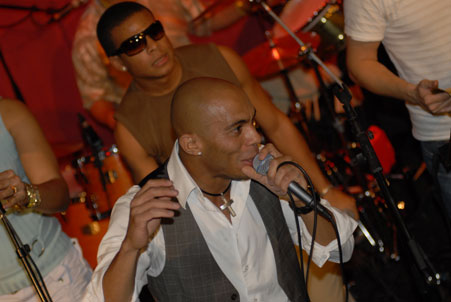 Frank "conmigo no..." con el público
They followed "El Protagonista" with "Cuando yo sea grande" from La Recompensa, sung by Frank Belicer, who sang with Sello LA in Cuba. He has a very nice tenor voice and also sings with the hip-hop group Alianza, which makes him a perfect complement to Yarién's rap.
Frank sings lead on the new song Sin Sentimiento and got the whole audience singing along with him on a "Conmigo no...con Changó" coro. Click here to watch Frank in action. He also performed a ballad of his own, I think it was an estreno for him. It is called Me prometo and is very romantic.
But as Lily pointed out, "we came here to dance no to get sad or romantic", and they went into Ódiame, where she and Frank share the lead vocals. Calixto wrote some great new coros for the timbafied version of Ódiame, my favorite being "Tú me quisiste, tú me olvidaste y ahora me quieres tener. Zapato que yo deshecho yo no me vuelvo a poner". This coro was followed by a 4 part contrapuntal mambo...aguaaa! Here is the timbafied Ódiame.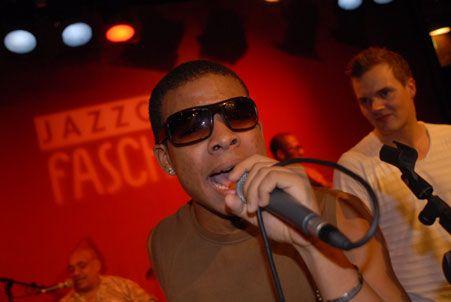 El Yoruba
It was interesting to see Yarién, El Yoruba, in concert. I've seen some of his rap on video, but I didn't know how he'd do in a timba concert. Most of the time he sings the lower harmony in the coros, and like his brother he has an excellent voice.
Yarién takes to the stage like a fish to water. He is fearless and completely at home, singing, dancing and occasionally adding a rap to some of the songs. He's not shy of the camera and has the charisma that seems to run in the Oviedo veins. He will soon be performing with his group Yarién y su yoruba band. We'll keep you updated.
An interesting bit of gossip Calixto told me is that when Yulién first began singing lead he was a little nervous since he was used to being in the back playing percussion. Of course we all know that he overcame any nerves he may have felt and is a very charismatic lead singer experiencing great success with his Onda Light. But apparently Yarién never had any similar shyness. You'd think he was born on a stage.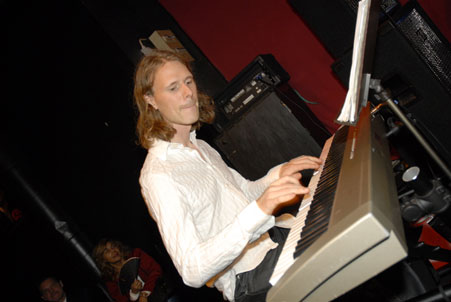 Gunnar
They performed Algo anda mal during the second set and in true timba style it begins with a tumbao that leaves no question in your mind that this is hardcore timba. One of the most distinctive aspects of timba is the fantastic piano tumbaos. The man responsible for the tumbaos in this case is...yes, a Swede! Gunnar is one of the select few who have mastered the Cuban piano style. When you hear him play you can close your eyes and you'll think you're in Havana.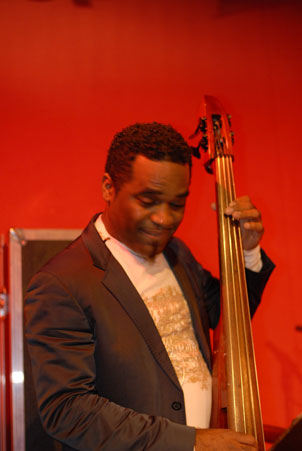 Eduardo Céspedes
This night we were lucky to have special guest Eduardo Céspedes on bass. He gave us a very interesting interview after the show where he talked about his musical origins and how Bamboleo came about. Click here to watch the interview in WMV format. Currently he lives in Italy with his wife. They have just completed recording 2 new songs an EP called La Cubana. Eduardo is also a singer and treated us to some rumba vocal during the course of the evening. He is, of course, an excellent bassist and gets really physically into the music when he plays.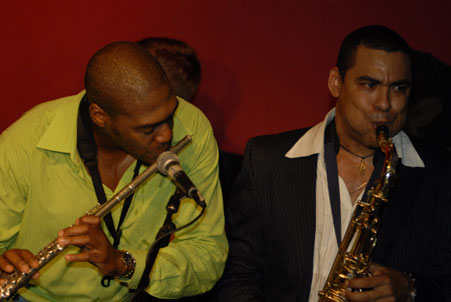 Terry y Lazarito
Terry and Lazarito both play sax and flute, but in the concerts Lázaro takes the sax and Yoel Terry takes the flute. There were some excellent solos during the course of the evening. They also sing coro at times.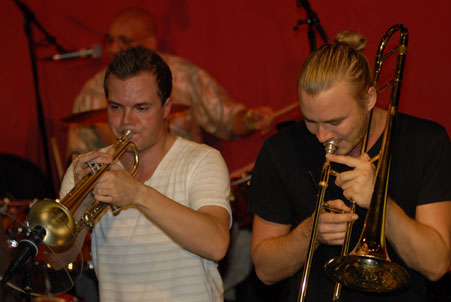 Jacek y Kalle
What's this? More Swedes? Yes, Jacek and Kalle are very much in demand in Sweden. Kalle has studied music in Cuba and Jacek already has a reputation for bieng able to hit the really high notes. They both also play with the all-Swedish group Calle Real.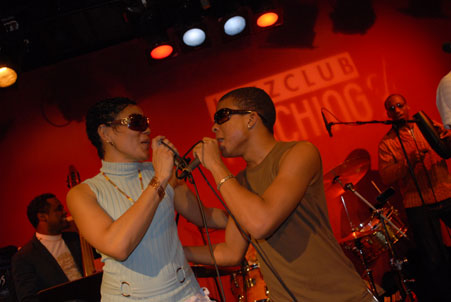 Lily y Yarién
They ended the concert with my favorite from La Recompensa, Rumberos de corazón. We got a very special version. Premir Bailarin Chiqui Dixon was at the concert and with a bit of coaxing he danced guaguancó on stage with Swedish bailarina Wynn Johansson. Yarién also did a little rap section which fit in beautifully with the ryhthm.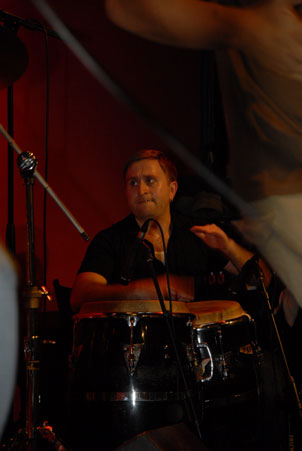 Linus el conguero
No rumba would be complete without a solo on the tumbadoras. I can't imagine the pressure a non-Cuban conguero would feel playing with Calixto Oviedo, but Linus does an great job. "Los rumberos están en el callejón de la rumba"...Ahí na'má! Click here to watch his solo and see what I'm talking about.
The audience was not at all ready for the evening to end and demanded an encore. The club said they could do one, but just a short one. So they sang La Recompensa. "Calixto Oviedo suena el timbal que aquí son tus hijos y te van escuchar". Lily, Yarién and Calixto all singing together, Lily's mother in the audience, many good friend in the audience, it was really a family event.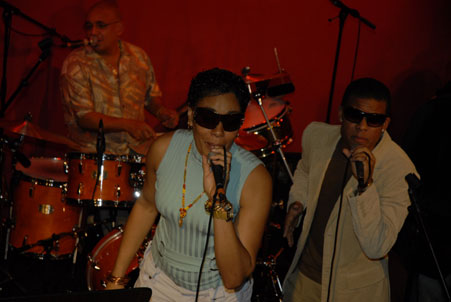 La familia musical
All good things must come to an end, but we left the concert knowing that Calixto has more classic timba in store for us.
Tuesday, 22 March 2011, 07:31 PM