Discography
by Kevin Moore
disclaimer: timba.com is a work in progress. It should not be concluded from the fact that we have a proportionally larger amount of material on NG La Banda and Charanga Habanera that we consider these bands and their musicians to be of a higher caliber than the other leading Timba bands. We just started there, chronologically. Also, since all of the writing on timba.com is donated by the writers, who must earn their livings from other sources, the process of completing the site is taking longer than we would like. Nevertheless, we fully intend to do justice to each great group, and most certainly to that of Issac Delgado. We've already collected enough research on the 10-year history of this great singer and his incredible series of bands to create a section as large as the one on Charanga Habanera. We just need the time and resources to put it all together, so please bear with us. We will get to your favorites groups as soon as possible!
To fully appreciate Issac Delgado's recordings, it really helps to see the band live. An indiscrimate sampling of some of his more subtle studio tracks could easily lead to the erroneous conclusion that Issac's music is not as daringly original and energetic as some of the other Timba bands. This could not be farther from the truth, as anyone who's seen the band live will confirm.
---
Issac Delgado's first solo album was "Dando la Hora". It features some strong songwriting from Giraldo Piloto and Pablo Milanes and unusually tame arrangements featuring synthesized horns. This disc, and Issac's duo record with Adalberto Álvarez, "El Chévere de la Salsa y el Caballero de Son", are welcome additions for those already in love with Issac's music, but they are no place to start.
---
It was with "Con Ganas" that Issac returned to the level of brilliance he had already achieved with NG La Banda. He added Giraldo Piloto, also from NG, as drummer and musical director, and created the first of his many powerhouse Timba groups, featuring Tony Pérez on piano, Andrés "Negrón" Miranda on congas, "Yonder", who later joined Klimax, on timbales, and Boris Luna, now in Los Van Van, on synthesizer. It should also be noted that Piloto's predecessor, although he never recorded a full album with the group, was none other than Samuel Formell. The quantity of brilliant musicians who have passed through the Issac Delgado band is staggering.
---
When Piloto, Pérez, and Yonder broke off to form Klimax in 1995, Delgado put together another astounding band, with Jimmy Branly on drums, José Miguel on timbales and the incomparable Iván "Melón" González on piano. Melón played such a critical role in the history of Timba that he has his own artist page, although he now no longer plays Timba and never had his own group. The first album with Melón was "El Año Que Viene" which in addition to a collection of beautiful melodic songwriting, contains three arrangements which became staple of Issac's powerful live stage show: "No Me Mires a Los Ojos", "¿Por Qué Paró?", and "La Vida Sin Esperanza", the latter arranged by the new musical director, Joaquín Betancourt, probably the most prolific arranger in Cuba. Betancourt, whose work on "La Rumba Soy Yo" helped that CD win a Grammy award, continues to work with Issac today, as well as dozens of others. His arrangements are featured on the CD's of everyone from Aldaberto Álvarez to Anacaóna and Tumbao Habana.
---
Melón was the only Cuban musician to play on "Otra Idea" which RMM recorded in New York. It features the original studio versions of three more classic pieces which Issac still plays live and which have grown into mammoth 10 to 15 minute arrangements. These are "Luz Viajera", "Deja Que Roberto Te Toque" and "La Chica del Sol".
---
Sometime in late 1996, Issac's band changed dramatically for the third time and the group that resulted is considered by some to be the greatest Timba band of all time. Joining Melón was a young musical prodigy named Alain Pérez, who could sing, write, and play almost any musical instrument with astounding virtuosity. He played bass in the new band and almost immediately began contributing arrangements, such as "Con la Punta del Pie" -- a tour de force which we'll examine in detail when we do the real Issac pages. For now, just listen to it! It, along with two incredible Melón arrangements, "Se te fue la mano" and "Pa' que te salves" can be found on "Exclusivo Para Cuba". Here are some brief audio excerpts: "Se te fue la mano", "Con la punta del pie". This album also contains "Tú tranquilo", which was Issac's vocal contribution to Juan Ceruto's wonderful "Gracias Formell" project. It was the first arrangement Ceruto wrote for Issac, but since leaving Paulito in 2001 he has written many arrangements on Issac's most recent two albums. In the excerpt we hear first Ceruto's horn-writing and then a great Melón piano tumbao leading into the coro.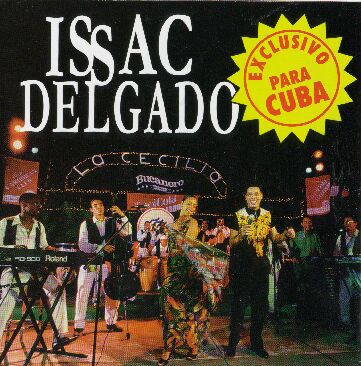 As the name implies, "Exclusivo Para Cuba" was originally released only in Cuba, but thankfully RMM released it in its entirety (albeit without any liner notes to speak of) as "Rarities", part of its Forbidden Cuba in the 90's series. "Rarities" is no longer available, but "Exclusivo Para Cuba" is no longer exclusive, it is now available in the US on the Ciocan Music label and is our recommendation as the entry point to the world of Issac Delgado, along with a front row ticket to see the band perform live!
It was this band that Delgado brought on his controversial first US tour, and it was this band which played the famous Central Park concert, about which so many New York musicians, are still buzzing, including New York Times music critic Peter Watrous, who called Issac Delgado "one of the best singers in the world -- in any genre" and who still considers this group to be at the very pinnacle of Timba's long list of amazing Timba bands. Here are some examples of the group in concert: Luz viajera,
Saturday, 04 April 2020, 03:39 PM