SpanishEnglishEntrevistas - Interview with Julio Benítez
By Michelle White ©Timba.com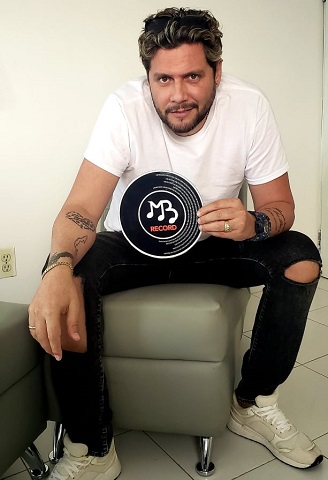 Julio Benítez
How did the idea of doing the Cuban Hits Music program come about?
The idea came about when MB Record and Maykel Blanco - who is a tireless fighter and defender of Cuban music from a very young age - gave ourselves the task of doing various activities to promote Cuban music. Among these activities we have all the discography that we are doing at MB Record. There is El Hijo de Teresa, our work with Tania Pantoja, with the DJs Timberos, with Yordys, with Maichel Blanco, with Arturo Cruz what we have done with all the artists and those who I haven't mentioned, to promote popular dance music. Maykel also had the initiative to do a program, that today is called Cuban Hits Music, which was originally going to be a 24-hour Cuban music broadcast.
So the idea was to make a 24-hour music channel?
The original idea was to make a channel, a 24-hour uninterrupted program where if you were at a party you would say "I'm going to put on the MB Record channel to dance." If you were at a disco or at home, "I am going to put on the MB Record channel to listen to music." And then the budget was really a bit of a hassle, also a little complicated for us to start, and we really didn't want to take on so much in the first stage. So we focused on making one-hour programs of really solid quality and that the public could enjoy without missing information, because sometimes 24-hours a day you may lose a lot of information. So we were modifying the concept and from 24-hours it went to another format and to another and to another. We have been perfecting it until now that we have a twice monthly program of one hour, with solid information and with very specific and very interesting things.
We had several brainstorming sessions, several meetings, Lazarito Caballero who is the artistic director, Maykel Blanco and I, began to shape the program. We wanted to make a very dynamic program, very entertaining, a showy, colorful program, a program where the interview clips didn't last long, just about a minute, although the same interview could be spread over various parts of the program. So we have already released three episodes. The fourth comes out on October 4. We've seen that people have liked it, they have identified with the program and that fills us with great pride because it really is what we want, that people know about the directors, meet singers and orchestras of popular dance music.
The show also has different sections, among these are El Lente Curioso about things that are happening, the artists who are recording. It also has a Top 15 of dance music from what is being played on the social media. It has contests where we are giving away two tickets to the Festival de la Salsa. It is a very varied and dynamic program that I think people like.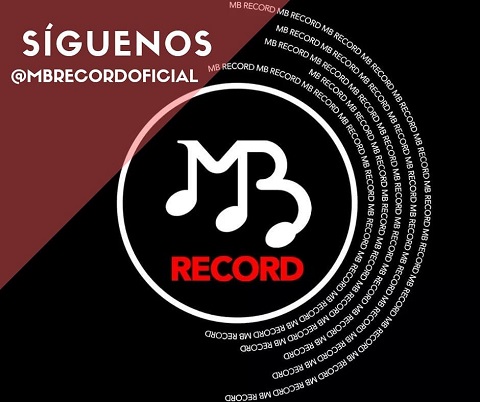 Is there a team of journalists to do all the interviews and editing or who are the people who work on the program and with the script?
MB Record as a production company is a company where Maykel Blanco and I - Julio Benítez participate. This company was also created with the objective of promoting and disseminating Cuban music, doing shows, , touring. It has its record label and within the MB Record label we have a fairly extensive catalog, and, well, we also have the Cuban Hits Music program. The program is a recent creation, devised by Maykel who proposed the plan to have a varied program of popular dance music on our YouTube channel that everyone can enjoy.
And we have Lazarito Caballero, an editor, and Maykel and I, we prepare it and then Lazarito Caballero with his camera and I go out to the street. And we go to the artists' houses and interview them and have really enjoyable afternoons, because they're not formal interviews but rather we ask questions in complete confidence, things that people really want to know because those artists have already done many interviews throughout their lives and almost everyone knows their stories. So we try to give our audience different things, anecdotes, stories that happened to the artists with the orchestras, stories that they have had during their career, then it becomes a very pleasant conversation and we put aside formality and feel like family between the artists and ourselves.
Lazarito Caballero prepares many of the questions himself. He's an experienced journalist, the director of a radio program. He prepares for the interview, but also during the interview there are many things that come up organically. So there are questions and stories that come out spontaneously and we don't deprive the audience of that, we let them see that too, we show them the reality of each artist.
Who does the editing? It's very well edited with lots of action so that people don't get bored.
The editing process is done by the editor, Moltó, who is also a cameraman and goes with us to the interviews. Later, Maykel and I say what we want in a brainstorming session, as we call it, and thenl when I go with them to the programs and they do their work and then they deliver it according to what we said. They also contribute good ideas. They are from the audiovisual and radio mediums and they have a lot of experience. Really it's a team of four people who work communally. In the end, what Maykel and I decide is what is put on the screen of the program. But really we all work together with Maykel and decide We need to change something. We can put this in another program. We're going to enhance this phrase that this artist said. This is what we'll do and we decide there what is projected, always listening to the ideas of the other part of the team, including the ideas that our listeners give us, those who are watching the program, can give us ideas through the same Internet or via the email that we have shared for people to communicate with us.
And I've seen that there are commercials on the show. Is there collaboration with companies to produce the program?
The program is just beginning, the program has had its third episode and the fourth is coming on October 4. These companies, these businesses that are working with us are doing it for free at the moment. They are supporting us and we are supporting them. The strategy is when the show gathers strength, some interested parties might approach and we can defray a little the production expenses with these promotions that we can do. But at this very moment, they are companies that are, that is, we have relationships and they sent us their commercials so that we could somehow insert them so that other companies might become interested in opening with this type of business. It's a test that we are doing. It may work and it may not work, we'll see. Until now, it is by our own strength and ourselves trying to make a worthy program for the dancing public.
Maykel has so many projects and now this, too. I wonder if the concert and tour hiatus caused by the pandemic has given you a little more time to focus on other things such as Cuban Hits Music. Or instead, if the pandemic has made jobs like this more difficult.
Without a doubt, the impasse caused by the effect of the pandemic to tours and concerts has benefited us so that we could speed up some projects that we had more or less in the background or pending to be done. Without a doubt, the pandemic has facilitated this issue. But I know Maykel almost as well as his mother, speaking in a colloquially. I know Maykel very well and I'm sure that we would have done this project with a pandemic, without a pandemic. The projects that we are doing with a virtual store, that we are doing with MB Record with discography, that is, those are projects that we had in mind, that were ready to be done and were going to be done in some way. It would have cost us more work, but they would ahve been done.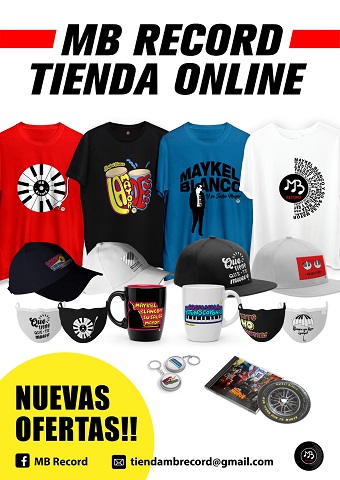 Maykel is an artist who generates many ideas and not only musical ideas but also in favor of the development of popular dance music, of Cuban music. And also with all this going on, we're preparing and waiting for them to give us the signal to start setting up the Festival de la Salsa and many other things. MB Record is an office that does not stop working and generating work and doing things for the good of Cuban dance music.
Sunday, 04 October 2020, 12:24 PM