New Stuff
[hide]
Photos of the Day
[hide]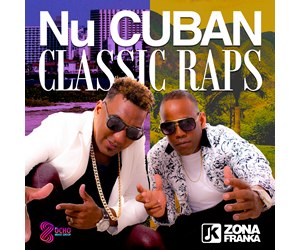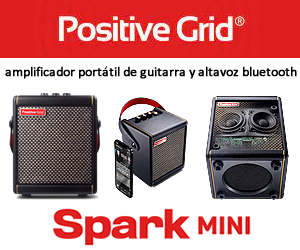 director, flauta, voz, comp/arr:
cantantes:
José Luis "El Tosco" Cortés
(died 18 April 2022)
Tony Calá
Regla Arlenys Rodríguez
piano:
Yanelys alfonso Caraya
Ernesto Reinaldo "Prida" Puentes
Mónica Mesa Mesa
Emilio Morales
Tirso Duarte
Rodolfo "Peruchín" Argudín Justiz
Coco Freeman
Yeni Valdés
bajo:
Jorge "El Gafas" Rodríguez
Feliciano Arango
Alberto Tamayo
Joaquín "El Kid" Díaz
teclado:
Mariano Pérez Mena
Miguelito "Pan con Salsa" Angel de Armas
Issac Delgado
Victor Valdés
batería:
José Alán Pérez del Valle
trompetas:
Jorge Baglan
Elpidio Chappottín Delgado
Jimmy Branly
Orlando Jesús Vásquez Pena
Calixto Oviedo
José "El Greco" Crego
Giraldo Piloto
Adalberto Laras
José Munguía
congas:
Pablo "El Bombi" Cortés González
saxofones:
Raúl "El Yulo" Cárdenas
José Luis "Chuy" Hernández Núñez
Humberto Sosa
Ernesto Varona
Juan "Wickly" Noguieras
Rafael Jens
Victor Valdés
Rolando Pérez Pérez
Germán Velazco
bongó:
Carlos Averhoff, Sr.
Carlos Reyes
Pablo "El Bombi" Cortés González
güiro:
Güillermo "Pelota"Amores

The personnel of NG La Banda's first decade personnel reads like a "Who's Who" of Cuban virtuoso musicians. There were many changes, but with some help from our friends we've managed to nail down most of them. If you spot any omissions or errors, or have additional information, email us at kevin@timba.com.
VOCALISTS: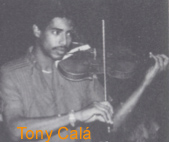 The singer most closely identified with NG La Banda is Tony Calá, who has one of the most interesting and immediately recognizable voices in all of music. As Arturo "Marcané" Gómez of WDNA-Miami explains, Calá was the only member who came from outside of Havana. He grew up on the other side of the island (the "Oriente") in a low-lying area of Santiago called "Los Hoyos", a poor, largely-black community famous for producing great musicians. Like Nat King Cole (piano) and Mayito Rivera of Los Van Van (percussion), Tony Calá is a person who was born to sing but started out doing something else, in this case dancing. It was his dancing career that led him to Havana, where he joined Ritmo Oriental as a dancer and violinist. "La Ritmo" had already been an extremely popular and innovative band in Havana for years, but they became even more popular as Calá gradually contributed more and more as a lead singer and writer. By the time he joined NG, he was already a star. For more on Tony's singing and songwriting see our Ritmo Oriental section and the online book, "The Roots of Timba".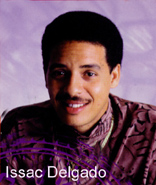 Calá is still with the group today, but trying to keep track of the rest of the vocalists of NG is a little like keeping tracks of the plot twists in a soap opera. The most famous is of course Issac Delgado, whom Tosco recruited from the Tropicana night club. Having previously completed a stint with Pachito Alonso, Issac was already in full possession of the rich voice, charisma and soulful melodic phrasing which have kept him at the top of the Cuban music scene for 12 years. Issac replaced Victor Valdés, who sang and played congas briefly in the formative stages of the band. When Issac left the group to pursue his solo career, he was replaced by Mariano Pérez Mena, usually known simply as "Mena". No one could replace Issac, but Mena was an accurate and tasteful singer who sang many of NG's greatest hits. For several critical years in NG's history the vocals were covered by Calá, Mena and occasionally Tosco himself. Then the front line began to expand. Helito George, now in New York sang on "De acá pa' allá". Jorge "El Gafas" Rodríguez recorded on "En Directo Desde el Patio" and "Veneno" before leaving to join his current band, Bamboleo. El Gafas was replaced by Coco Freeman who is still with the group. Joaquín "El Kid" Díaz joined when Mena left and stayed from '96 to '98, also recording on "Veneno". He later sang with Paulito before moving to Miami where he now fronts his own group, "El Kid de la Salsa", and has recently joined Manolín's band as well. Yeni Valdés holds the dual distinction of being the first female member of both NG La Banda and Los Van Van. She sang with NG from 1997 to 2001 before jumping ship for Van Van in the bizarre game of musical chairs that was set in motion by Pedro Calvo's departure. Yeni was replaced by Mónica Mesa who had previously sung briefly with Azúcar Negra . Both Manolín and Pedro Calvo briefly sang with NG as regular guests in 2000 and 2001. Tirso Duarte began singing with NG in January of 2001 when he left La Charanga Habanera . In late 2001, Tirso moved on the to group of César "Pupy" Pedroso. Thus, the current singers are Tosco, Calá, Coco, and Mónica. At one point in January, 2001, we saw NG in Havana with a front line of seven - these five, plus Pedro Calvo and Yeni. Two other NG singers we're trying to learn more about are Ley Alejandro, who never recorded with the group before relocating to New York, and Albert Tamayo who sings on the most recent CD but isn't with the current group.
As of 2003, Tosco has disbanded the main group and now performs in Havana with a smaller group utilizing sequencers and doing covers of American pop songs! However, when touring Europe, the group plays a more interesting new style which I have yet to hear. There are some reports from fans under the NEWS section.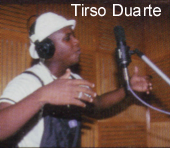 PERCUSSIONISTS:

As he did with Issac, Tosco recruited drummer/songwriter Giraldo Piloto from the Tropicana Band. Piloto, a true musical genius who has an entire wing of www.timba.com devoted to him and his band Klimax, was the son of one of Cuba's greatest songwriters, Giraldo Piloto, Sr., and the nephew of one of its greatest percussionists, Guillermo Barreto. Piloto played on many classic NG albums and wrote two songs for NG, including the #1 hit, "Te Confunde Ser Esa Mujer". As Piloto began to blossom into one of the most important songwriters in Cuban history, there simply wasn't enough creative room in NG for two highly-prolific writers and Piloto left the band to become Issac Delgado's musical director and later to form his own band, Klimax . Tosco managed to land on his feet by enlisting the incredible Calixto Oviedo on drums. Calixto is known to younger Timba fans mainly for being the father of Charanga Habanera's child prodigy percussionist Yulien Oviedo. But one needs only to listen to "Santa Palabra" to be bowled over by the elder Oviedo's greatness. Calixto played drums on the great albums of the middle period of NG and then moved to Denmark. He has just released a new CD with guest appearances by his sons, Hayla Momprie, Michel Maza, Tirso Duarte and others. Oviedo was replaced by the phenomenal Jimmy Branly, who played with the group for two years but unfortunately never recorded with them except on Tosco Puerto Rico tribute CD, "De Aquí Pa' Allá". He can be seen playing with NG on Chuck Silverman's video, "Drumset Artists of Cuba", and is currently living in Los Angeles and recording and playing with many artists, including Rebeca-Mauleón-Santana and Bill Wolfer's Mamborama. Branly's most famous Timba recording is his brilliant work on Issac Delgado's "El Año Que Viene", a classic CD which brought together Branly, Iván "Melón" González , Boris Luna of Los Van Van and others, playing arrangements by Piloto and Joaquín Betancourt. Branly was replaced by his student Jorge Baglan.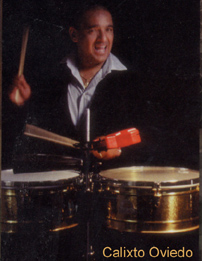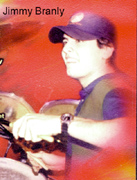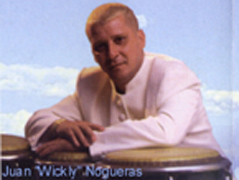 After a brief stint by Bárbaro Argudín, Tosco's brother Pablo "Bombi" Cortés took over on bongó and remains in the group today. The original conguero, Victor Valdés, also played only briefly before leaving and being replaced by the legendary conguero, Juan "Wickly" Nogueras, now in Miami. To get a full jolt of Wickly one need only put on "La Expresiva" (or any other track) from "En La Calle". His explosive tumbao and imaginative fills practically explode out of the right speaker. Wickly now has his own group in Miami and has just released a great new CD, "Rumbero de Corazón" on which he overdubs all three percussion parts. Many of the arrangements are by NG alumnus German Velazco. Wickly was replaced first by Humberto Sosa and later by Raúl "El Yulo" Cárdenas, one of the founding members of Los Van Van. When El Yulo died tragically in a car accident in 1999, Pablo Cortés played congas briefly and Carlos Reyes played bongó. Currently Pablo is back on bongó and we're still trying to track down the name of the new conguero. The long-time güiro player is Guillermo Amores.
BASS:
Feliciano Arango has played bass with NG from the beginning and stands alone as the most influential and innovative bassist in Timba history. Like the others, he had graduated from the Havana conservatories as a classical musician but had also mastered Jazz, Funk and all forms of Cuban pop music, past and present. As anyone who has every seen him play will confirm, he's one of the best bassists in the world. In addition to his original and funky tumbaos he's a phenomenal soloist and can still be heard with NG at Casa de La Música every Friday night stretching out on their cover arrangement of Chick Corea's "Spain".
KEYBOARDS:
When we interview the young giants of Cuban montuno-playing they invariably list among their prime influences Pupy Pedroso of Van Van and NG's Rodolfo "Peruchín" Argudín, and Miguelito "Pan con Salsa" Armas. Like Arango, Peruchín is a master of Jazz and classical music. After playing on all of NG's important recordings, he left the group several years ago to play with Grupo Niche in Colombia, and is now back in Havana, playing and touring with Cubanismo. Miguelito has been with the group since the beginning and has contributed to the arrangements of many of NG's classic tracks. It was he who came up with the seminal "La Expresiva" montuno. The current NG pianist is Emilio Morales, who played for many years with Paulito F.G. In 2001, pianist Tirso Duarte , previously with La Charanga Habanera, joined NG as a singer. As of yet he hasn't played any keyboards with them, but we can always hope!
LOS METALES DE TERROR:

Last but not least is the horn section, which has earned the apodo, "Los Metales de Terror". From the beginning, Tosco omitted the usual trombones and opted for a horn section built for speed - two trumpets and two saxes, all world-class jazz virtuosos, most of them members of Cuba's leading Latin Jazz group, Irakere. With this kind of firepower he could write salsa horn parts which sometimes sounded like blazing jazz solos. He could also add his own phenomenal flute-playing to the mix to vary the orchestration. The original "Metales de Terror" consisted of Carlos Averhoff and Germán Velazco on tenor and alto sax and José Munguía and José "El Greco" Crego on trumpet. El Greco stayed with the band until the late 90's, recording many classic solos, and subsequently pursued a successful Latin Jazz career as the leader of the band "Top Secret". His son, Marcos Crego, now plays piano with Klimax. José Munguía started with Irakere, recorded Jazz records as a leader, played with NG, returned to Irakere, and is now living and playing in Spain. When Munguía left, Tosco replaced him with screaming lead player Elpidio Chappotín who is still with the group today although he has also recorded with Mayito Rivera and others. In addition to his power and accuracy, Chappotín has also added some devastating trumpet solos to some of NG's most unforgettable tracks. In El Greco's absence, Chappotín recorded both trumpet parts on the new CD. In the stage band, El Greco was replaced by Adalberto Laras. Now leading his own group in Miami, Carlos Averhoff is a brilliant jazz player who recorded the much sought after collector's item "Solamente Con Amor" in 1987 with the likes of Gonzálo Rubalcalba and Horacio "El Negro" Hernández. He had two different tours of duty with NG and two with Irakere, as well as playing with Emiliano Salvador and Arturo Salvador. He was also a member of the Issac Delgado group which played the legendary Central Park concert in Manhattan in 1997. Averhoff was followed by Rolando Pérez Pérez, frequently known as "Pérez-Pérez", who recorded on every NG CD except the first and most recent and was followed by Ernesto Varona. Germán Velazco has become one of the most respected musicians in Cuba. He wrote "Generaciones" and did several arrangements for the first disc and has had a long and successful writing and recording career. He recently played on Juan Ceruto's "A Puerto Padre" - a tribute to Emiliano Salvador, and Velazco and Carlos Infante teamed up to do all of the arrangements, bass and keyboard parts for Wickly's new CD, "Rumbero de Corazón". Velazco stayed for the first five CD's and was followed by Rafael Jens, José Luis Núñez, and now José Hernández.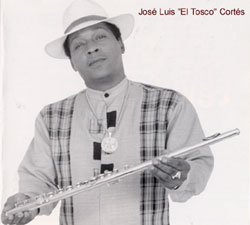 Wednesday, 20 April 2022, 12:51 AM