Discography - Soy Lo Que Te Hala
2010 - Soy Lo Que Te Hala (Planet)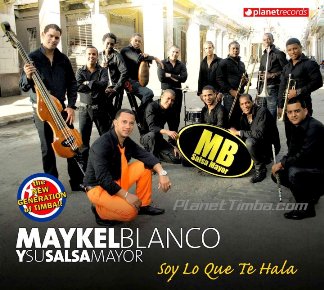 Maykel Blanco y Salsa Mayor are back with another hot timba album. Maykel is a prolific composer and the band has been churning out one CD every other year to their fans' delight. Maykel consistently composes solid, catchy lyrics and combines them with irresistible dancefloor-ready arrangements that make Maykel's songs favorites among DJs and dancers.

"Soy lo que te hala" returns somewhat to the sello of their mega-success debut album "Recoge y vete". This may in part be due to the return of singer Yordi Larrazabal. There are just certain combinations of musicians that seem to have something special that makes them more than the sum of their parts. Maykel and Yordi are an example of this. Yordi sings lead on four of the ten songs on the album, and when you hear them you know that you are listening to Maykel Blanco y Salsa Mayor. Pavel "La Figura" Delgado and Yasser Ramos round out the front line, which is one of the most charismatic in Havana today.
Where the previous albums have included a son montuno here and a ballad there, "Soy lo que te hala" is 100% timba with no apologies. The album kicks off to a running start with Pavel singing "Qué tú crees?", a song about afro-cubania; "pa' los santeros, los religiosos" he says. Maykel wastes no time getting the dancers hips moving, with 27 seconds of intro and 28 seconds of cuerpo they dive into the first coro after less than one minute.
Yordi follows with two relationship songs. The first, "Se Acabo' El Amor", has a second title based on one of the coros, ya tú no estás en el bombo, which makes it clear that Yordi has no interest in resuming this relationship. It starts off deceptively soft as if we're dealing with a timba romantica, but the coro takes things up a notch and this song has already made it on to the favorites list of timberos around the world, including yours truly.
Yordi's second song, "Arriba de lo Mal Hecho", looks at a broken relationship from the other side. This time Yordi has done something wrong and is asking is ex to take him back. At 3:20 during the title coro everything drops out leaving us with a son clave and bass as if to give Yordi a moment to state his case without destractions before the piano and keyboard join in again to lift the song back up leading into some churning bomba.
Yasser's first song on the album "Pari Parara" begins with an "a capella" trombone champola intro, I can't help but think of the trumpet intro to Jerry Rivera's "Amores como el nuestro", but there any possible similarties end. It is a cautionary tale where Yasser seems to have met a girl who he can relate to but in the end she leads him astray.
In keeping with the recent trend towards Internet related songs in Cuba, "Públicalo", Yordi wants his girlfriend to publish on her page that she's in love with him. Are we talking facebook relationship status here? The song is surprisingly short only 3.32 and fades out which leads me to believe that this was recorded with the radio in mind, and it must have a number of extra coros in the live version. I'd have liked a little longer version for the dancefloor.
Yasser comes back with "Reposa" which has a coro that won me over on first hearing. The harmony change going into the coro Ya la cosa es otra cosa, reposa . I can't say exactly what it is, but I love it. It's not hardcore but you can just slip into your dance groove and gozar! Very danceable and just plain nice to listen to.
"Pa' Cualquiera" was Yordi's first new song on returning to the group and it is another irresistable super dance hit. Maykel outdid himself making sure that fans would celebrate Yordi's return. As Maykel wrote "Mi música es pa' cualquiera" and this song appeals to everyone. It is another success that will have you singing "a ti qué te pasa?" and a must have for any Best of Cuba 2010 collection.
Pavel "La Figura" is the most street of the singers and he gets the toughest songs. "La Cara de Salir Pa' Andar" is about people trying to take from Pavel or as the song say "hay una pila de ratones aquí que se quieren comer mi queso". And Pavel's troubles continue with "La Pacotillera". He has fallen for a beautiful, intellegent and unique girl, but ufortunately he finally realizes that she's a pacotillera and says para un momento ahí, tú me estás saliendo cara . "Pacotillera" gives you some great tembleque moments.
Yasser closes the CD with the title song, "Soy lo que te hala" a fast-paced song that starts with a tasty tumbao and a cuerpo sung in unison by all the singers. The first coro is long and without guías: directo de La Habana, música cubana, soy lo que te hala, eso de ayer, lo de hoy y mañana . At 2:25 Roig does a little keyboard solo, followed by a flute solo by Deivys and a trombone solo mixed with the coro Me lo llevo . It's nice to hear some of the band members get their moment to shine as well.
"Soy lo que te hala" is one of the top releases of 2010. Get ready for 45 minutes of non-stop dancing!
Track list:

| | |
| --- | --- |
| title | lead singer |
| Que Tú Crees? (A La Ñaqui) | Pavel "La Figura" |
| Se Acabo' El Amor (Ya Tú No Estás En El Bombo) | Yordi Larrazabal |
| Arriba De Lo Mal Hecho | Yordi Larrazabal |
| Pari Parara | Yasser Ramos |
| Publícalo | Yordi Larrazabal |
| Reposa | Yasser Ramos |
| Pa' Cualquiera | Yordi Larrazabal |
| La Cara De Salir Pa' Andar | Pavel "La Figura" |
| Pacotillera | Pavel "La Figura" |
| Soy Lo Que Te Hala | Yasser Ramos |
Tuesday, 22 March 2011, 07:31 PM