Mayito Rivera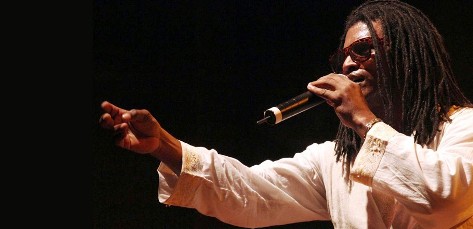 Mayito Rivera "El Poeta de la Rumba" photo courtesy of mayitorivera.net
Mayito Rivera is probably the most revered Cuban vocalist since Beny Moré. His music is a matter of public record. From his first guías on "¿Qué tiene Van Van?" he's produced a long string of classic recordings with Los Van Van: "Soy normal, natural", "Voy a publicar tu foto", "Un socio" "Mándalo y ven", the second version of "De La Habana a Matanzas", "El Tren se va", "Llévala a tu vacilón", "La bomba soy yo", and of course, the epic anthem "Soy todo".

He was a member of Team Cuba, and has been featured on "Gracias Formell" and nearly every other all-star compilation produced in Cuba in the last decade, and most who have been lucky enough to visit La Habana have heard him in one of his legendary guest appearances with other groups, where his improvisatory skills can be heard in their full splendor as he joins Bamboleo, Issac, and other groups -- always in perfect form and always creating the mood, among the bandmembers and audience, that history is taking place before their eyes.
One need only listen to the widely circulated bootleg recording of Mayito's guest appearances with Issac Delgado on "El Solar de la California" and "Amor sin ética" (I was there!) to experience the power and atmosphere that this giant of Cuban music brings with him everywhere he goes. And to hear him sing "Soy todo", en vivo, with Los Van Van, is a peak experience that has profoundly moved thousands of people on every continent. [Kevin Moore]
Mario Enrique Rivera Godínez, better known to the world simply as "Mayito", was born in Pinar del Rio, the westernmost province of Cuba on Januray 19, 1966. While it is his amazing voice that has brought him worldwide fame, he actually studied percussion at La Escuela Nacional de Arte (La ENA) and completed his university-level studies at El Insituto Superior de Arte (El ISA).
Early in his career he was attracted to the Nueva Trova style, wanting to perform songs with a deep message. He was bass player for Grupo Moncada for a while. But his big break came in 1992 when he was asked by Juan Formell to join Los Van Van where he soon ended up moving from coros to singing lead after the departure of Mario Valdés "Mayito el Flaco". Mayito Rivera had to face down some skeptical fans, but from the release of the first single Formell wrote for him "Qué sorpresa" (Foto en la prensa) the Cuban audiences took to him, and he was destined to become the inspiration for the generation of singers that followed.
Mayito's vocal talent soon gained national attention, and in 1999 Mayito was asked by Bis Music to do the lead vocals on their project "Pa' bachatear... Chappotín", a tribute to the great Félix Chappotín under the production of Germán Velazco. International audiences had also taken note and in the 2003 Timba.com awards fans voted Mayito Best Overall Singer, Best Singer (guías) Best Singer (improvisation) and "Soy todo", the Cuban anthem he immortalized, won Best Timba Song of All Time . In 2004 Mayito was chosen to be part of the "Música Cubana - Sons of Cuba" project which led to the movie by the same name. In 2005 Mayito released his solo album "Negrito Bailador" ("Llego la hora" in the US) with all original songs of his own composition. The album was nominated for a Latin Grammy in the Best Salsa Album category.
After 19 years with Los Van Van, Mayito started his solo career in 2011. In 2013 he released "Alma de sonero" with Soneros de Verdad. As the title implies it is a tribute to traditional Cuban dance music. You can read our review here . His plans for 2014 include a tour and his new Mayito Rivera & the Sons of Cuba project. So stay tuned because we can expect more great things for this talented and versatile artist.
Michelle White - Saturday, 31 May 2014, 04:05 PM