Mezcla
Mezcla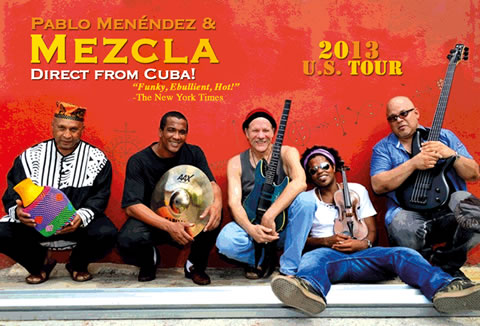 Mezcla was founded in 1985 by guitarist Pablo Menéndez, who as the son of Barbara Dane was born in Oakland, California but has lived in Cuba since 1966. Pablo's earlier history is interesting in itself; he was a cofounder (in 1970) of the seminal Grupo de Experimentación Sonora del ICAIC , and his resume also includes work with Sonido Contemporaneo and Síntesis among other groups.
Under Pablo's leadership, Mezcla helped open the doors for many other bands by becoming the first group in Cuba to tour the United States in the mid-1990s after protests against the travel ban that included support from United States guitarist Carlos Santana . True to its name, the band has incorporated a broad spectrum of styles in its material from folkloric Afro-Cuban all the way to Reggae, Rock and Fusion throughout its career. Pablo has also served as a key link between musicians in Cuba and the United States for many years.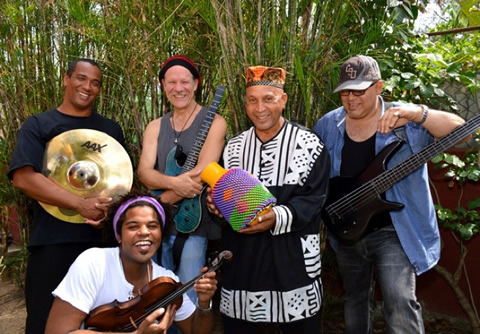 In addition to the advanced mix of music, Mezcla has frequently incorporated social commentary into its lyrics in addition to the usual and customary songs about love etc. At different points in time, elements of Jazz have also been incorporated in the repertoire.
The 2013 version of Mezcla places a stronger emphasis on folkloric and Jazz elements, and this is reflected in the powerful combination of master drummers that are now in the group.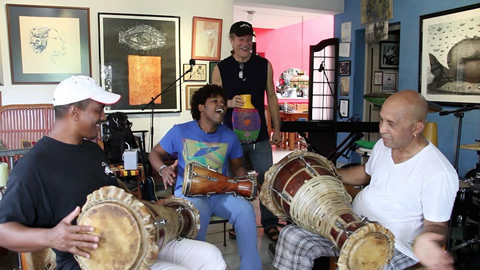 Mezcla's Musicians 2013
Pablo Menéndez - Leader, Guitar
Octavio Rodríguez - Conga and Batá (Octavio is also a babalao)
Roberto Smith "El Capitán" - Percussion
Jose Hermida - Bass
Julio Valdez - Multiple Instruments including Violin
See the subpages for a discography, videos and more. Mezcla's website is
http://cubamezcla.com/Mezcla_Home.html
Kevin Moore - viernes, 21 junio 2013, 11:54 am