Beyond Salsa Bass
Click here for the new Beyond Salsa Home Page and Online Catalog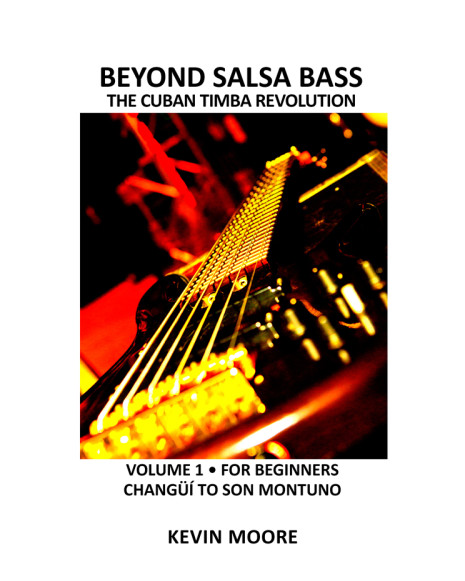 Click here for links to all Beyond Salsa Bass Volumes
Beyond Salsa Bass follows the same game plan as Beyond Salsa Piano: five volumes covering the history of Cuban bass playing - from changüí and son to songo and timba - followed by a series of books on individual star bass players.
The two volumes of Beyond Salsa Bass to be released are Volumes 6 & 7, the first two on Alain Pérez. They correspond exactly to Beyond Salsa Piano, Vols. 6 & 7, on Melón Lewis. Melón and Alain played together in the historic Issac Delgado group of the late 1990s, creating arguably the most sophisticated and ultra-creative piano-bass tandem in the history of Cuban popular music. Volume 6 covers two of Delgado's greatest live timba arrangements: No me mires a los ojos and La vida sin esperanza. The piano and bass parts are drawn from extended live performances at the legendary Palacio de la Salsa nightclub in the Hotel Riviera on the Malecón. Volume 7 covers Por qué paró and Luz viajera. Included is a 19-page note-for-note transcription of an extended live bass performance along with various charts, tables and essays on controlled improvisation, gears, and improvisation of form in live timba.
The bass volumes transcribe not only the notes but the many percussive sounds that Alain uses to create his powerful groove. He performed each song in slow motion and in various takes at full speed, making full use of the "controlled improvisation" technique that's so central to both his and Melón's styles. Everything he plays is transcribed in 16th notes, 8th notes, and bass tablature. Volume 6 also contains the first part of Alain's biography, covering his early child prodigy years, his "discovery" by Chucho Valdés, and his initial entry into the Issac Delgado group.
Audio Products: The audio products have the piano alone in the left channel and the bass alone in the right. It includes Alain's slow and fast performances, and the fast performance is also provided in a digitally slowed version. Additionally there are MIDI tracks to accompany the analysis of Alain's style and to cover several auxiliary tumbaos not included in the videos.
Video Products: Alain was filmed with two cameras, one looking directly at him and the other a closeup on his right hand. For every tumbao, we provide three separate videos: a widescreen version of each camera angle and a split screen version combining the two. There's a companion piano video product for each with three views of Melón playing his tumbaos.
sábado, 02 enero 2016, 07:34 pm