SpanishEnglishInterview - Tony García, Timba Soundman - Oct. 2003
by Andy Pérez - October, 2003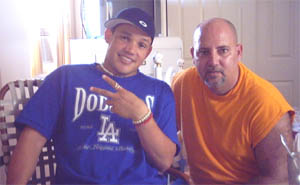 Lele Rosales de Los Van Van con Tony
Q- What is your name and where were you born?
A- My name is Juan Antonio García Delgado (Tony) I was born in Havana, Cuba .
Q-Where did you study the art of being a soundman and how did you enter the music industry?
A-Well I studied courses on sound in Cuban television and in the superior school of audio Osavaldo Herrera, the more experience you the get the more they give you on the audio field in broadcasting television. I entered the world of music in 1984 but I loved music since I was a little boy I worked 13 years in television but I always did the músical sections of the programs. I was one of the founders of the TV show MI SALSA which broadcast on Cuban television. It was a program that was very important to Cuban Music. I was involved with the program for 5 years.
Q-With who and when was your first job in the music industry?
A-Well I started out as a Utility man for Lele Sr. in a band that he had. From there I went to work for TV but my first real band was Bamboleo, then Azúcar Negra, Elio Revé y Su Charangón, y Carlos Manuel y su Clan. In Cuba I was the soundman for many band the ones mention are the most famous ones I worked for. I traveled the whole Island of Cuba and outside of Cuba being the soundman for these groups.
Q-How was it working for Bamboleo?
A-In Bamboleo I saw that group grow into what they are today, I saw Haila and Vania create a style that is well liked and popularized in Cuba . It helped bands that were mainly men add woman to there groups because the influence they had to Bamboleo. Their music was well like we traveled Cuba and outside of Cuba .
Q-What do you think of Timba?
A- Timba is the Cuban music but a little complicated and elaborated. The normal dancer does not understand it. In the world nobody understands Timba it¹s just complicated it¹s influenced by jazz. I respect the music and it has a lot of quality, it¹s just hard to dance to.
Q-Now that we are talking about Timba we have to mention the masters of it Los Van Van, what do you think of them and Juan Formell?
A-Well I respect Juan Formell a lot he¹s been working since the end of the 60¹s and is unstoppable creator of many great singers and has been making non-stop hits through out history. He has this magic about him that he just passed generation through generation. For me that band has been the heart of Cuban music for the last 30 years. Juan Formell and Los Van Van are like the New York Yankees they are in the mouths of everyone. Hopefully Juan Formell lasts many years as do Van Van.
Q- You were the one that got Lele Jr. involved in the music industry how was that?
A-Well I am a very good friend of Lele Sr. his father, his father was one of the founding members of Los Van Van who now lived in Chile. Lele Jr. got his name in tribute to his father. I know Abdel from when he was a little kid. He studied Military Rights and one day he came to me and said Tony I want to sing and leave school, what I love is music. I told him it¹s not going to be easy but you¹ll pull it off. And we went of to get Abdel into the music industry, I took him to some places and they accepted him in some other they didn¹t. I had people tell if I was crazy how is that kid going to sing. We kept insisting that he was going to be a good singer and history has proven us right. He is one of the most charismatic singers right now. He has Cuban music in his blood and there he is just where he wanted to be when he left school. Singing for the band his dad help create Los Van Van. Check out his new song Anda Quiéreme it has a message in it.
Q-What do you think of the music scene in Havana to the music scene in Miami?
A-The music made here in Miami is totally different then the music made in Havana. Many people may not want to believe this but the music in Miami is way behind the music in Havana in terms of Cuban music and the mixture of jazz and popular music that makes up Timba.
Q- Your still with Carlos Manuel, when is the next show and where? Does he have any new songs and which one is your favorite?
A-Yes I am still with Carlos Manuel here in Miami we play next Friday the 24 in Tropigala in Miami Beach where Carlos has been having good crowds and has been liked by the Hispanic community. Carlos is preparing many new songs one that I like says "the horse has left you". I wonder what that means? Hmmmm.
Q-What do you think of El Clan?
A-El Clan that stayed behind in Cuba I think that name El Clan was popularized by Carlos Manuel. He became the Idol of many young Cuban people. Singers with charisma can not be imitated nor be cloned. That¹s why I believe that they will not be anywhere near as popular as when Carlos was there because he was the key to it and he left. It¹s hard to duplicate something when your best singer leaves. It¹s like in baseball without a great pitcher you can¹t win a game.
Q- What is the specialty of the soundman?
A- I want to say something before I finish in name of all the soundman in the world. Are job is very hard we are the ones that put the finishing touch on the music and sometimes we are not considered the technicians the collaborators of the stars. We are the ones the get the show early to set up and leave late to take everything down. Being a soundman is an eternal nightmare. Thank You Timba.Com
But you love it. Thank You Tony
Tuesday, 22 March 2011, 07:32 PM