SpanishEnglishInterview with Alejandro Valera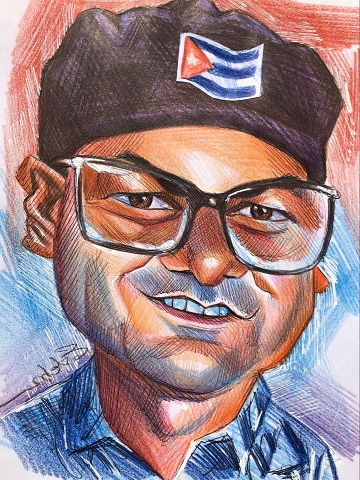 Caricature of Alejandro Valera ©Esteban Isnardi. Used by permission.
On April 25th, the most recent Los Van Van video "Vanvaneo" was realeased. Is this your 6th collaboration with Van Van?
The video clip "Vanvaneo" was released on all Van Van platforms on April 25, this being the 9th I've done with the Rolling Stones of Salsa (Los Van Van).
In addition, three weeks ago, the documentary "De Vuelta al Barrio", about El Niño and La Verdad, was released. But before talking about this, tell us a little about your studies and how it was that you entered the path of directing video clips with Cuban orchestras.
It all started at a very young age when I ran and played on the film sets that my father and uncle were working on. I come from a family dedicated to the Cuban film industry since 1940 when my paternal grandfather Huberto Valera Rauli began his professional life in the world of cinema, becoming one of the founders of ICAIC after the triumph of the revolution in 1959. This profession was inherited by my father and my uncle who becomes one of the island's cinematographers with the highest aesthetic and professional results. The inheritance came to me and my cousins, thus being the third generation of our family dedicated to the 7th art. As part of my evolution I did my university studies at El ISA (Instituto Superior De Arte) at the School of Film and Television. I graduated as Director of Photography and parallel to these 5 years of study, I made the career of Film Editing, having the opportunity to edit numerous documentaries, films, advertising, television programs, all these works directed by the most representative and important directors of the industry in my country. This was a huge opportunity that I had as a large part of my training. I came to the world of music video for my specialty as camera assistant. After all this time editing, I felt the need professionally to develop the practical part of my career as a cinematographer, and obviously you have to start climbing the ladder. I had the immense pleasure of working 3 years as an assistant to Alejandro Pérez, director of the video clip "Bailando" by Enrique Iglesias - Gente De Zona and Descemer. Well, right here began my interest to direct a video clip at some point.
The clip of "Vanvaneo" combines video with animation. How did the idea come up, and was the concept something you talked to Samuel about or did he just put the project in your hands?
The idea arose from discovering in a live video of Los Van Van giving a concert in Germany in which a genius, the one with the graphite pencils, Esteban Isnardi had the courage to stop said event in order to give the musicians their caricatures. That was extraordinary, and from that moment on I said to myself that I had to insert that marvel into a Van Van video. Time passed, the "Legado" album came out and the song "Vanvaneo" was the favorite. Samuel inherited many skills and talents from his father Juan Formell, one of them is the creative voice he gives to all those who make up the Van Van creative family. That is my case, I told him about my idea and the concept and he was delighted.
Seeing the "Making of Vanvaneo" I am impressed by how many people, how much logistics and how much organization is required to carry out a project like this. Do you have a team that you always work with?
Yes, the logistics are huge and it starts with the script written by your humble servant, you begin to search for locations, casting of dance companies, actors or models, depending on the idea. Once we have this, the costume design work begins with a color palette that responds to the concept of the video, production design and all the processes prior to filming. I have a team that is already part of my family, many of the professionals who make up my company ValeraFilms have been doing it since my beginnings as an audiovisual director, which makes our creative collaboration very great. Some of them, like me, reside in Europe, and when I get a project around here, I call them, and during the production process, we managed to feel as if we were in Havana. I want to take this opportunity to thank each of these professionals who are the greatest collaborators for me and the musical projects. Most of them have been working for the many years at the top of the film industry and that is something that has contributed a lot to me, and without a doubt I can say that this has helped me grow professionally.
Did you do the editing in Photoshop yourself to make the drawings move?
In this case, no, I called Jean Alex Castro, animator of the ICAIC, he was in charge of giving life to these picaresque characters drawn by Esteban Isnardi. It was a very hard job from the simple fact the he was mixing animated elements and characters, sharing the same stage with real beings. Looking at the successful Hollywood cinema dedicated to this production line with all that enormous capital behind it, we can say, and even on behalf of Los Van Van, that we are more than satisfied, because the essence and more is achieved in "Vanvaneo". Eternal thanks to these two great friends and professionals, one was the starting point and the other made it happen
How does the job of making a video clip compare to making a documentary?
The work of a video clip contains another way and style of creation, starting with responding to its commercial character and nature in a large percent of cases. We are generally talking about 5 minutes maximum on screen, about 3 or 4 weeks of preparation, filming and post-filming. The documentary is for me the father of cinema, a necessary work for every filmmaker or aspiring filmmaker. It can take years of completion going through all the stages mentioned above but inserting the most important I would say, research on the subject. This leads you to consult many bibliographies, interview with people who can contribute to your work, view all the film material you find on the subject, in other words, become an unlimited connoisseur of the subject that you will later defend.
Would you like to make more documentaries in the future, because for me "De Vuelta Al Barrio" was fantastic?
Yes, I would love it very much. "De Vuelta Al Barrio" opened for me, a horizon of which right now I have three documentary projects in development. I am infinitely grateful for the opportunity that Emilio Frias, Wilfredo Naranjo, La EGREM and CUBARON gave me to do this work, which has given me much satisfaction, after participating in various film festivals, some postponed until 2021 due to the Covid-19 pandemic, we recently released the documentary online and the acceptance has been massive and very positive, something that gives me all the creative strength to continue carrying out this type of project.
Is there a project that you are working on now that you can tell us about, or is everything currently on hiatus due to the coronavirus?
At the moment everything is on pause but not a pause in creativity. I am writing several video scripts to do when this passes once and for all, in addition to continuing the development of my next documentaries. Just a few days ago I was working on a video clip "Homenaje a Juan Formell" belonging to the Voces De Hoy CD, a video that was released on May 1st on the 6-year anniversary of his physical departure. it's a totally handmade video made from home, without being able to go out to film sequences for it, I would say a video of these times, but with the maxim of bringing it up to the level of that great figure of our music and our lives, that's how I see it, a Cuban who is very grateful to have been born in era of Los Van Van.
Below we have included the other videos we talked about in this interview. Enjoy!
Monday, 04 May 2020, 07:13 AM