New Stuff
[hide]
Photos of the Day
[hide]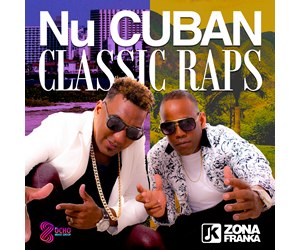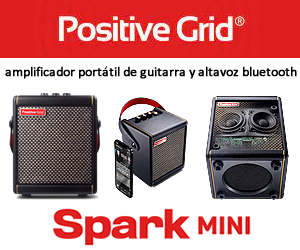 SpanishEnglishLlego El Expresso - Interview with Aisar Hernandez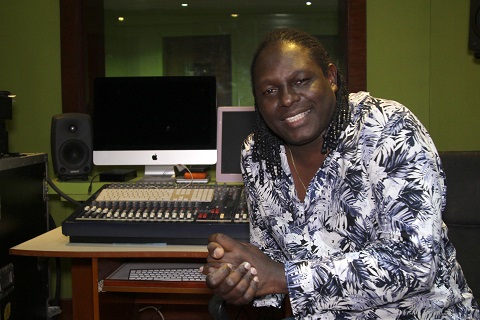 Aisar Hernandez in the studio
Photo ©Roberto Ruiz. Used by permission
First of all, thank you very much for allowing me to speak to the world through Timba.com you're very kind.

1. In 2007 and 2008 you released 4 songs under the name El Expresso de Cuba but you didn't found your own group until the end of 2015. Why did it take you so long?

Well Michelle, it's no secret to anyone that I had a lot of responsibility in Orquesta Revé, although it always left me room to work for other artists on compositions, orchestrations, and production. We can add to all this that I had very little time to devote energies to my personal project due to all the demands generated by my work and the responsibility of musically maintaining an institution as great as Elito Revé y su Charangón and keeping it interesting to the dancers.

2. Tell us about the format of the group.

El Expresso de Cuba consists of 4 percussionists: timbal, congas, güiro and bongo with campana and on harmony three trombones, bass, and piano and keyboard as well as 4 singers.
3. Who are the singers? At Facebook I have seen Eduardo Broche, Akaena Rodríguez and Wilmer Muñoz. Tell us something about each one – their musical background, their strengths.

Well really I have 4 singers, the three you mentioned and Jorge Luis Peres Llamares is the last singer who just joined the Expresso de Cuba and I'll begin talking about him. He's from Pinar del Río and is an excellent singer. He is a very interesting sonero and his voice will allow me to write all those sones that occur to me and that the people like so much. I can also tell you that he won a competition a few years ago on Cuban television called Súper 12 and that he's been in various Cuban orchestras, for example Combinación Perfecta, Suprema Ley and Bakuleye. My singer Akaena has an interesting voice that is unlike current Cuban Timba voices. She is very sensual when she sings and comes from the girl group Caribe Girls. About Wilmer I will say that he has an excellent voice, very beautiful and strong timbre, excellent improvisation and creativity. He is a mature singer who was in Enrique Álvarez y Charanga Latina and comes from La Charanga Forever, and beside him is Eric Broche who is a great composer and I like his timbre for salsa. He has a beautiful voice and was a singer for Bakuleyé, Elito Revé y su Charangón where he was known as El Chino. He has matured a lot and already possesses an excellent ability to work with the public. He came from Pachito Alonso y sus Kini Kini.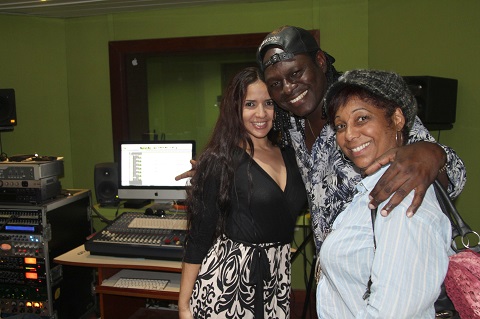 Photo ©Roberto Ruiz. Used by permission
4. Can you tell us something about what we can expect for the musical style of the group?

El Expresso de Cuba intends above all things to bring you good Cuban music, which has good lyrics, interesting arrangements, great flavor, power, and rhythm for the dancers. Our singers are able to interpret songs for those who like salsa de figuras - so-called linear salsa - as well as modern timba, a picaresque guaracha or a very good son montuno. We want to we provide a current look at popular Cuban dance music from our point of view, always keeping in mind and respecting the dancer.

And it is our goal that at any party where there is a Cuban, a person who knows about Cuba or someone who loves Cuban popular dance music, they will recognize in El Expresso de Cuba a Cuban expression that makes them proud, and in the case of those people who never have danced to or listened to the popular dance music of my country, an incentive to turn their interest to it. We try to be a face of the experiences of the people of Cuba, and its joy as the coro of the song (Llegó el Expresso) says.

5. Talking about the rhythm section, how is it different from that of Orquesta Revé - the efectos, the use of bomba, presión and other gears?

I think Orquesta Revé has a unique and unparalleled style, which is what will always distinguish them. For El Expresso de Cuba it's our turn to create our path so we don't use the same breaks as La Revé but others that will identify the Expresso. For example the marcha won't have the changüí rhythm, it will have a more contemporary beat mixing salsa with Cuban rhythmic elements. This will happen with the movements in the trombones. We will treat the horn section with a more commercial and revolutionary character, which meets the international listening demands of salsa, especially in the cuerpos with counter melodies of trombones, champolas that aren't used much anymore, in short a style for the horns that is nice and pleasant to listen to. In the bombas, we will do the breaks (technically) with one hit but on the fourth beat of the measure and not like La Revé does it, with two strokes and the second attacking the downbeat first. El Expresso in its range may interpret not only a fusion genre as does Revé. We could play everything from a salsa romantica with a very Cuban rhythmic base to a very authentic son, to rumbas, guarachas, guaguancó, etc.

6. Are the songs and arrangements written by you or are there other musicians in the group who compose and arrange?

In the orchestra several musicians compose: Eric Brooch, Geovanny B. Nelson the conguero, Camilo Yuniel the keyboardist and for now only I write the orchestrations, with the intention that - being a new group – I want to instill a style and sound. But also the keyboardist Yuniel Camilo arranges very well and in the near future he will also weigh in on the arrangements.

7. Where and when will the first concert be?

Concerning the debut concert there are high expectations and lots of speculation about it but we still haven't decided, although there are several interesting unofficial proposals. But we think it might be January 31st at La Tropical together with La Charanga Latina and Maestro Enrique Álvarez.

8. When will the first album by El Expresso de Cuba drop and will the songs "Llegó el expreso", "No me canso", "Amor oculto" and "La tía" be part of the record?

The first album of El Expresso, of course we will take these 4 songs that have already been heard, and we think that by the summer we'll be talking about a release of this album that we're preparing now. So we ask those who already love El Expresso de Cuba to wait a little, because these songs have never heard on the island and we have begun promoting them here now.

9. What have the 10 years as Musical Director of the great school of Cuban music that is Orchestra Revé meant to you?

These 10 years in Orquesta Revé have been very fruitful for my career and I am eternally grateful to the orchestra Elito Revé y su Charangón for allowing me to demonstrate my talent through her. I also think it was a time of glory and results in the orchestra's history, seeing that the times are not the same on the island considering that today there are other genres that score higher in the preference of the dancers, still our work always allowed us to be high in the expectations of a very demanding audience. But we were able to meet those expectations, and that is something that pleased me a lot.

10. Now you begin to be Director of your own group. For you what are the most important characteristics of a successful orchestra leader?

Well I think humbly that a leader must have, first clear idea of what he wants and what he or his group are able to do, that is you must have confidence in your idea. I think the other thing you must have is a lot of love for what you're doing and that will make you appreciate and respect the musicians and create, or at least try to create, a musical family, which is very important to the outcome of the work. If the personnel within the orchestra is constantly changing, you will not succeed in forming a firm and solid unit and this will affect the results and even the sound of the orchestra.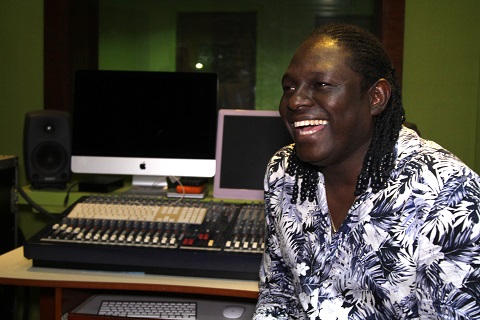 Aisar Hernandez in the studio
Photo ©Roberto Ruiz. Used by permission
11. Is it difficult to start a new project in these times?

Yes it really is very, very difficult to put together a new project I think that's why I always thought so many times it is not enough just to compose, orchestrate, and produce your music, there are many factors that have nothing to do with it, but that force new musicians with ideas of starting their own project to have second thoughts. For example having a project implies that after you make music you need to have all kinds of people to help disseminate and promote it. In this DJs and promoters of our music play a very important role, as well as dance teachers, and finally dancers. Another point is to be able to convince any promoter or entrepreneur today as the world is in crisis to risk arranging a tour with this young project. This is something that forces you to think twice. Also, to keep a new orchestra a united, as well as to propose work for the musicians that they enjoy doing. A musician has to make money and travel or that can influence whether they want to leave the group for another where they may not like the work they are doing very much musically, but where they have better economic prospects. In short I recognize that it's a very difficult time to start a career, a new group - but as I said before, you have to trust in the proposal that you are giving, and in the dancer who knows how to appreciate what is good and authentic. They are our reason for being and to whom the work of Aisar y El Expresso de Cuba is addressed.
Thanks for the interview and lots of luck. We are expecting great things from Aisar Hernandez and El Expresso de Cuba.
Thank you very much for the interview and we hope that El Expresso de Cuba will meet the expectations that are already growing in those who write to us so much and give us proof of their respect, love and support.
Thursday, 21 January 2016, 09:04 AM