Lo Nuevo
[hide]
Fotos Del Día
[hide]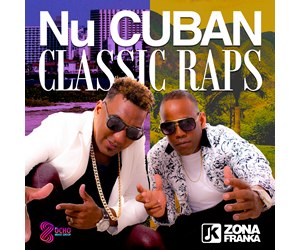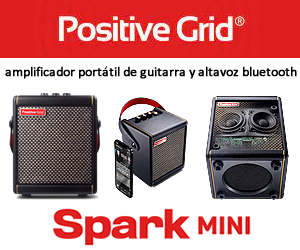 CIDMUC Simposio 2015
Simposio Internacional Cubadisco 2015
Centro de Investigación y Desarrollo de la Música Cubana (CIDMUC)
La Habana, Cuba, May 18-22 2015
Photos and commentary by BIll Tilford, all rights reserved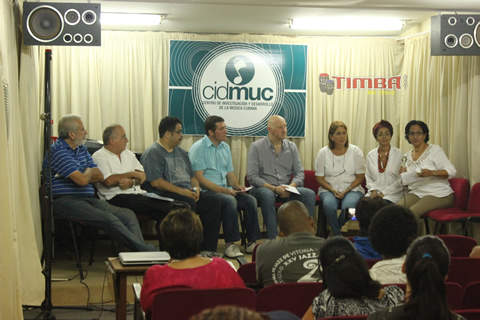 (I-D:): Jorge Gómez, Presidente, Premios Cubadisco; Mario Escalona, EGREM; Arturo O'Farrill; Pedro de la Hoz, Granma; Antonio Martínez, Endirecto; Marta Bonet, Colibrí; Caridad Diez (ICM, Vicepresidenta, Feria Cubadisco); MsC. Grizel Hernández Baguer (CIDMUC)
ENGLISH: One of the things that makes Cubadisco stand out from many other international music awards programs is that it includes a week-long symposium with international presenters including musicologists, musicians and industry people. (I was one of them this year, as was Bob George of The ARChive of Contemporary Music in New York, and Arturo O'Farrill participated in a panel discussion.) The musicologists give presentations about historical and theoretical themes, the industry people discuss issues that may affect the music industry in Cuba, and the musicians demonstrate instruments and styles of music. Since the theme of Cubadisco 2015 was choral and symphonic music and the invited country of honor was Russia, the musicologists largely focused on those areas, which included Russia's very important influence on the modern Cuban music education system.

A highlight of the symposium was the Wednesday morning sessions, which included a proposal for a new Cuban academy for the discographic industry presented by Jorge Gómez, President, Cubadisco Awards, and a very lively panel discussion about recorded music awards contests in other countries and the Cuban experience. It will be very interesting to see what emerges from these discussions in the months to come.

Some of the technical sessions were held offsite at Estudios Abdala, and there will be a separate gallery for Abdala. You can download the program for the simposium here.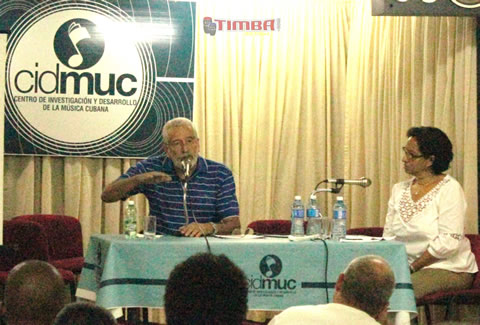 Jorge Gómez, Presidente, Premios Cubadisco
ESPAÑOL: Una de las cosas acerca de Cubadisco que hace que se destaca de muchos otros programas internacionales de premios para la música es que se incluye un simposio de una semana con los presentadores internacionales incluyendo musicólogos, músicos y gente de la industria. (Yo era uno de ellos este año, al igual que Bob George de el ARChive of Contemporary Music en Nueva York, y Arturo O'Farrill participó en una mesa redonda.) Los musicologos dan conferencias acerca de temas históricos y teóricos, la gente de la industria discuten problemas que pueden afectar la industria de la música en Cuba, y los músicos demuestran instrumentos y estilos de música. Dado que el tema de Cubadisco 2015 fue coral y la música sinfónica y el país invitado de honor fue Rusia, los musicólogos se centraron en gran medida en esas áreas, que incluyó la influencia muy importante de Rusia en el sistema moderna de educación de la música en Cuba.
Un plato fuerte del simposio fue las sesiones de mañana miércoles, que incluyeron una propuesta por Jorge Gómez, Presidente, Premios Cubadisco, sobre una nueva academia cubana para la industria discográfica, y una muy animada mesa redonda sobre certamenes de la música grabada en otros países y la experiencia cubana. Será muy interesante ver lo que sale de estas discusiones en los meses por venir.
Algunas de las sesiones técnicas se llevaron a cabo fuera de las instalaciones en los Estudios Abdala, y habrá una galería separada para Abdala. Puede descargar el programa del simposio aquí.
Click on the images to enlarge them / Haga clic en las imagenes para ampliarlas:

Row/Fila 1:
Laura Vilar, Directora de CIDMUC y Presidenta del Simposio; La Orquesta de Cuerdas del Conservatorio Manuel Samuell; conferencia por Lic. Carole Fernández, musicóloga, Colibró/ICM
Row/Fila 2:
Lic. Carole Fernández, musicóloga, Colibrí/ICM; Caridad Diez (ICM), Vicepresidenta, Feria Cubadisco, musicóloga; Bob George, ARChive of Contemporary Music
Rows/Filas 3-5: Round Table/Mesa Redonda
Row/Fila 6: Jorge Gómez, Presidente, Premios Cubadisco; BIll Tilford; Mg. Luz Helena Aristizabal Villegas, Universidad de Caldas, Manizales, Colombia





















Bill Tilford - domingo, 26 julio 2015, 11:13 am