New Stuff
[hide]
Photos of the Day
[hide]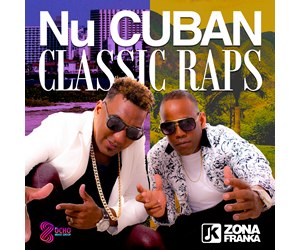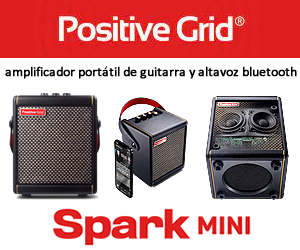 Hermanos Arango at Jazz Plaza 2020
"De lo Folclórico a lo Sinfónico"
Hermanos Arango & la Sinfónica del Conservatoria de Guanabacoa
Teatro América, La Habana, Cuba, 14 January 2020
Photos and commentary by Bill Tilford, all rights reserved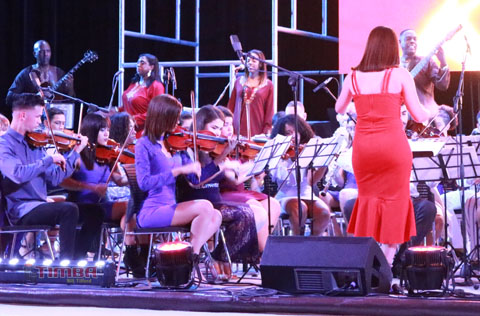 ENGLISH: One of the initial concerts at Jazz Plaza, which takes place in multiple venues simultaneously, was an audiovisual spectacular by Hermanos Arango (aka Los Hermanos Arango) accompanied by the Sinfónica del Conservatory de Guanabacoa (Guanabacoa is the hometown of the Arango family) in the Teatro América, an iconic performance venue founded in 1941. The Arango family has never shied away from bold projects and has been influential in the evolution of rumba, Cuban jazz and timba. This concert was a high-intensity fusion of afrocuban folklore, jazz and experimental music in a symphonic setting with a few key differences, for example, batá drums rather than timpani drums. Several orishas were represented by dancers during the concert, and a widescreen presentation was kaleidoscopic, at times almost psychedelic (if you have ever seen Mesmerica in a theatre, imagine a sort of afrocuban equivalent plus live musicians and dancers). In the liner notes to the excellent, most recent album by Hermanos Arango, Bendita Guanabacoa (EGREM 2019), this writer described the group as a sort of large hadron collider of Cuban music, and a few of the visuals even helped evoked that effect.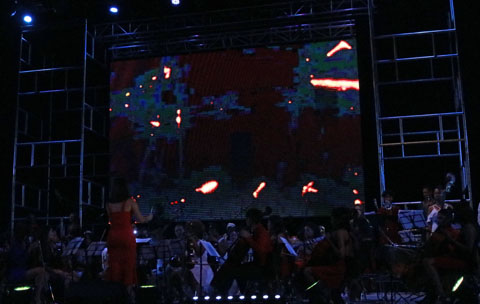 ESPAÑOL: Uno de los conciertos iniciales en Jazz Plaza, que tiene lugar en múltiples lugares simultáneamente, fue un espectaculo audiovisual de Hermanos Arango (también conocido como Los Hermanos Arango) acompañado por la Sinfónica del Conservatorio de Guanabacoa (Guanabacoa es la ciudad natal de la familia Arango) en el Teatro América, un lugar de actuación icónico fundado en 1941. La familia Arango nunca ha rehuido los proyectos audaces y ha influido en la evolución de la rumba, el jazz cubano y la timba. Este concierto fue una fusión de alta intensidad del folklore afrocubano, el jazz y la música experimental en un entorno sinfónico con algunas diferencias claves, por ejemplo, tambores batá en lugar de tímpanos. Varios orishas fueron representados por bailarines durante el concierto, y una presentación visual detras de la orquesta fue caleidoscópica, a veces casi psicodélica (si alguna vez ha visto Mesmerica en un teatro, imagina una especie de equivalente afrocubano más músicos y bailarines en directo). En las notas del excelente álbum más reciente de Hermanos Arango, Bendita Guanabacoa (EGREM 2019), este escritor describió al grupo como una especie de gran colisionador de hadrones de la música cubana, y algunas de las imágenes incluso ayudaron a evocar ese efecto.

Regarding the album Bendita Guanabacoa, you can see the official making of video here...
En respeto al álbum Bendita Guanabacoa, puede ver el "making of"video oficial aquí ...



Click on the images below to view more photos
Haga clic en las imágenes a continuación para ver más fotos.






















Bill Tilford - viernes, 28 febrero 2020, 12:13 pm