Lo Nuevo
[hide]
Fotos Del Día
[hide]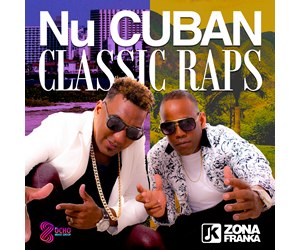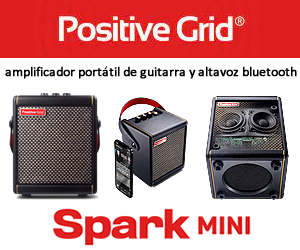 Reception Cubadisco 2015
Reception for Foreign Participants / Recepción para participantes extranjeras
18 May 2015, Casa de la Amistad, Habana, Cuba
Photos and commentary by BIll Tilford, all rights reserved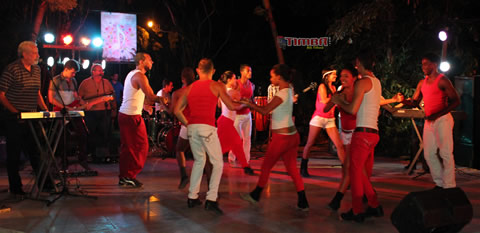 Team of casineros dancing with Moncada

ENGLISH: Part of the Cubadisco event sequence is an invitation-only reception for the foreign participants at the Casa de la Amistad. This is an informal event - rum flows (Ron Santiago de Cuba, the official rum of Cubadisco this year) as well as the conversations, and there is entertainment. The Casa is across the street from the North Korean Embassy, and it is difficult for a United States citizen to come here and notice that juxtaposition without pondering the weird incongruities that make it easier for a US citizen to travel to North Korea than it is for most of us to travel to Cuba. One hopes that 2015 will be the last year that I will be able to make this observation other than in a historical context.
After some welcoming remarks (including a few words from Russia's cultural attache, Zaven Musaelyan), the entertainment included a few songs by Alex & Nilusha, an Australian group that was awarded one of the International prizes as well as Frasis, a Cuban Fusion group that grabbed my attention and held it - I will be writing more about them later this year. A team of crack casineros performed a choreographed dance to a recording of Me Dicen Cuba and later danced to a live performance by Moncada, which has made spreading the word about Rueda de Casino its mission. Moncada, incidentally, was the musical group with which Conan O'Brien was interacting during his television special a few months ago. More about all that as well later this year. Some of the audience later joined Moncada and the dancers on stage.

Here is a video of Frasis from the Cuban television prgram 23 y M:


ESPAÑOL: Parte de la secuencia de eventos en Cubadisco es una recepción sólo por invitación para los participantes extranjeros en la Casa de la Amistad. Este es un evento informal - el ron fluye (Ron Santiago de Cuba, el ron oficial de Cubadisco este año) tanto como las conversaciónes, y hay entretenimiento. La Casa está al otro lado de la calle de la Embajada de Corea del Norte, y es difícil venir aquí como un ciudadano de los Estados Unidos y observe esa yuxtaposición sin pensar en las incongruencias extrañas que hacen que sea más fácil para los ciudadanos estadounidenses viajar a Corea del Norte que (para la mayoría de nosotros) viajar a Cuba. Se espera que 2015 sea el último año en el que voy a ser capaz de hacer esta observación aparte de en un contexto histórico.
Después de algunas palabras de bienvenida (incluyendo algunas palabras por el Agregado Cultural de Rusia, Zaven Musaelyan), el entretenimiento incluyó un par de canciones de Alex y Nilusha, un grupo australiano que fue galardonado con uno de los premios internacionales, así como Frasis, un grupo que toca Fusión cubana y que agarró mi atención y lo sostuvo - voy a escribir más acerca de ellos a finales de este año. (Vea el video arriba.) Un equipo experto de casineros realizó un baile coreografiado utilizando una grabación de Me dicen Cuba y luego bailó con una actuación en directo de Moncada, que ha hecho una misión de corriendo la voz acerca de Rueda de Casino. Moncada, por cierto, fue el grupo musical con el que Conan O'Brien estaba interactuando durante su especial de televisión hace unos meses. Más acerca de todo eso también a finales de este año. Algunos de los invitados más tarde se unieron a Moncada y los bailarines en el escenario.
Click on the images to enlarge them / Haga clic en las imagenes para ampliarlas:

Rows/Filas 1-5: Casineros (Me dicen Cuba y con Moncada)
Rows/Filas 6-7: Casineros, Moncada
Row/Fila 8: Frasis; Alex & Nilusha
Row/Fila 9: Equipo de Cubadisco; Caridad Diez (Vicepresidenta de Feria Cubadisco) & Orlando Vistel (Presidente, Insituto Cubano de la Música); Zaven Musaelyan (Agregado Cultural, Rusia)


































Bill Tilford - domingo, 26 julio 2015, 09:45 pm