Carlos Caro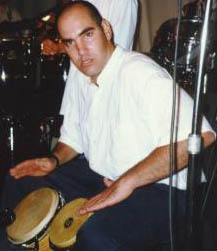 intrumento/instrument: bongó, timbales, congas, arreglista
grupos/groups: Paulito y su Elite, Chámbo, QBA, Vissión Latina
grabaciones/recordings: Paulito y Opus 13, Chámbo: upcoming release, Jaqueline Castallanos: La dama del son, Gonzalo Romeu: Romeu por Romeu, QBA: Caramelo, QBA: El jardinero
lugar de nacimiento/birthplace: Guanajay, Cuba
formación musical/musical background: la ENIA
lugar actual de residencia/current residence: Modesto, California
homepage: http://www.carloscaro.net
entrevista/interview: interview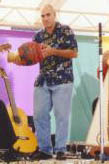 After playing with Paulito FG, Carlos Caro moved to Northern California where he plays and records with many groups and teaches seminars in Latin percussion. Northern Calfornia Timba fans are eagerly looking forward to his forthcoming production of "Chámbo" which reatures arrangements by Juan Ceruto, Melón González and others. In the 2005 Timba.com Awards, readers voted Carlos the Best Timba Bongocero.
BIO (by B. R. Pinedo): Carlos M. Caro was born in Havana, Cuba in 1967. From an early age, he was strongly drawn to Cuban music, and, in particular, to percussion. From playing as a child at the World Youth Festival in Havana, to being a member of school bands, his teenage years were filled with experiences that would foment his interest in percussion as well as put him on the path to success. Throughout his youth, he was strongly encouraged by his family to pursue his musical aspirations. In 1983 he entered the Alejandro Garcia Caturla
Conservatory in Havana. Later, he attended ENIA ( National School of Art Instructors). Upon graduation from ENIA, he began his professional musical career with the group CLAVE. With the group, he was able to play with young, talented musicians who, like him, had graduated from musical institutions and were experienced in the popular Cuban music scene. Among the note-worthy musicians who played with him in Clave were "Puly" Hernandez, the current lead singer of DAN DEN, as well as the sons of the revered Cuban trombonist, Juan Pablo Torres. His experience in Clave was important in his development as a percussionist; it was during this time that he experimented with using a third bongo head, or the "Tri-bongo".
Clave also acted as a springboard to other musical opportunities. Exposure was beginning to get him the attention of other respected bands in Cuba. 1990 saw him begin a new stage in his career as the first bongocero for "OPUS 13", a band which eventually metamorphosed into "PAULO Y SU ELITE". During his two and a half year involvement with the band, he recorded two albums. The band was headed by Paulo Fernandez Gallo, one of the most well recognized and respected artists in Cuban music. Central American, European and Asian tours followed. The band also formed part of singer Jackeline Castellanos 1990-1991 tour and recorded the album, "La dama del son". The recording was nominated for the "EGREM" award given by the Music Recording and Editing Association of Cuba.
In late 1993, he emigrated to Mexico. Taking up residence in Mexico City, he played with groups such as 40 GRADOS, LA LEY, LA RUMBANTELA and various other Cuban ensembles. During his stay in Mexico, he was introduced to other genres of music; merengue and advertising jingles became part of his repertoire. The crown jewel of his achievements in Mexico came when he was asked to record and perform a work in the Danzon style with the Mexico City Philharmonic. The work was performed at the Palace of Fine Arts in 1996, shortly before moving to the San Francisco area.
Since his arrival, he has become a much sought-after percussionist working with established Bay Area musicians such as Rebeca Mauleón, Omar Sosa, QBA, AVANCE, CUBANACAN, CANDELA, RITMO Y ARMONIA, DR. LOCO AND HIS ROCKING JALAPEÑO BAND among others. His desire to bring his music to students of music resulted in his recording of an instructional CD, "Muy Caliente", with the aforementioned Mauleón, Orestes Vilató, Oscar Stagnaro and Edgardo Cambón.
Love for the music and a tireless dedication to the improvement of his craft have contributed to making Carlos Caro an excellent and disciplined musician. With great pleasure and occasional hardships he has tried to extend his love for the music of his people beyond his own country. [B.R. Pinedo]
Michelle White - Wednesday, 23 March 2011, 03:31 AM