CD Review: Abre Que Voy by Paulo FG y su Élite (EGREM 2013)
Review by Bill Tilford, All rights reserved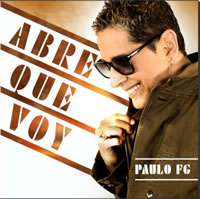 This is the first new release by Paulo FG (full name Pablo Alfonso Fernández Gallo) since Sin Etiqueta in 2010 and is a balance of multiple genres including Timba. El papi happy has some merengue-like fusion elements, Luis Enrique sings in De Amores (there is both a salsa Romantica and a ballad version); Lo mejor de mi vida is a Bachata, and Reguetonero Jacob Forever contributes to A lo lokera, which is a sort of merengue-Regueton fusion.

It has become increasingly common in recent years for bands that play Timba to incorporate other genres (especially Bachata due to its popularity in the North American marketplace) into their recordings. The question is how much is the appropriate amount, and opinions vary so widely (from "zero" to "half the album") that the jury is still out regarding whether this is really an effective strategy. In theory, a hit in other genres could produce significant revenue that might not be earned from a Timba song. In practice, this writer believes that it is worth remembering that many of these other genres owe their success as much, if not more, to the persona of the artist than they do with the actual music, and he is watching these mixed genre recordings with interest to see how they actually perform. That being said, all of the genres in this recording are done quite well, so this debate will be of little importance to those who listen to all of these styles; those listeners will enjoy the entire album. Also, Timba purists should know that the Timba tracks in the recording are legitimate, and they should not let the other genres be a deterrent to enjoying them.
Tracks:

1. Abre que voy
2. Dale play
3. La matadora
4. Por su culpa
5. El papi happy
6. De amores
7. La culpa es de Cupido
8. Yo soy la timba
9. Lo mejor de mi vida
10. A la lokera
11. De amores
Bill Tilford - Thursday, 01 May 2014, 08:40 PM