SpanishEnglishBack to the Sunset - (Independent) - Released 2017
Reseña de CD: Back to the Sunset por Dafnis Prieto Big Band (Independiente, 2017)
Reseña por Bill Tilford, todos los derechos reservados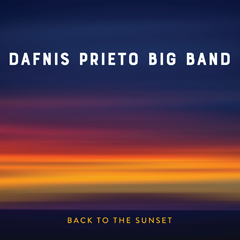 Dafnis Prieto, designado como un Genio por la Fundación Macarthur en 2011 con algunas grabaciones con pequeños formatos muy interesantes en su haber, monta un esfuerzo muy grande aquí con un proyecto de big band apoyado comunitario. Según los materiales promocionales,
Dafnis Prieto Big Band "Back to the Sunset" es apoyado en parte por la Fundación Nacional de Artes y Culturas Latinas, la Fundación Andrew W. Mellon, la Fundación Ford, Southwest Airlines, y la Fundación Surdna a través de una subvención del Fondo NALAC para el programa de becas Artes.
Dafnis Prieto Big Band es un proyecto patrocinado por Fractured Atlas, una organización de servicios artísticos sin fines de lucro.

Hablando musicalmente, los patrocinadores obtuvieron el valor de su inversión. Riquísimamente orquestada y arreglada, esta grabación me recuerda el mejor trabajo de Don Ellis, las versiones más progresivas de los años 70 de las bandas de Stan Kenton (especialmente el trabajo de Hank Levy con ambos) y las obras más orquestadas de Chico O'Farrill a pesar de que la música (completamente compuesta por Dafnis Prieto) en Back to the Sunset es bastante diferente y melódicamente más avanzado si más convencional en cuanto al uso de signaturas de compás. Cada selección está dedicada a diferentes gigantes (en plural) en Jazz (por lo general, pero no exclusivamente, Latin Jazz). Hay elementos únicos en muchas composiciones (como el trabajo del melódica en Danzonish Popurri, por ejemplo) que no aparecen en las grabaciones más típicas de Big Band Latin Jazz. Los solos son excelentes en todas partes, pero es la profundidad de las orquestaciones, no se desperdicia ningún instrumento, lo que hace que esta grabación sea notable. Para cualquiera que alguna vez haya tocado en una gran banda de cualquier tipo (o incluso haya fantaseado con hacerlo), esta grabación es una necesidad absoluta en su colección.
Aquí está un video de un favorito personal de Back to the Sunset, el tema Out of the Bone:
Acople (todo compuesto y arreglado por Dafnis Prieto)
:
1. Una Vez Más
2. The Sooner the better
3. Out of the Bone
4. Back to the Sunset
5. Danzonish Potpourri
6. Song for Chico
7. Prelude Para Rosa
8. Two for One
9. The Triumphant Journey
Créditos técnicos y musicales en Back to the Sunset
Rol - Instrumento
Nombre
Director Musical, Batería
Dafnis Prieto
Trompetas, Fliscornos
Mike Rodríguez, Nathan Eklund, Alex Sipiagin, Josh Deutsch
Vientos
Román Filiú (Saxo Alto & Soprano, Flauta, Clarinete); Michael Thomas (Saxo Alto & Soprano, Flauta, Piccolo); Peter Apfelbaum (Saxo Tenor & Soprano, Melodica); Joel Frahm (Saxo Tenor & Soprano) ; Chris Cheek (Saxo Baritono)
Trombones
Tim Albright, Alan Ferber, Jacob Garchik, Jeff Nelson (Trombone Bajo)
Piano
Manuel Valera
Bajo Acústica y Eléctrica
Ricky Rodríguez
Congas, Bongos, Percusión
Roberto Quintero
Artistas Invitados
Brian Lynch (Trompeta, 1); Henry Threadgill (Saxo Alto, 4); Steve Coleman (Saxo Alto, 6)
Productores
Dafnis Prieto, Eric Oberstein
Ingeniero de Grabación y Mezcla
Joe Marciano. Additional mixing by Max Ross, Dafnis Prieto & Eric Oberstein
Ingeniero de Masterización
Max Ross
Ingeniero Asistente
Andrew Cavaciuti
Estudio
Systems Two Recording Studios, Brooklyn, NY.
Recorded August 28 & 29, 2017
Bill Tilford - domingo, 01 julio 2018, 02:48 am