New Stuff
[hide]
Photos of the Day
[hide]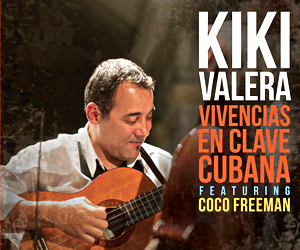 SpanishEnglishMirando al futuro from Havana jazz
CD Review: Mirando al futuro from Havana jazz (Various Artists)
Abdala 2018
Review by BIll Tilford, all rights reserved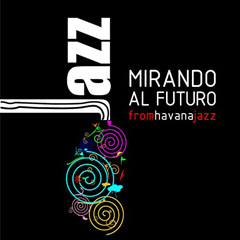 Many decades ago, Louis Armstrong once famously responded to the question "What is jazz?" with "Man, if you have to ask, you'll never know". Alas, that did not make the question disappear in the United States, and there has a cyclical and usually-unproductive repetition ever since then of that question along with occasional debates over whether jazz is dead and whether it should even be called jazz now. Meanwhile, the musicians keep composing and playing, mindful that the road to riches almost never passes through the genre. (Sometimes jazz chooses a musician or composer and not vice versa.) As for its listeners, jazz has been and continues to be a force for mutual understanding globally, often accomplishing musically what Esperanto attempted to achieve linguistically but on a more organic level. If not the most commercially popular genre at the mass level, it nevertheless says something universal to the better spirits of mankind.
In Cuba, a variation of that cycle has included the question "What is Cuban jazz?" sometimes accompanied by ancillary debates over the proper place of jazz within the larger sphere of Cuban music, this in spite of the historical fact that Cuban chromosomes have been part of the musical DNA of jazz since its beginnings. As these lines are being written, the genre is in mostly excellent condition in Cuba at the moment - there are still challenges with financial issues, supplies and sufficient performance spaces, but those challenges also exist in many parts of the United States. On the positive side, there is excellent radio and television support, a world class jazz festival, a supremely important jazz competition for young people (JoJazz) and high production values in recordings. The question of performance spaces is itself a byproduct of an ample supply of talent, in some respects a good problem to have. Most importantly, there is an ongoing explosion in the exploration of the numerous styles of jazz among the younger generations of musicians, and this has been nurtured by several key figures in Cuba's music community including the producer of this album, Gloria Ochoa, one of the most important guardian angels of the genre both in the realms of live performance and recordings. The vast extent of her efforts is beyond the scope of this review but is visible in several of Cuba's best jazz recordings, especially in Colibrís Jazz Young Spirit Series, an important series of recordings featuring winners of past Cubadisco competitions. Some of those recordings are reviewed in other pages of TIMBA.com.
Mirando al futuro from Havana Jazz is an eloquent answer to the question "What is cuban jazz?" along with a moving musical defense of the proposition that the genre deserves a permanent position of honor within the larger framework of Cuba's musical culture. It is a CD/DVD in Cuba, and the audio is available in the digital platforms worldwide. Even with 55 musicians and twelve tracks, it does not capture everything that is happening on the island (how could it?), but the notes hint at future volumes to come, and musically speaking, conditions on the ground practically demand those. What is does, it does splendidly, and one hopes that it reaches the ears of anyone outside of Cuba who still believes that Irakere (wonderful as it was) marked the end of history in the evolution of jazz in Cuba. It is a pity that the video portion is not currently available outside of the island, but it is worth listening to the audio.
The producer's notes for the project are worth reading, and you can read my English translation of those for this project (any translation errors are my own) here. Since those notes include comments about individual tracks, I will not replicate that exercise. However, to fully understand what it is happening among the younger generations of jazz musicians, it is useful to also learn about JoJazz, and I therefore recommend my reflections on the 20th edition in 2017 as supplemental reading, available here.

Here is the Making Of video. The participants include Alexis Vázquez, the founding father of the JoJazz competition.



TRACK LIST FOR MIRANDO AL FUTURO. FROM HAVANA JAZZ.
1. Roberto Fonseca y La Jazz Band/ The Jounet Compositor: Roberto Fonseca.
2. Alejandro Falcón y CUBADENTRO /Un argentino en La Habana/ Compositor y arreglista: A. Falcón.
3. Janet Valdez y Alejandro Meroño/ Yeyeo (rezo a Ochun, arreglo versionado de A. Meroño
4. Janio Abreu y Aires de concierto/ Traveling/ Compositor y arreglista: Janio Abreu
5. Harold Lopez-Nussa y Rui Adrián López –Nussa. /Cimarrón/ Compositor: Harold Lopez-Nussa
6. Eduardo Sandoval y Habana Jazz/Adiós felicidad, Compositor: Ela O´farrill/Arreglos Eduardo Sandoval.
7. Yasek Manzano, Havana Wind Factory y Zuleimi Guerra/ La mentira / Compositor: Álvaro Carrillo/Arreglo Yasek Manzano.
8. Thommy Loury & Quinters / Looking to the future/ Compositor y arreglista: Thommy Loury Garcia
9. Geidy Chapman Salomón/ Mi mejor canción, de José Antonio Méndez. / Acompaña: Alejandro Falcón y CUBADENTRO/Arreglo Alejandro Falcón.
10. Michel Herrera y Madre tierra Poryect/ Sin mirar atrás. Compositor y arreglista: Michel Herrera
11. Rolando Luna Trio/ For All we know/ Compositor: Fred Coots y Samm Lewis/ Arreglo Rolando Luna.
12. Yoandy Argudín y Evolución Cubana/ Buscando Fantasía/ Compositor y arreglista: Yoandy Argudín.
PARTICIPATING MUSICIANS: :
1. Rolando Luna: PIANO tracks: 11/12 & musical direction and arrangement track 11
2. Alejandro Falcón: PIANO, musical direction and arrangements tracks: 2/9
3. Yoandy Argudin Ferrer: TROMBONE tracks 7 & 12, musical direction &
arrangement track 12
4. Thommy Loury García Rojas: TRUMPET tracks 1, 8 & 12, musical direction & arrangements track 8
5. Michel Herrera Alvarez: ALTO SAXOHPHONE, musical direction &
arrangement track 10
6. Harold López-Nussa Torres: PIANO, musical direction & arrangement track 5
7. Ruy Adrián López-Nussa Torres: CAJÓN track 5
8. Roberto Fonseca: PIANO, KEYBOARDS, musical direction and arrangement track 1
9. Alejandro Meroño Valle: PIANO, arrangement and musical direction track: 3
10. Janet Hernandez Valdés: LEAD VOCAL track 3
11. Edgar Martínez Ochoa de Zabalegui: PERCUSSION tracks: 2, 3, 6, 8, 10,12 & VOCALS track 8
12. Geidy Chapman Salomón, LEAD VOCAL track 9
13. Eduardo Jesús Sandoval Ferrer: TROMBONE, musical direction & arrangement track 6
14. Janio Abreu Morcate: CLARINET, musical direction and arrangement track 4
15. Yasek Alberto Manzano Silva (FLUGELHORN, musical direction and arrangement 7
16. Ruy Francisco Lopez-Nussa Lekszycki: DRUMS tracks 2, 9
17. Rodney Yllarza Barreto: DRUMS tracks 8 & 11
18. Adel González Gómez: PERCUSSION, track 1
19. Yandy Martínez González: BASS GUITAR, track: 1
20. Emir Santa Cruz Hernandez. CLARINET tracks 7 & 12
21. Yuniet Lombida Prieto: BARITON SAX track 1 & SOPRANO SAX track 12
22. Raúl Herrera Martínez: DRUMS tracks 1 & 12
23. Zuleimi Guerra Montané: LEAD VOCAL track 7
24. Roberto García López: arrangement of winds track 1
25. Jorge Luis Lazaga: PIANO, track 10
26. Raúl Venegas: GUITAR, track 10
27. Rafael Aldama: BASS GUITAR, track 10
28. Alain Ladrón de Guevara: DRUMS, track 10
29. Jesus Ricardo: TRUMPET, track 10
30. Sergio Antonio Jiménez Varona: DRUMS, track 4
31. Raúl Rizo Flores: CONGAS & CAJÓN track 4
32. Fabricio Fuentes Pereira: CONTRABASS, track 4
33. Arnulfo Jose Guerra Ramos: BASS GUITAR tracks 2 & 9
34. Roberto Vázquez Ley: CONTRABASS track 6
35. Yissy García Calzadilla: DRUMS, track 6
36. Lázaro Rivero Alarcón: CONTRABASS, track 12
37. Legna Beatriz otero Hernandez: FLUTE, track 12
38. Alina del Carmen Blanco Puentes: BASSOON, track 12
39. Lino Dariel Piquero bueno: CONTRABASS, track 8
40. Carlos Alberto Gaitán Novoa: PIANO, track 8
41. Carlos Ríos Arguelles: BASS GUITAR, track 11
42. Andy García Palacios: PIANO, track 6
43. Josué Yasmany Borges Maresma: FLUTE & HARMONICA, track 7
44. Samuel Ernesto Burgos Martinez: CONTRABASS, track 7
45. Julio Cesar Gispert Rigondeaux: DRUMS, track 7
46. Lázaro Amaury Oviedo Dilout: TRUMPET, track 1
47. Harold Madrigal Frías: TRUMPET, track 1
48. Roiser Alejandro Suárez Bosque: TRUMPET, track 1
49. Javier Renato Zalba Suárez: SAXOPHONE, track 1
50. Carlos Manuel Miyares Hernandez: BARITONE SAX, track 1
51. Sergio Antonio Jiménez Varona: SAXOPHONE, track 1
52. Pablo Cruz Placer: SAXOPHONE, track 1
53. Heikel Fabián Trimiño: TROMBONE, track 1
54. Antonio Leal Rodriguez: TROMBONE, track 1
55. Hamser Woo Sánchez: TROMBONE, track 1

TECHNICAL CREDITS:
Producción musical y general. Gloria Ochoa de Zabalegui Aguilera
Grabación y mezcla: Giraldo García Fernandez
Mazterizado en los estudios ABDALA por Daelsis Peña
Asistente de grabación: Eduardo Pico y Reinaldo Xiques.
Asistente de producción: Milena Fraga
Afinador de piano: Garrido
Bill Tilford - Thursday, 02 July 2020, 02:19 PM