SpanishEnglishRaíz - (EGREM) Released February 2017
CD REVIEW: Raíz by Septeto Santiaguero
EGREM 2017
Review by Bill Tilford, all rights reserved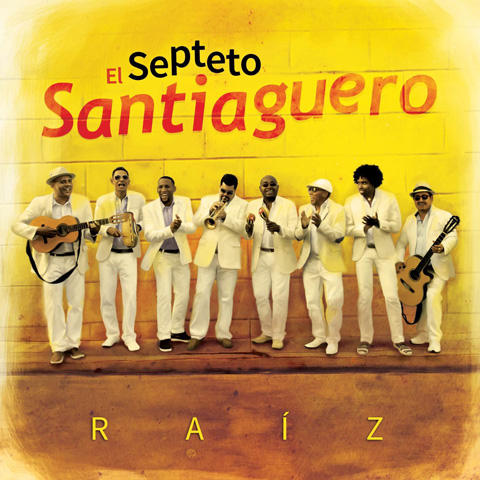 Fresh off Latin GRAMMY® and Cubadisco wins, the Septeto (in reality, a nonet now) is back with a new release that not only continues its history of collaborations with guest artists but greatly expands those with over 40 guest musicians contributing to various moments of the recording. I am usually justifiably skeptical of projects of this scope, because more often than not, such projects sound both overorchestrated and overproduced, and I braced myself for that possibility when I read the liner notes before listening. In fairness, this group is sufficiently excellent (and famous now) to make it the ambition of artists in several countries to record and/or perform with them. This new recording includes salseros and soneros (such as Ruben Blades and Alfredo de la Fe) but also some Jazz musicians (Arturo O'Farrill, Carlos Miyares, Nicolas Payton) The repertoire, as is the case with their live concerts, is a combination of traditional Son composed by luminaries such as Ignació Piñiero, Sindo Garay and Arsenio Rodríguez plus modern compositions (by Juan Formell and Silvio Rodríguez for example) played in a traditional style. The Septeto has always had a special talent for "reverse engineering" modern compositions such as with Formell's Si tú te vas in this recording.

Having seen Septeto Santiaguero live and by themselves in Santiago, I have a special affection for those live concerts, but there is no denying that the collaborations have proven to be successful both musically and commercially. Somehow, this recording succeeded in rotating this small army of guest artists (and is it a rotation - none of them tarry too long) through the material without making it sound bloated or lifeless. Indeed, the Mosaico #1, which brings in woodwinds, is beautiful, as is En falso, which adds strings. If the Beatles could do it, I suppose that there is no reason why the Septeto can't. Credit is due to the producers and engineers as well as the musicians, but my advice to most other producers remains: Don't try this at home. It seldom works as well as it did here. The technical notes are not included in this review due to their length.

As I am writing this review, I am remembering that Charlie Parker With Strings drew a rather mixed reaction from critics in its time, but history's verdict has been favorable, and in a similar manner, history may consider this an innovative experiment integrating the septeto concept in other orchestrations (although there are also some conventional arrangments in this album). Some ethnomusicologists and others who want a "pure" sound may complain about some portions of Raíz. Non-purists are likely to enjoy it, and I recommend it highly for your collection.
SONGS:

1. No he visto a Caridad
2. Cristinita
3. La fiesta no es para feos
4. La Canción de la trova
5. Si tú te vas
6. Mosaico #1
7. La meneadera
8. Raíz
9. La rumba está buena
10. Cuando canta el cornetin
11. Échale tierra y tápalo
12. Retorna / Lo que es un beso
13. Lágrimas negras
14. Ya se va aquella edad
15. La fiesta no es para feos
16. En falso
Bill Tilford - Sunday, 22 January 2017, 12:50 PM