SpanishEnglishBlues Con Montuno - (Bis Music) - Released 2017
CD Review: Blues Con Montuno by Bobby Carcasses & Afrojazz
Bis Music 2017
Review: Bill Tilford (all rights reserved)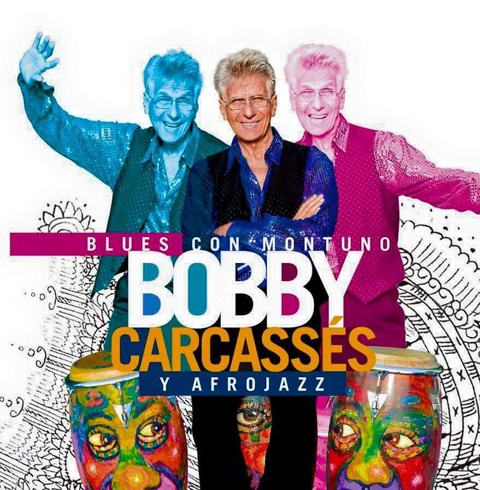 With his role in the creation of Jazz Plaza, various other efforts to defend Jazz in Cuba and an impressive body of recorded work, Bobby Carcassés could easily rest on his laurels, but he is still recording, and this latest release, Blues con Montuno, justifiably won the Jazz Soloists category in Cubadisco 2017. He has always included some scat singing (vocalese) in his work, but this album is probably his magnum opus in that style including an absolutely unique rendition of Son de La Loma in scat. But there is much more to recommend this recording - lush big band arrangements, a powerful rhythm section and a fresh perspective on Caravana and Night in Tunisia (I sometimes cringe at the mere thought of yet one more version of Night in Tunisia, but this version truly is original with some interesting time signature changes among other things). The title track, Blues con Montuno, is an interesting mix of actual Blues and a homage to Beny More. Rumbibop describes itself pretty well - there are BeBop changes, but like the Cubop of yore, you can dance to it. Bobby sings Tenderly in English, part of an increasing trend in recent Cuban Jazz recordings (as well as in some other genres such as Rock. Hopefully this won't happen in Timba, which is probably best done in Spanish).

There is a promotional video for one of the most relaxed songs in the recording, La noche de ayer.
Many of the tracks in Blues con Montuno are far more intense, but even this one is a joy. Enjoy.

TRACKS
1. Blues con Montuno (Bobby Carcassés)
2. La noche de ayer (Bobby Carcassés)
3. Caravana (Juan Tizot y Duke Ellington; words: Bobby Carcassés)
4. Tenderly (Walter Gross & Jack Lawrence)
5. Cubana & Sensual (Bobby Carcassés)
6. Paisaje de nubes (Bobby Carcassés)
7. Obsesión (Pedro Flores)
8. Night in Tunisia (Dizzy Gillespie; words: Bobby Carcassés)
9. Rumbibop (Bobby Carcassés)
Bonus Track: Son de la Loma (Miguel Matamoros)
Musical and Technical Credits for Blues con Montuno
| Role - Instrument | Name |
| --- | --- |
| Lead Vocals, Arrangements, Coros, Recorder | Bobby Carcassés |
| Piano, Keyboards, Coros, Solos | Roberto Carcassés Colón |
| Drums | Oliver Valdés (1, 2, 3, 5, 6, 7, 8, 9, solos 3 & 8); Enrique Plá (solo, 4) |
| Electric Bass | Tailín Marrero (2, 3, 5, 6, 7, 8, 9) |
| Upright Bass | Jorge Reyes (1, 4) |
| Percussion | Marí Páz Fernandez (1, 2,4, 5, 6, 7, 8, 9); Dayron Rodríguez (3) |
| Güiro | Boris Castellano (1, 2, 5, 8) |
| Chequeré | Pancho Terry (3, 7, 9) |
| 1st Trumpets | Jesús Ricardo Anduz (1, 3); Julio Padrón (2, 4, 5, 6, 7, 8, 9) |
| Flugelhorn/2nd Trumpet | Alejendro Delgado (1, 3)/(2, 4, 5, 7, 8, 9) |
| Trombone | Yoandy Argudin (2, 3, 5, 6, 7, 8, 9); Heikel Fabián (4, 5) |
| Tenor Sax/Baritone Sax/Soprano Sax | Yuniet Lombida (1, 3, 4, 5, 7) /1, 3, 5, 7) / (6) |
| Alto & Tenor Sax | César Filiú (1, 3, 5, 7, 9) |
| Special Guests | Jorge Luís Valdés Chicoy (electric guitar, 1); Roger Glenn (flute, 1); Aurobindo Carcassés (Rap, 2); Francis del Rio (voice, 3); César López (alto sax, 3); Didac Ruiz (African harp, 4); Yasek Manzano (flugelhorn solo, 4, 6); Tanmy López (violin & vocals, 5); Orlando Valle "Maraca"(flute, 6, 7; coros 3, 6); Cecilian Colón (vocals, 7); Jamil Schery (tenor sax, 9); Erick Jon (coros 1, 2, 4, 5, 9) |
| Musical Production & Direction | Roberto Carcassés Colón |
| Recording, Mix & Mastering | Adalberto "Berty" Hernández |
| Recording Assistant | Julio César Vilarrubia Acosta |
| Production Assistants | Yamibel Tillán & Maykel González |
Bill Tilford - Sunday, 18 June 2017, 12:52 AM