SpanishEnglishPentajazz - (Independent Release)
CD Review: Pentajazz by Julio Valdés and Pentajazz (Independent Release)
Review by Bill Tilford, all rights reserved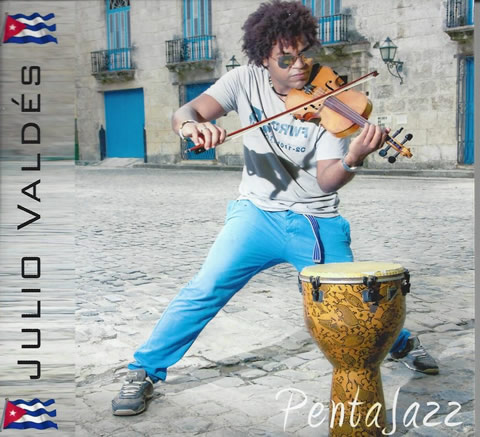 Good luck finding this one, it is an independent release by one of Cuba's best Jazz violinists. I purchased it at one of their shows. Julio Valdés Fuentes has had a pretty diverse career from the National Symphony Orchestra of Cuba to Canela to Mezcla to Charanga de Oro and Silvio Rodriguez. He studied violin in both Havana and Madrid, and he composes and arranges songs for other groups and radio and television. He previously had a project called the Akokan Project and now has a group called Pentajazz. This writer has heard him perform a wide range of different styles in live concerts.
This specific recording, Pentajazz (also the name of his project), is a powerful mix of Cuban Jazz, Funk, Fusion and even a little Timba. Although Julio plays some excellent violin in this, he also gives plenty of space for solos to an impressive cast of musicians. Five of the eight songs are Julio's compositions ("Mais q Nada" - original title Mas que Nada - is by Sergio Méndes, Contra la Pared is by Pedro Ordoñez, and Mike Stern is of uncertain pedigree). For Mais q Nada, he brings in Canela, one of the groups with which he works. Contra la Pared is an excellent Timba Jazz song with a little rap mixed in; Danger Chanel quotes from the theme from Mission Impossible in a couple of places but also makes me wonder whether the Mahavishnu Orchestra is part of Julio's musical diet. It is an intriguing piece. For Miles is evocative of Miles Davis' Fusion period and includes some formidable piano passages from Lazaro Peña. Danzon para un abuelo is the most traditional song in the recording.
In today's music industry in Cuba, as in every other country, some recordings now begin their lives as an independent project and eventually get picked up by a label. This is a very impressive CD that deserves more attention than it will probably receive if it remains an independent release sold at concerts, and it will be interesting to see whether this will eventually find a home with the resources to give it more exposure. In the meantime, if you happen to be in La Habana, and you see Pentajazz, yes, it is worth buying.
Songs:

Santo Tomás
Okantomi
Contra la Pared
For Miles
Danzon para un abuelo
Mike Stern
Danger Chanel
Mais q Nada
Roster for Pentajazz
| Role - Instrument | Name |
| --- | --- |
| Violin, Coro | Julio Valdés |
| Piano | Alfredo Rodríguez (1, 2, 7); Lazaro Peña (4, 6); Eliosbel García "El Chiki"(3, 5) |
| Bass, Vocals | Pedro Ordoñez |
| Drums | Ruy López-Nussa (1, 2, 7); Yissi García (3, 4, 5, 6) |
| Percussion | Jose Angel Blanco "El Negro" |
| Guest Artists | Kumar (rap, 3, 8): Emir Santa Cruz (sax, 3); Julito (trumpet, 4); Luis Davis (sax, 3): Grupo Canela (8) |
| Recording, Mixing and Mastering | Efraín Rios and Mario Rios |
| Producers | Giselda Fuentes and Julio Valdés |
Bill Tilford - Wednesday, 06 August 2014, 04:48 PM