CD Review: Sin Límite by Pupy y Los Que Son Son (EGREM 2013)
Review by Bill Tilford , All rights reserved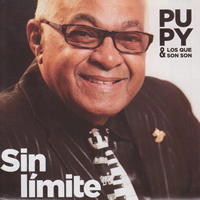 There have been moments in the past when this writer has expressed a wish that Pupy try something a little different just to see what happens. This album is just that. Some of the tracks, such as the first song, Me están llamando, blends a Salsa-descarga groove with Timba that should appeal to fans of both genres. Para qué is from the part of the Cuban salsa spectrum that one might not normally associate with Pupy; De vacaciones a la luna is a merengue featuring Eliades Ochoa on vocals; El Cache channels the Songo of the 1970s and blends it with more modern Timba; Esa es la que tu llevas injects a little R & B into the Timba mix; La necesidad fakes you out with a straight-ahead Jazz intro that veers though Brasilian and Funk before settling into a hot Timba groove. Llegar a viejo is a more traditional song that has the distinction of featuring Pupy in a vocal duet with Eliades Ochoa (to this writer's knowledge, this is the first time Pupy has ever recorded a lead vocal track of his own with his group). Most of the rest of the album is in the Timba style we normally associate with Pupy; La Conga Pelotera fuses Conga with Timba. Angel Bonne contributes coros in this album.

Sin Límite is one of Pupy's most innovative albums - it keeps the TImba core while mixing in a number of other influences very effectively. Also worth mentioning: Pupy was awarded Cuba's National Music Prize in 2013.
Tracks:

1. Me están llamando
2. Para qué
3. De vacaciones a la luna
4. El cache
5. Esa es la que tú llevas
6. La necesidad
7. Llegar a viejo
8. Sácala otra vez
9. Si la ves
10. Lo que dejó Sebastián
11. Conga Pelotera
12. Bonus Track: Llegar a viejo
Personnel in Sin Limite
Role - Instrument
Name
Piano, Director
César "Pupy"Pedroso
Bass
Sarbelio Barrozo Moreno
Trombone
Sergio Luna Longchamp,
Yamil Rivero Cárdenas
Timbal and Campana
Alberto Muguercia Ramos
Drums
Roelvis Reyes Simonó "Bombón"
Vocalists
Joaquin Garcua, Dayan Carrera,
Yoandri Castro
Keyboards
Maykel García Gonzalez "Cuchilla"
G üiro
Julio Noroña Pérez
Trumpets
Yasel Amado Vazquez,
Isidro Durand Pérez
Congas & Bongó
Duniesky Barreto Pozo "El Cuba"
Guest Artists
Eliades Ochoa (guitar, vocal),
Angel Bonne (coros)
Musical Production
César Pedroso, Roelvis Reyes & Maykel García
Bill Tilford - Thursday, 24 April 2014, 08:21 AM