New Stuff
[hide]
Photos of the Day
[hide]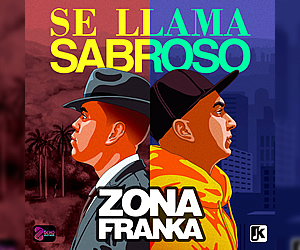 SpanishEnglishVoces D'Aida - (EGREM) Released 2009
CD Review: Voces D'Aida (Anthology) EGREM 2009
Review by Bill Tilford, all rights reserved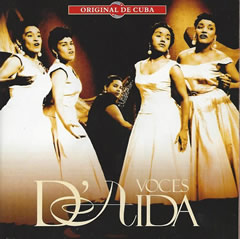 This 4-CD anthology is part of EGREM's Original de Cuba series, which is dedicated to preserving key recordings and artists that are part of Cuba's cultural heritage. The centerpiece of the anthology is the single LP made by the legendary quartet's original singers (Elena Burke, Moraima Secada, Omara Portuondo and Haydée Portuondo). The three other discs contain highlights of the later solo careers of Elena Burke, Moraima Secada and Omara Portuondo.

Volume 1 is a reissue of the 1957 classic An Evening at the Sans Souci con El Cuarteto D'Aida, the only long-playing recording made together by the founding members of this legendary quartet (in future years, other singers replaced the original members). The name of the quartet, which was founded in 1952, derives from the name of the leader and pianist Adelaida (Aida) Diestro Rega. This volume contains two bonus tracks (for a total of 15): Amigas, which was recorded in 1983, is a canción that has Elena, Moraima and Omara singing together. Aida, recorded in 1989, is a beautiful solo performance by Elena, who is accompanied by pianist Frank Emilio. Sans Souci is one of those magical moments in the history of recorded music in Cuba - these voices together in four-part harmony are greater than the sum of the parts; also, Chico O'Farrill directed the orchestra and arranged the music. This was a perfect combination, and It is our misfortune that these four divas only recorded one LP together. (Haydée left the group in 1961, and Moraima also left the group in the early sixties. The quartet did make subsequent recordings using different members.) However, the two bonus tracks, one of which features three of them together, are also beautiful.

Volume 2, Moraima Secada, "La Mora", includes 20 tracks representing different stages of Moraima Secada's solo career over the period 1965-1981. (She died in Havana in 1984 at the age of 54.) Moraima generally sang the second part in the quartet, and she was closely associated with the Filin movement The distinctive nature of Filin may be most clearly demonstrated by the first track, Perdóname Conciencia, although the dramatic vocalizations associated with movement are present throughout several tracks. She is represented here with several orchestras including Orquesta de Cuerdas y Metales, Orquesta Cubana de Música Moderna, Orquesta y Coro ICR, Orquesta Los D'Siempre and Orquesta Aragon. This volume will be especially valuable to novice listeners who may not know what distinguishes the Filin style from both the traditional singing style and the later styles that followed in its wake. The musical styles range from traditional Bolero to Ballad to (light) Rock Canción, and novice listeners may also be surprised by the scope of song styles presented here.

Volume 3, Su Majestad, Elena Burke, features Elena Burke in a series of 20 solo recordings, each with a different orchestra or group, representing the years 1958 to 1995. (She died in Havana in 2002 at the age of 74.) Ms. Burke was the quartet's contralto, also active in the Filin movement, and she performed a wide range of styles. That fact is well-demonstrated in this volume, which includes everything from Bolero classics with full orchestras to canciónes with Jazz ensembles to Songo selections with Juan Formell. Two of the tracks, Optimismo and Y Hoy Te Quiero Más, will also be a special treasure for fans of Juan Formell's work - he arranged the first one for Orquesta Reve and the second one for Orquesta Cubana de Música Moderna. The closing track, Amame Como Soy, is a duet with Pablo Milanés. Elena Burke is considered by many of her peers to have been the greatest female popular vocalist in Cuba during the last half-century.
Volume 4, Nuestra Omara Portuondo, features 20 solo recordings of Omara Portuondo with multiple groups and orchestras during the period 1960-2008. She left the quartet in 1967, and she is still alive and active (this writer saw her on stage with Harold López-Nussa at Jazz Plaza in Havana in December 2013), and this brings us to an editorial moment. On one level, The film Buena Vista Social Club was helpful in expanding worldwide recognition of the artists who participated in it; on another, it presented a somewhat constricted picture of the musical scope of some of these artists, including Omara, who has sung a much wider range of styles from traditional to completely modern with an impressive roster of groups. For listeners outside of Cuba who know Omara primarily from that film and the followup projects associated with it, this recording is a valuable demonstration of how much wider her reach truly is (track 11, Soy Cubana, will be especially instructive regarding this point). A special moment for this writer is En Nosotros, which features a wonderful duet of sorts between Omara's voice and the trombone of the late Juan Pablo Torres.
Voces D'Aida won Cubadisco awards in 2013 in the Música de Archivo and Liner Notes categories. Indeed, a very important feature of this anthology is the excellent booklet in both Spanish and English that accompanies the recordings. EGREM's archives are far more massive than its financial resources, and it frequently has difficult decisions to make when it comes to reissuing older recordings. It chose well when it put this collection together.
EGREM's website is www.egrem.com.cu
Bill Tilford - Thursday, 16 January 2014, 12:13 AM