Michelle White - Timbera Archives December 2004
Friday December 17, 2004 - Photos of Los Van Van
We have added a few photos from the 35 Year Anniversary Party. It looks like everyone had a great time, and I wish I could have been there too. Click here to see a couple more pictures from the evening.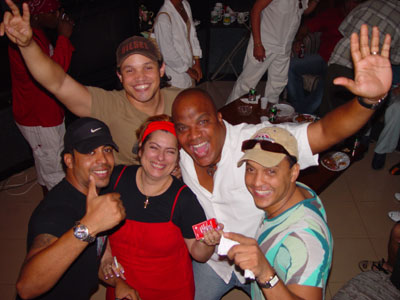 Celebrando 35 años - Lele, Cucurucho, Diana, Robertón y Samuel
More Videos - Pachito Alonso y sus kini kini
This week we have updated our videos page with 5 video clips from Pachito Alonso concert in Stockholm this spring. Two of them feature the legendary Tata Güines on congas. Other invitados include Calitxo Oviedo and Peruchín jr.
Más Videos - Pachito Alonso y sus kini kini
Ésta semana hemos actualizado nuestra página de videos con 5 video clips del concierto de Pachito Alonso en Estocolmo ésta primavera. En dos aparece el conguero legendario Tata Güines. Otros invitados incluyan Calitxo Oviedo y Peruchín jr.
Thursday December 16, 2004 - Maraca to open the 2004 Jazz Festival
This just in: Maraca and his band will be opening the 2004 Jazz Festival today, Thursday December 16th, at Casa de la Cultura de Plaza (Calzada y 8, Vedado, Havana City) at 9 PM. On Sunday December 19th he will be performing at Teatro Nacional de Cuba, sala Avellaneda, at 6 PM with special guests Yoruba Andabo.
Maraca abrirá la Festival de Jazz 2004
La última: Maraca y su orquesta abrirán hoy, jueves el 16 de diciembre, el Festival de Jazz en la Casa de la Cultura de Plaza (Calzada y 8, Vedado, Havana City) a los 9. El domingo 19 diciembre actuará en Teatro Nacional de Cuba, sala Avellaneda, a los 6 con invitados especiales Yoruba Andabo.
Monday December 13, 2004 - Cuban Salsa Congress in Germany
March 3-6 there will be a Cuban Salsa Congress in Munich, Germany. The workshops will cover a variety of Cuban dances such as son, casino, mambo, rueda de casino, rumba cubana, cha-cha-cha, afro-cuban dances, and cabaret. Teachers include well-known names from Europe and Miami. So far I don't see any bands listed as playing at the party nights, but hopefully that will change as the congresso approaches. For details about tickets, hotels, etc., check their website: http://www.salsa-social-club.com
Thursday December 9, 2004 - Goodbye to the Valdivias
I have been playing with my new computer and decided to say goodbye to the Valdivia brothers as they leave the world of timba for their new project by putting up a few videos of El Clan at EuroDisney and La Charanga Habanera in Sweden. The clips mainly focus on Kelly and Ebblis. As I mentioned in my concert report, the stage in Gothenburg was tiny, which had the advantage of making the fans feel very close, literally, to the band. One benefit of this was some nice contact with Ebblis. Check out the Nube Pasajera and Vuelve junto a mí videos, ladies! And I have also thrown in a few clips with Yulién Oviedo, another Charanguero who left the band this year, an event that shocked me so much that I actually thought they would be talking about it on CNN...yes, in my world timba is Headline News.
Despedida a los Valdivia
He estado jugando con mi nueva computadora y decidí decir adios a los hermanos Valdivia ahora cuando salían del mundo de la timba para su nuevo proyecto por poner en la página unos videos de El Clan en EuroDisney y La Charanga Habanera en Suecia. Los clips centran principalmente en Kelly y Ebblis. Como mencioné en el reportaje, el escenario en Gothenburg era minúsculo, cual tenía la ventaja de que los fanes se sentían muy cercanas, literalmente, a la banda. Uno beneficio era un contacto muy bueno con Ebblis. ¡Mira los videos de Nube Pasajera y Vuelve junto a mí muchachas! Y he incluido unos clips con Yulién Oviedo, otro Charanguero que salía del grupo este año, un acontecimiento que me imprecionó tanto que realmente pensé que estarían hablando de eso en CNN...sí, en el mundo mio la timba es Headline News.
Friday December 3, 2004 - Los Van Van - Chapeando
Since we weren't able to attend the press conference, we have been waiting to hear what was revealed. Here's what we've heard. The CD will be released on December 15th and contains 14 songs. The songs will include the hits we've all been listening to for a year, some new dance songs and as some ballads written by Formell in the past. The surprise on the CD seems to be the song Cuba linda, which is sung by El Cigala. Once again, if you are in Havana this weekend don't miss the chance to attend the release concert at La Piragua on Saturday. They say that Cesar "Pupy" Pedroso and Changuito will join the group during this concert to interpret the song Sandunguera! If you can't make the concert, you can console yourself with some live video clips of Los Van Van in concert at EuroDisney June 19, 2004.
Los Van Van - Chapeando
Desde que no podíamos estar a la rueda de prensa, hemos estado esperando para oír qué fue revelada. Eso es lo que dicen los reportajes: El disco será lanzado el 15 de diciembre y incluye 14 canciones. Las canciones incluirán los éxitos que todos conocen hace un año, unos nuevos canciones bailables y algunas baladas escritas por Formell en el pasado. La sorpresa en el CD se parece ser la canción Cuba linda que canta El Cigala. ¡De nuevo, si estás en La Habana este fin de semana no falte la ocasión de atender al concierto del lanzamiento en la Piragua el sábado. ¡Dicen que Cesar "Pupy" Pedroso y Changuito van a reunir con el grupo durante este concierto para interpretar la canción Sandunguera! Si no puedes ir al concierto, puedes consolarte con algunos live video clips de Los Van Van en concierto en EuroDisney el 19 de junio 2004.
Thursday December 2, 2004 - Video clips from Los Van Van at EuroDisney
In honor of the release party for Chapeando that will take place today at Casa de la Música Galiano, we have uploaded some live clips from the concert at EuroDisney. It was a great night. There was a ton a of people there as you can see in the picture and everyone was singing and dancing. If you haven't read Ilán's concert report (in Spanish), you should.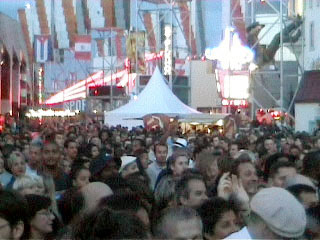 EuroDisney - Una pila de gente
Video clips de Los Van Van en EuroDisney
En honor de la fiesta de lanzamiento para Chapeando hoy en la Casa de la Música Galiano, hemos puesto unos live clips del concierto en EuroDisney en nuestra página de videos. Fue una noche fantastica. Había una pila de gente, como ves en la foto, y todo el mundo cantaba y bailaba. Pon cliq para leer el reportaje de Ilán.
Wednesday December 1, 2004 - Press conference for Los Van Van
Today Los Van Van will hold a press conference in La Habana about the release of Chapeando. Anyone there who can cover it for us? On Thursday the release party will be held at the Casa de la Música Galiano followed by a party at La Piragua on Saturday. If you're in Havana, don't miss the chance to dance with Los Van Van!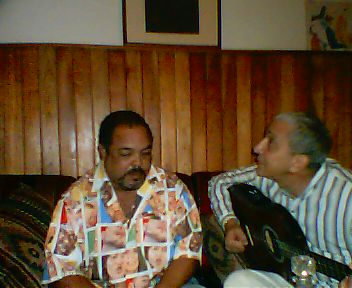 Formell con Pancho Cespedes
Conferancia de prensa con Los Van Van
Hoy será la conferancia de prensa en la Habana sobre el lanzamiento del disco Chapeando. ¿Hay alguien para allá que puede darnos un reportaje de la conferancia? El jueves será la fiesta en la Casa de la Música Galiano y después una fiesta en La Piraghua el sábado. Si estás en la Habana ahora, no te pierdes la oportunidad de bailar con Los Van Van!
Más videos/More videos
Ahora hay tres videos de Manolito y su trabuco grabados en Amsterdam. Incluye la nueva canción que canta Lázaro "Miami" Díaz pero no sé como se llama esta canción. Y mira como bailen los trabuqueros durante Llego la música cubana!
Now there are three videos of Manolito y su trabuco recorded en Amsterdam. It includes the new song that Lázaro "Miami" Díaz sings, but I don't know the name of the song. And check out how the trabuqueros dance during Llego la música cubana!
Tuesday, 22 March 2011, 07:32 PM