Indice - Table of contents
Lo Nuevo
[hide]
Fotos Del Día
[hide]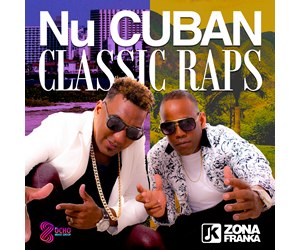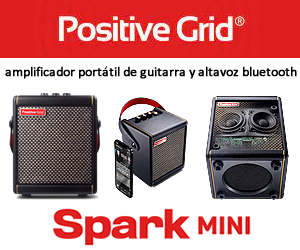 Michelle White - Timbera Archives September 2004
Sunday September 26, 2004 - Dantes "El Ricky" starts his career as an actor
Aquí para español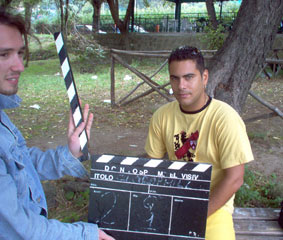 Dantes has just finished filming a role in a psychological thriller that will be aired on Sky satellite television. The movie is called "Clorophill" and as soon as we know the date that it will be shown, we'll let you know. In addition a script is currently being written for a movie about Dantes' life. Wow! It will be filmed in March 2005 in Cuba and Italy. My Spanish is pretty bad, but does this mean we can now say "El Ricky está de película"?
Click here to see some of Dantes' own behind-the-scenes pictures from the set of Clorophill
But don't worry, he is still working with Dantes y su bomba and they even have a concert tomorrow in Florence, Italy. Dantes recently replaced the male corista with a woman and says he really likes the addition of a female voice. He has been contacted about setting up a tour in Peru for the month of October. We'll keep you updated when the tour is confirmed and we have the dates.
Thursday September 23, 2004 - Updates to Chacón Section/Tours
We have added 2 more sets of lyrics by Osvaldo Chacón and also updated his tours page. El Diamante de Son is also on tour right now and we have added a page for his remaining tour dates.
Wednesday September 22, 2004 - Pictures from the Afro-Cuban All Stars Tour
Cristian has sent us some pictures of Tirso Duarte and Leo Vera. Both ex-charangueros are currently touring Canada with the Afro-Cuban All Stars.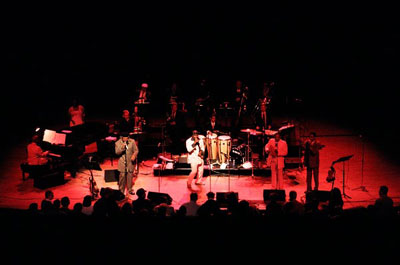 Musica Cubana - Sons of Havana
The soundtrack to this upcoming film has been released. The movie follows Pío Leyva as he puts together a group of the new generation of Cubans musicians. The movie will be released in October. this will be followed by the release of 2 live concerts on DVD (the Netherlands and Tokyo), and in the spring of 2005 the movie will be released on DVD. But you can already watch a trailer at Música Cubana.
Participating in the film are:
Pío Leyva-founder
Singers:
Mario "Mayito" Rivera
Pedro "El Nene" Lugo Martinez
Luis Frank Arias Mosquera
Telemary Díaz (rap)
Osdalgia Lesmes
Tirso Duarte
special guests
"Chiki Chaka Girls feat. Caribbean Storm"
Musicians:
Roberto Julio Carcassés - piano
César "Pupy" Pedroso - piano
Samuell Formell - percussion
Roberto Vizcaíno - percussion
Feliciano Arango - bass
Alexander Abreu - trumpet
Julio Padrón - trumpet
David Suárez - tenor sax
Cotó - tres
Elmer Ferrer Orsini - guitar
Juan Carlos Marín
Tuesday September 21, 2004 - Afro-Cuban All Stars Tour Canada
Canadian timbero and photographer Cristian Muñoz reports that Juan de Marcos and the Afro-Cuban All Stars are in the middle of a Canadian tour. The band is playing a mix of styles from the traditional son and guaracha for which they are known, to timba. And with the band, providing the timba element is none other than Tirso Duarte! So all you Canadian timba fans have a chance to see this fantastic combination of musicians. According to Cristian, when Tirso sings everyone in the house gets up to dance!
If you are just beginning to listen to timba and don't know the name Tirso Duarte, check out his section Tirso Duarte y la sonoridad where you can read about his background, listen to some music samples and also find links to a number of educational articles featuring Tirso's piano playing.
Wednesday September 15, 2004 - Lyrics section added for Michel Maza
I couldn't stand to wait anymore for Kevin to finish Michel Maza's artist section, so I went ahead and added a little of what we have so far. There will be more to come. Right now we have his career summary by Majela Serano, a review en español of the CD Fiiieeeeesta by Ilán Greenfield and a few lyrics from Fiiieeeeesta transcribed by yours truly with help from Ilán. You can also find a link to an interview from 2002 by Thor Anderson.
Updates to tour schedules for Los Van Van and Dantes y su bomba
Go to the Tours section for the latest updates on the concert dates for your favorite bands. We do our best to keep up with them!
Monday September 13, 2004 - Vocal Sampling on Tour in Europe
We have just received some tour dates for Vocal Sampling and have updated our tours section. It looks like the autumn tour season is about to begin so keep checking our Tours section to see if we have any new information on your favorite groups.
Personnel Changes in Azúcar Negra
The position of pianist for Azúcar Negra has been filled Carlos Enrique after the departure of Aismar Simon Carillo. And Alexeis "El Nene" is back with the group. It is El Nene who recorded wit Azúcar Negra on the latest CD Sin Mirar Atrás.
Friday September 10, 2004 - New Photos of Pupy y los que son son
As we all wait impatiently for the new release by Pupy y los que son son to actually be released, we have received some pictures from the their performances in Rome this summer. On one occasion the singers also had the opportunity to sing with Cheo Feliciano.
Thursday September 9, 2004 - Klímax goes to Tenerife
On Thursday, September 16th, Klímax will be performing in Tenerife - La Laguna for the fiesta del Cristo. So if you are looking for a last minute vacation, I recommend Islas Canarias. And remember to keep an eye on the Klímax tour page. And if you are planning a trip to Cuba this November, don't forget Piloto's Festival Fiesta del Tambor.
Wednesday September 8, 2004 - Charanga Habanera goes to China
Today la Charanga Habanera leaves Italy for a 20 day tour of China. According to a report from Claudia in Milan, while the group was touring in Japan, some Chinese visitors saw the concert. They liked it so much that they booked Charanga Habanera for 20 days! We hope to have the full schedule up in a few days. After the China tour they will finally be returning to Cuba having been on tour for almost 4 months.
Gardi's web site
We have added a link on the Homepages page to Gardi's web site: http://www.gardienvivo.com. Keep an eye out for more about Gardi...coming soon.
martes, 22 marzo 2011, 07:32 pm