Michelle White - Timbera Archives July 2004
Wednesday July 28, 2004 - Interview with David Calzado in English
The interview by Claudia D'ammassa from Milan has now been translated to English.
Also the names of the songs for the upcoming Charanga Light have been corrected in the lyrics section, and it has been confirmed that the rapero on Charanga Light is Lázaro "Mayami" Díaz, who also did the rap on the Charanga Habanera version of Chan Chan. Mayami is the new singer with Manolito y su trabuco.
Wednesday July 21, 2004 - Interview with David Calzado and Photos from Milan
At the festival LatinoAmericando in Milan, Claudia D'ammassa interviewed David Calzado for the Italian site Meeting Latino and we thank them for allowing us to publish the interview here at Timba.com as well. Right now it is in Spanish but we will have an English translation up soon as well. And photos are the universal language, so check out the photos that Claudia sent us from the Milan concert.
Charanga Light
The latest information says the name of the new CD will be Charanga Light, not Charanga Suave. I guess this is a reference to the fact that it's not as "heavy" as a normal Charanga Habanera CD.
La última información es que el nombre del nuevo disco será Charanga Light. Imagino que es un referencia a que no es tan "pesado" como un CD normal de la Charanga Habanera.
Tuesday July 20, 2004 - Sneak Preview of Charanga Habanera's Upcoming CD
In an interview with Timba.com in February, David Calzado said that the new CD will be called Charanga Suave and will be released in the summer. Well it's summer now and no official release yet. I expect that we will have to wait for the band to finish its summer tour. But in response to questions in the guestbook, we can offer you a little sneak preview of some of what you can expect from the new CD including 2 MP3 clips.
Preestreno del próximo disco de la Charanga Habanera
En una entrevista con Timba.com en febrero, David Calzado dijo que el nuevo disco se llamará Charanga Suave y que el lanzamiento sería en el verano. Bueno, es verano pero todavía no está lanzado. Imagino que tenemos que esperar hasta que se acaba la gira de verano. Pero para contestar unas preguntas en nuestra guestbook, podemos ofrecer a ustedes un preestreno de lo que pueden esperar en el próximo CD incluyendo 2 MP3 clips.
Sunday July 18, 2004 - Changuito Receives Timba.com Awards in Milan
Last night at Festival LatinoAmericando in Milan Claudia D'ammassa presented Changuito with his two Timba.com awards: Best Timba Timbalero and Best Timba Instrumental Soloist. Changuito was in Milan as part of the Cuban Grammy special project, which featured Eliades Ochoa, Haila, Changuito and Tata Güines with the guys from La Habanera and under the artistic direction of David Calzado. More info coming soon!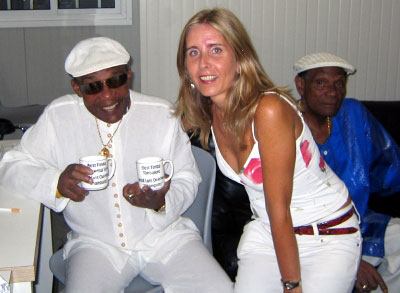 Changuito, Claudia and Tata Güines
Saturday July 17, 2004 - El Ricky in the US?
We hear that Dantes' success in Italy has caught the eye of a promoter in the US who is interested in bringing Dantes y Su Bomba to Florida for a concert tour. With the current visa situation for Cuban musicians, I don't know if Dantes will succeed where other have failed, but we can always hope. Other countries he will likely be visiting soon include Canada, Argentina, Spain and Peru. But this will have to be sometime after the summer because he is already committed to a summer tour of Italy. We will keep you updated.
Para leer sus noticias en español has click aquí.
Saturday July 10, 2004 - More Concert dates for Dantes y Su Bomba
Dantes y Su Bomba will be playing 10 more dates in Italy this month. We are expecting updated schedules for Pupy y los que son son, La Charanga Habanera and Paulo FG soon as well so check the tours section regularly!
Tuesday July 6, 2004 - Azúcar Negra begins Canadian Tour Tomorrow!
So all you timba-starved North Americans have something fantastic to look forward to in July. Their first concert is tomorrow at Liquor Store Cabaret in Québec City. This seems to be as close as Cuban bands can get to the US, well other than Cuba I guess, so do like I do and take a timba trip to another country! Yes, I'm in debt, but I'm happy!
And in Europe we have festivals, festivals, festivals....
We are at the peak of the festival and concert season here in Europe and as a friend who is visiting Cuba right now put it: Best Place to See Timba Live: Europe. So keep an eye on the Tours section which is being updated almost daily with new dates/cancellations. Here's a sample of some of the Festivals going on this month:
Festival Cubain De La Seyne Sur Mer - France
Festival Latino Americando - Italy
Fiesta - Italy
Forum 2004 - Spain
Caliente 2004 - Switzerland
Check the links because we don't have pages for everything that's happening. For example on July 17 in Milan there will be a Cuban Grammy - special project featuring Eliades Ochoa, Haila, Changuito and Tata Güines, under the artistic direction of David Calzado.
Thursday July 1, 2004 - ¡Que Pupy Tiene Candela!
The long awaited Eurpean tour of Pupy y Los Que Son Son is now in full swing and Timba.com was on hand to enjoy it and to give César "Pupy" Pedroso his Timba.com prize for Best Timba Pianist.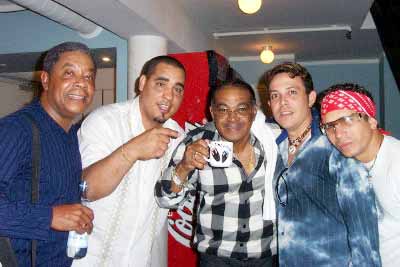 martes, 22 marzo 2011, 07:32 pm