Patrick Bonnard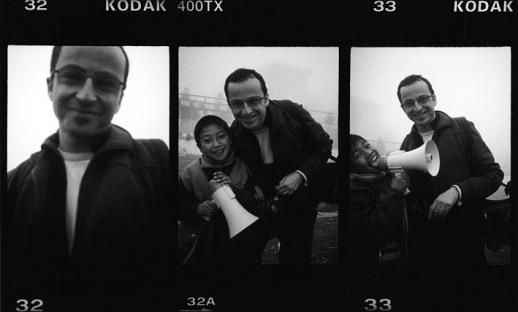 All photos in this section ©Patrick Bonnard
I was born in 1969 and grew up in Paris. I always enjoyed traveling and photography. End of the 90'S I discovered Cuban music and made my first trip in Cuba in 2002. Felt in love with this country. Great people with hearts of gold and great sense of humor! I wish them the best to overcome their difficulties.
In September 2002, on a hot summer night, on my way back to Paris after the "Festival Salsa y Toros" in Dax, south of France, I traveled in a night train close to Changuito and Tata Guïnes. They improvised a descarga, singing some rumba, until the train inspector came and made them stop. I was thinking " Dammit! Here are the greatest percussionists on earth and this guy who don't even know who they are ask them to shut up!"
Reminds me of the DA Pennebeker legendary documentary "Dont look Back", when hotel staff comes knocking at Bob Dylan's door and complain about the noise... I'd love one day to document a Cuban tour in a that cinéma verité style, just an eye to capture history.
So the next morning, on the Austerlitz station's platforms, I saw these musicians carrying themselves their suitcases, and I went away dreaming... From this brief meeting, was born my desire of telling a story. The story of these great musicians, raised in the spirit of sharing, their great sense of humor, who travel so far from Cuba (some of them, the youngest, for the first time of their life) to deliver their music for our delight.
So for years, I've been documenting the Cuban music scene here in France. Then after years of live music photography, I decided returning to Cuba to capture the musicians daily life, how do they rehearse, record music, shoot video clips, and see how touring inside the country looks like. I thought this would be interesting also to make some portraits at their home or in their neighborhood.
You can have a glimpse at my work, here are photos from 2001 to 2005.
http://www.fiestacubana.net/modules.php?name=p_06_Timba_pb&numero=1
I'll may upload someday the 2006 year!
So this year I went to La Habana, I shared some pictures, you can see them here:
http://forum.fiestacubana.net/photo-timba-a-la-havane-2007-2008-par-dannyrose-t1050.html
and if you speak French you can even read the story behind the pictures!