Archivo
Lo Nuevo
[hide]
Fotos Del Día
[hide]
Pa' Ponerte en Talla
jueves, 02 diciembre 2010, 04:24 pm
comentarios
Tremenda Intriga - Conga Room Postpones Los Van Van
Los Van Van Visa for Band Leader Juan Formell Not Issued
Ay ay ay what do we have to do to get some TIMBA? The saga continues with the kick-off date for the US tour postponed. The December 3rd date is still on their website so we guess that's still happening? Can anyone out there confirm this? Here's the official press release from the Conga Room in Los Angeles.....
---
Thursday, December 2nd date postponed
Los Van Van Visa for Band Leader Juan Formell Not Issued
Due to the last minute failure of the US State Department to provide three Visas, including one to band leader Juan Formell, the kickoff night for the Los Van Van tour at the Conga Room, will be postponed. The anticipated makeup date for ticket buyers to tonight's concert is expected to Wednesday December 15th, which have been committed to the Conga Room as part of the U.S. tour.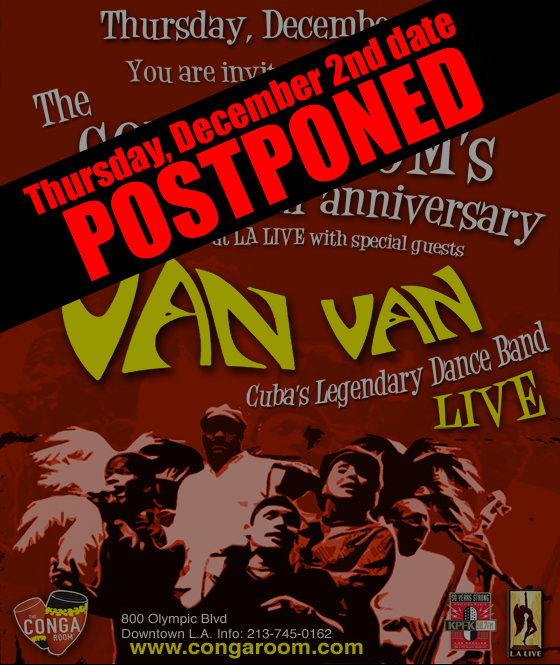 The Conga Room has always looked to support Cuban music and culture, and unfortunately we are at the mercy of politics in this case.

For ticket holders, your ticket will be valid for the new concert date and we will notify you in the next few days with confirmation of the exact date. If you wish to get a refund of your ticket at this point, please contact Sasha Ortega at Sasha@CongaRoom.com. Please note that if you seek reimbursement for your ticket, we will not be able to guarantee you access to the new show and it will be on a first-come, first-serve basis, as the show is expected to sell out.

Feel free to consult our website for further updates and we will attempt to notify you directly via email. The Conga Room will be open tonight and will feature a Cuban band and a DJ. We will offer you complimentary admission with proof of your ticket purchase. We apologize for the inconvenience and are deeply committed to presenting the US Los Van Van concert at the Conga Room. It promises to be an historic event.
Abrazos,
The Conga Room
continue reading Pa' Ponerte en Talla