Timba in Washington D.C., Maryland, Virginia
Timba en la Capital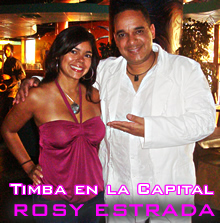 Welcome to Timba en la Capital, an on-going report on Cuban music in the Washington D.C., Maryland and Virgina areas.

If you have an upcoming event please email me at almacubana [at] yahoo [dot] com

*in the pic: me (Rosy Estrada) and flautist & director Orlando "Maraca" Valle during his October 2008 Washinton, D.C. visit.
---
Pedrito Martínez Group
Featuring Ariacne Trujillo with special guest Sin Miedo
Future Performance February 9, 2013 at 8pm
Interview with Pedrito Martínez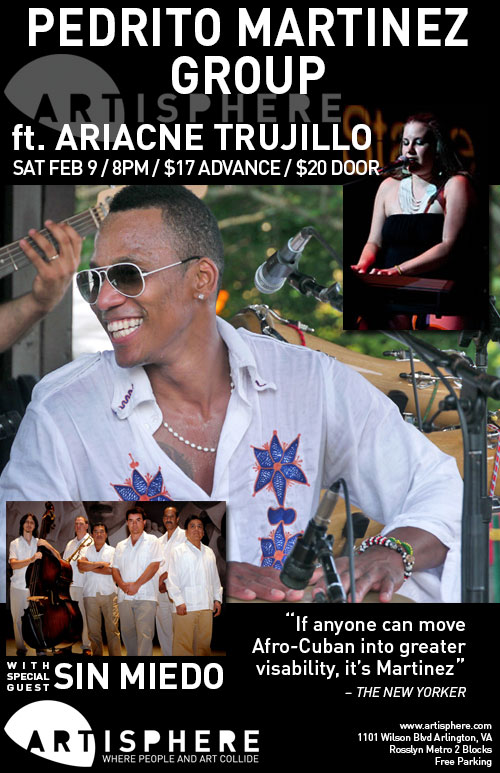 Heralded as one of the top percussionists in the Cuban music scene, New York-based Pedrito Martínez will be making his first appearance in the Washington, D.C. area since his 2005 performance as a former percussionist with Yerba Buena at the Kennedy Center. The Pedrito Martínez Group, a quartet of talented musicians and singers, will be performing live at the Artisphere, in Arlington, Virginia, on Saturday, February 9th at 8:00pm.
Steeped heavily in Afro-Cuban batá rhythms, Pedrito's music defies definition. Elements of son montuno, jazz, and Afro-Cuban rhythms can be heard within his original compositions. As the Washington, D.C. correspondent for Timba.com, I had the opportunity recently to speak with Pedrito before his upcoming show. When I pressed him to describe the essence of the music he plays, Pedrito hesitated to prescribe a specific musical genre, simply stating that the foundation for his music is rooted in the Afro-Cuban folklore tradition. In fact, it is so rooted, that two years after arriving in the U.S., Pedrito dared to enter the annual prestigious Thelonious Monk Institute Competition without a musical resumé, and won first place in the Afro-Latin Hand Drumming competition, beating established musicians with very lengthy professional resumés.
I wanted to trace back these roots and find out exactly how a kid growing up in Cuba without any musical training, can compose such complex beautiful music as an adult living in the United States. Pedrito learned his craft as a young boy watching and playing with the old rumberos in the Cayo Hueso neighborhood of Centro Habana. He never owned an instrument and relied on others to invite him to play. Pedrito learned the cantos de Yoruba and batá playing on anything he could find at home, practicing frequently with his hands on a chair. He recalls a lot of prejudice against those who played folkloric music from those who played the more popular salsa cubana. It was this preference for popular music fifteen years ago and the lack of personal resources that prevented him from getting an opportunity to attend one of the prestigious music schools of Cuba. And, apparently, he was not alone. "There are many Pedritos Martínez in Cuba," he explains. "There is a lot of talent in Cuba. We're privileged to be musically inclined." However, folkloric musicians often got passed over for these selective music schools because of the genre's perceived association with the "bajo mundo" or lower society.
Fortunately, winning the Thelonious Monk Institute Competition in 2001 opened many previously closed doors for Pedrito, including the opportunity to hone his craft professionally and obtain formal music training. He learned to read music and play the bass, which he uses today as the foundation for building his original compositions. He tries to incorporate classical themes while purposely seeking to mix Cuban-based genres and ends up with a mix of charanga, changüí, batá, son montuno and even a little touch of R&B. This explosive fusion does not overshadow the fact that his background always brings him back to Cayo Hueso, explaining, "What I know is how to sing and play to the cuban orishas, and that, is what I will do until the day I die."
We are lucky to have this Pedrito joining us on February 9th in the Washington, D.C. area. Joining him at the Artisphere are the group's members who give the music their own special toque: percussionist Jhair Sala, from Lima, Peru; electric bassist Alvaro Benavides, from Caracas, Venezuela; and keyboard player/vocalist Ariacne Trujillo, from Havana, Cuba. Also performing is Sin Miedo, a local salsa band with a CD that, coincidentally, includes Pedrito Martínez on the quinto.
Tickets are $17 in advance and $20 at the door. They can be purchased directly from Artisphere.
http://www.artisphere.com/calendar/event-details/Music/PEDRITO-MARTINEZ-GROUP-featuring-Ariacne-Trujillo.aspx
---
Charanga Habanera Electrifies Diamond Lounge
December 1, 2012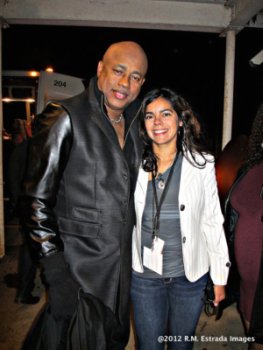 Charanga Habanera, one of the top Cuban Salsa and Timba bands in the world, played to a packed house of screaming fans last night when they made their debut Washington, D.C. area performance at the Diamond Lounge in Annandale, VA.

On their second U.S. tour from Cuba, Charanga indulged fans with a two-hour nonstop medley of their most popular songs. Directed by David Calzado, band members delivered a powerful performance packed with the Cuban signature pelvic thrusting and hip-shaking typical of Timba music. A diverse fan base reciprocated with some serious despelote and temblequeo, with an occasional rumba thrown at the right tumbao gear change in the music. No special effects were needed last night. Using only their talent, Charanga Habanera entertained audiences with both showmanship and technique on a crowded stage that tightly accommodated the these iconic rock stars of Cuban Timba. Well known in Peru, Charanga's Virginia performance attracted a huge contingency of young Peruvians. A thick four rows of screaming females vied for the attention of the Charanga's current set of hot young vocalists. As Charanga wound down their performance, a few lucky ones got an opportunity to participate in a contest, shaking their hips Cuban style for the audience.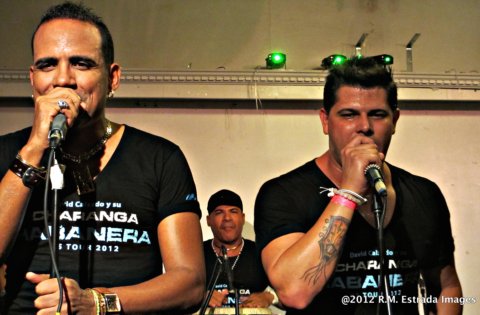 I had an opportunity to speak with David Calzado after the show. Inspired by the energetic reception his band received, Calzado described his first performance in Virginia as "una cosa maravillosa." He was pleased to to see so many Cubans come out and support the band, and even more pleasantly surprised to discover Virginia's larger Peruvian community of Cuban music aficionados. Performing there often, Charanga Habanera has a huge following in Peru. Sharing the cajón in common with Cuba and similarities between Afro-Cuban music and coastal Afro-Peruvian music, it is not surprising that Peruvians love Cuban music. Their admiration for Cuban music has accompanied this immigrant Peruvian community to the Washington D.C. area. Thanks to this large market, David Calzado may soon be back in the D.C. area. A review of last night's concert would not be complete without mentioning the team that made it all happen.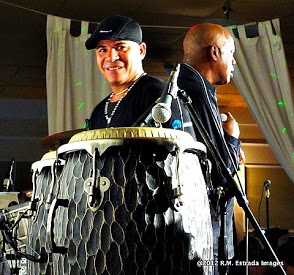 Bluenighte, based out of Miami, together with the local promotion team DRumbateam executed a very successful sales and marketing approach to selling tickets and managing the crowded venue without any major incidents. There are so many aspects to creating a positive concert experience. They integrated the right local people (D.J. Reyna, DC Casineros, reaching out to Distrito Cubano, etc) to make the experience a true local experience. Between security, managing the crowd, treating both the audience and artists respectfully, this team did it right.
---
Timba Heats Up Those Cool Fall Nights in DC!
For those that do not believe there is a solid Cuban music scene in DC, guess again. We've got two hot events coming up this month of November. DC Casineros will be offering a dance social and casino workshop at the Dance Institute of Washington on Friday, November 16th at 8:00pm. All of DC's Casino contingency should be on hand for the workshop and the dance social which starts at 10:00pm.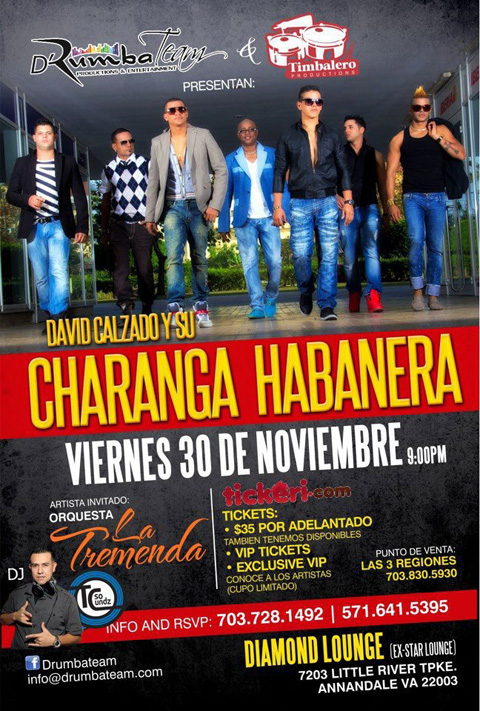 Even more exciting, the Northern Virginia area will be hosting another Cuban Timba superstar group. Charanga Habanera will be performing live on Friday, November 30th at the Diamond Lounge, 7203 Little River Turnpike, in Annandale, VA. The show starts at 9:00pm and local group La Tremenda will be opening for them. Tickets are $35 and can be purchased at:
http://www.tickeri.com/events/charanga-habanera
Details for the timba social follow below:
Timba Night Dance Social:
DC Casineros will be offering a dance social and "rueda de casino" workshops at The Dance Institute of Washington on Friday, November 16, 2012.
8 PM - Adrian Valdivia**
9 PM - Yadiel Suarez**
And 10 PM - party
DJ Reyna, will be the DJ for the night.
**Please plan on arriving on time (no Cuban time); otherwise you will end up missing the workshops.
Tickets:
$15 for workshops + party
$10 for party at 10pm
Tickets will be sold at the social only.
Location:
The Dance Institute of Washington is located in the heart of the Columbia Heights neighborhood in Northwest Washington, DC.
3400 14th St NW
Washington, DC
Metro Access:
DIW is two blocks from the Columbia Heights Metro Station on the Green and Yellows Lines.
Parking
Some street parking is available. Paid parking is available in the DC USA shopping complex one block away as well as inside the Giant's parking garage also one block away from the studio.
A full report on the SalsaAlarde Timba Social and upcoming DC area Cuban salsa events are coming soon.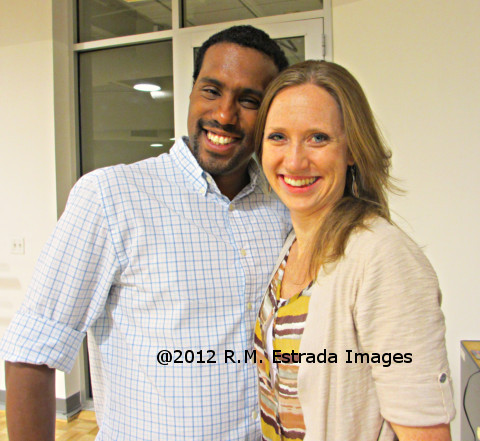 Adrian and Amanda, two of DC's premier Cuban salsa instructors. More about their classes coming up soon!
Michael Lazarus - Wednesday, 05 July 2017, 03:07 PM