Copenhagen - Oct. 25, 2003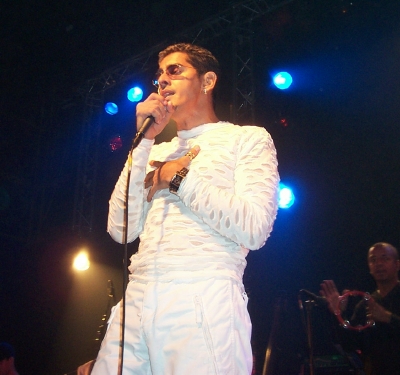 A Night In Havana
by Michelle White ©2003
photos by Michelle White
The concert was billed as A Night In Havana in the advertisements. It was held in a Culture House "Viften" in Rodover, a suburb of Copenhagen. As often happens at 'cultural' events there were two groups of people at the concert: patrons of the art, usually 60-something dressed as if they were attending an art exhibition, and the fans who range from guapos cubanos in sunglasses, tatoos and gold chains, cubanas in tight-fitting, revealing outfits and the rest of us who fall somewhere in between.
Of course we fans alternate between smiling condescendingly at the patrons of the arts, who are no doubt expecting Buena Vista Social Club, and discussing plans for how we can be sure to get a spot front and center. To our horror someone has spotted chairs when the doors were briefly opened. We settle on the idea of being shameless and agressive in order to get the best spot. In the end we have no problem getting in the front row, because almost everyone takes a seat at the long tables that had been set up in the back half of the room. Standing in front of the stage it's just las cubanas and the timba geek contingent from Sweden and England.
As usual with Cuban concerts the bandmembers filter one by one onto the stage with no introductions. Some of them look tired, others like the guitar player seem full of energy from the first bar. But no matter how they look, when they start to play you know Paulito has again assembled a great group of musicians.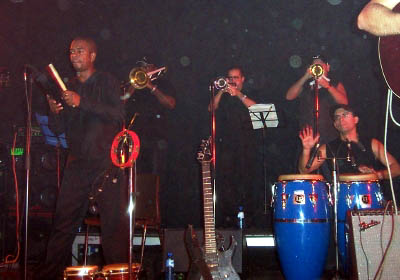 Metales, bongos and congas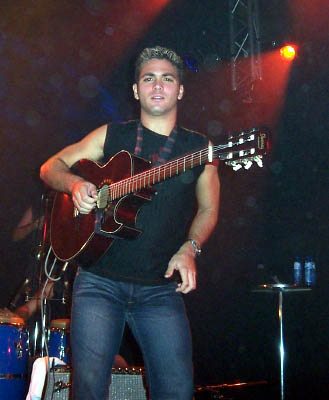 Ronnye Sanchidrian on guitar
The coristas are two beautiful women and one man. The pianist looks really familiar, but I don't know who he is.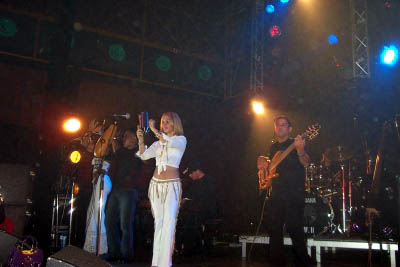 Coristas, bass and piano
Last comes El Sofocador himself, dressed all in white. They start with the coro to De La Habana, which is performed in full later in the concert. As usual I can't remember all the songs, and there were some I didn't recognize. But of those I remember Paulito performed a duet of Entre Dos Amigos with the male corista. From the new CD they performed Me Gusta Tanto, Hace Tiempo and Te Deseo Suerte, a mix of the balland and salsa versions, which Paulito dedicated to todos los cubanos que están luchando. For me, hearing that song in concert changed it from being a ballad standing between me and the next timba song on the CD to a favorite of mine.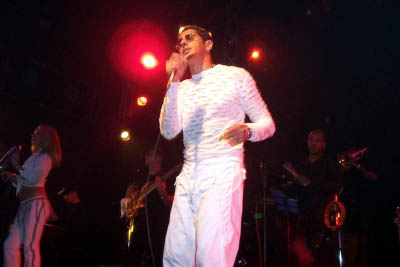 El Sofocador
What surprised me the most was when Paulito turned things over to "El Principe del Merengue", no not Elvis Crespo but the male corista who sang a merengue version of La Quiero A Morir while Paulito left the stage for a bit.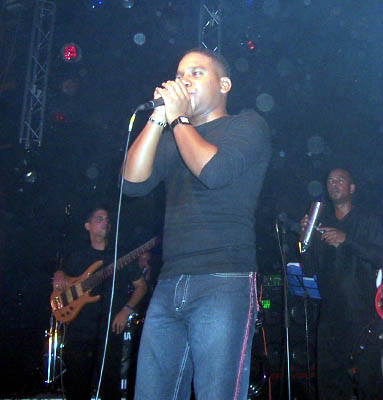 Singing La Quiero A Morir
A great part of the concert was the interaction between the audience and Paulito. It was really the heart of the show. and it's where his ability to improvise guías really came in. He spent a lot of time singing to the cubanas in the audience, so a 5 minute song might easily have lasted 10 minutes instead. Unfortunately my Spanish isn't as good as I'd like it to be, so every now and then all the Cubans would laugh at something that he sang and I didn't get it.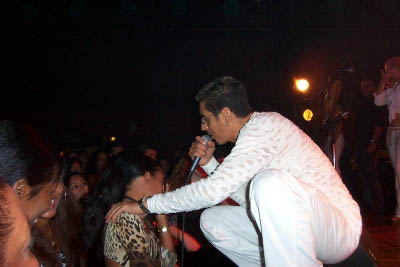 Paulito y las cubanas
At most timba concerts I've been to they invite some ladies on stage to show their despelote and tembleque moves. At this show Paulito let the bongocero choose one lady from the audience to come up and dance with him. She was a great dancer who was able to dance both very sensually and with class.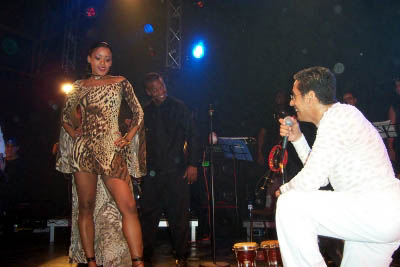 Bongocero Luis Chacón, despelotera and Paulito
He also invited two cubanos who live in Copenhagen up on stage to dance with him a couple of times. They were a part of the pre-concert dance show and did a great job up on stage. La despelotera was also invited back up and the three of them plus Paulito danced side by side. And of course he did his pa'l piso move several times during the evening. And best of all, he kissed my hand! That was enough to make the trip from Stockholm worthwhile.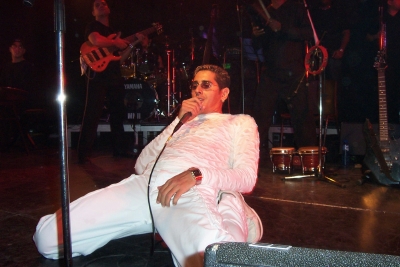 ¡pa'l piso!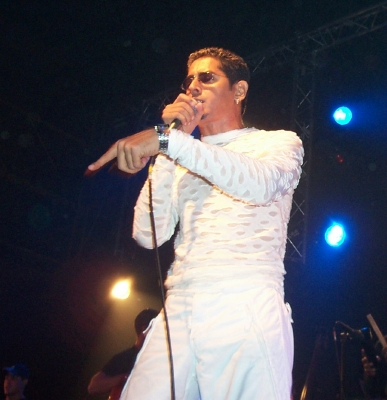 After the concert many of the fans and some of the bandmembers stopped by the club Sabor Latino to dance the night away. I was too much of a coward to go talk to the bandmembers, but I did get a list of the current personnel on tour with Paulito from the concert arranger and choreographer of the pre-concert show: Stine Ortvad.
Paulito FG Personnel 2003 European Tour
| | | | |
| --- | --- | --- | --- |
| Paulo Fernández Gallo | Dtor/Cantante | 16/3/62 | La Habana |
| Willian Díaz Pozo | Trombón | 22/5/77 | La Habana |
| Alejandro Falcón Rodríguez | Piano | 18/5/81 | Matanzas |
| Yanel Llanes Suarez | Congas | 18/7/79 | Sancti Spiritus |
| Jorge Baglán Pichardo | Drums | 27/6/78 | Guantánamo |
| Cristobal Verdecia Sardiñas | Bajo | 23/12/70 | La Habana |
| Luis Chacón Bruzón | Bongoes | 27/2/62 | La Habana |
| Angel Martínez Alonso | Teclados | 9/6/69 | Villa Clara |
| Gerardo Rodríguez Francisco | Trompeta | 3/7/83 | Pinar del Río |
| Yamilé Toranzo Rodríguez | Coros | 3/2/71 | La Habana |
| Orestes Machado Ferregut | Trompeta | 31/5/76 | Pinar del Río |
| Ronnye Sanchidrian Capote | Guitarra | 30/9/83 | Pinar del Río |
| Jannier Rodríguez Miyan | Coros | 29/5/79 | Guantánamo |
| Susanay Noriega Ramírez | Coros | 23/6/80 | La Habana |
| Marcos Ayala Riquelmes | Manager | 24/1/65 | La Habana |
| Alexander Castillo Santana | Sonido | 11/2/66 | La Habana |
martes, 22 marzo 2011, 07:31 pm