Concert Report - Copenhagen - April 2, 2005
Pa' que tú veas como está el tren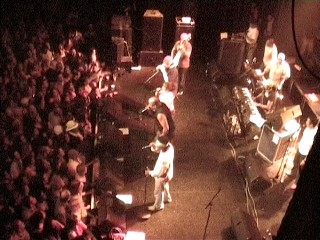 By Michelle White ©Timba.com 2005
It was a cold April evening and the concert was sold out, but this didn't stop fans from hanging around the door in hopes of finding someone selling an extra ticket. What band generates this type of loyalty in their fans? Los Van Van. El tren llegó a Copenhague and the 1450 available tickets were not enough for all the fans in Copenhagen.
I have seen Los Van Van 3 times before, twice with the current line up, but this time I was surprised to see that Juan Formell was not with the band at all. I was expecting him to be there alternating with Pavel Molina on bass as in recent years. As far as I know this is the first European tour of Los Van Van without Juan Formell.
So how did this affect the performance? How is Los Van Van without Formell, Pupy and Pedro Calvo? How is the new generation of vanvaneros living up to the legend created by Formell? Impeccably. Formell's ability to consistently find the right singers and instrumentalists is one of Los Van Van's great strengths. Mayito and Robertón have become icons to the younger generation of singers and Mayito swept the Timba.com awards in the Best Singer category, winning Best Singer - Overall, Best Singer - Guías and Best Singer - Improvisation. In choosing Yeni and Lele, Formell has set the stage for the continued success of Los Van Van. And Pupy's replacement, Cucurucho, is an exceptional pianist who manages to maintain the sello sound of the piano established by Pupy, while enriching the tumbaos with his own manner of playing. He has also taken on the roles of songwriter and corista. Pavel Molina has replaced the padre fundador himself on bass and plays with a smoothness and accuracy that is a joy to hear.
The venue was so crowded that I couldn't get a good spot in front of the stage for photographs and filming. So I have borrowed some pictures of the singers from the recent concert in Milan from Claudia D'ammassa. Thanks Claudia! However I did get to watch from backstage which gave me an opportunity to see what the musicians are up to throughout the concert. They were having a great time. Although it was the final concert of a month-long tour and they were all tired, when they started playing they were dancing, joking and smiling, enjoying themselves as much as the fans were. Samuel had a strange drum set. No trap drums, but timbales a kick drum and a tom. At times he was literally jumping up and down as he played. Collado was dancing and joking the whole time, Manolo never stopped smiling for one minute. But now to the concert...
It began with a few piano notes and the twittering of birds, the very same notes I heard at the quemador stand back in January and wondered if this could really be the new Los Van Van CD. The audience joined right in when the "Oro mi mama yo co da" coro began and you could tell that the mood was hot and the fans were ready for a great night. Robertón's voice rose above the crowd singing "Yemayá, Yemayá/aunque sabemos que estamos iré/necesitamos tu bendición mamá/porque Van Van va a cruzar agua salá". The live version of Chapeando includes a great trombone solo by Hugo Morejón, which you won't want to miss. Click here to see a clip of Chapeando.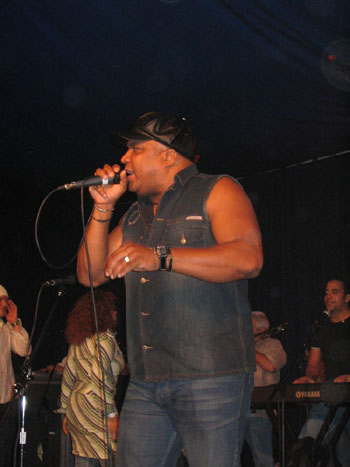 Robertón in Milan
They followed this with El Sol Natural (Timpop con Birdland) sung by Mayito. The opening lines that were spoken by Formell have now been taken over by Lele. I have to admit that I always feel a little embarrassed when they say Ay pa' que los Yumas no, no se creen en nosotros no. All I can say that there are many of us who do.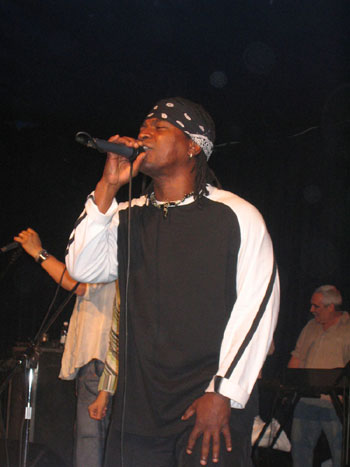 Mayito in Milan
Even Los Van Van hasn't been able to stand against the reggaeton trend. During Mi Chocolate they switched for a little bit into a reggaeton mode and a couple of girls came up on stage to shake their stuff. Fortunately it was only a brief part of the song and didn't have a heavily reggaeton feel to it. It was still Los Van Van.
Now it was time for Yeni to sing Después de Todo. I suspect there are fans out there who haven't listened to recent live recordings and are uncomfortable with the idea of a woman singing in Los Van Van. But once you've seen her live, you will leave all doubts behind. Her charisma and ability to personify the lyrics and to improvise win over even the hardest critics. And it's definitely fun for me to have some songs written from the female point of view for a change. The ovation she recieved at the end of Despues de Todo showed that, as usual, she had the audience in her hands in Copenhagen. Ah yes, and I don't want to forget to mention another great trombone solo by Hugo that you won't find on the studio CD.

Yeni in Milan
About halfway though the show came the anthem: Soy Todo. Although Mayito dedicated it to all the "morenos", the power of this song is something that anyone can appreciate, even if we don't all come from an afro-cuban background. This song is also a perfect example of why you can never fully appreciate a song unless you understand the lyrics. It's fantastic to see that no matter where Los Van Van go in the world, the fans all know this song and all raise their hands to sing "Ay Dios ampárame", cubanos and daneses alike. It speaks to the essence of the cuban spirit, and in Cuba you will even see people making offerings as at a genuine religious ceremony as Mayito sings.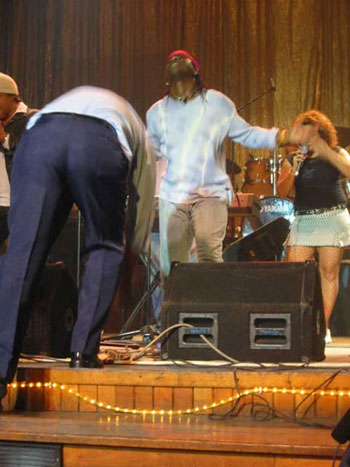 Mayito singing Soy Todo at CDLM Havana
photo courtesy of Linda Rodríguez
Lele's theme song Anda Ven y Quiéreme was next. This has been a favorite among fans since it came out in a quemador version in the autumn of 2003. Lots of audience participation: Lele: "Lo malo", audience "lo feo y lo negativo", "Los Van Van está en la calle otra vez". If you've never seen Lele perform live, check out the video from EuroDisney.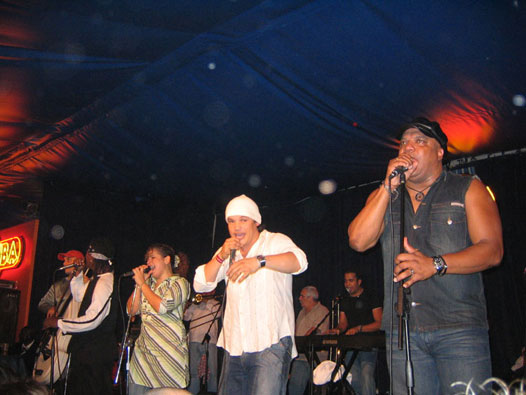 Lele in Milan
The rest of the concert consisted of more Chapeando: La Buena, Agua, during which the despelote contest took place, and Ven Ven Ven. These are all songs written by the new generation of vanvanero and they are all major hits. While the majority of songs on Chapeando are written by Juan Formell, it is significant that 4 songs have come from Samuel and Cucurucho, 2 each.
When the concert ended and the band left the stage, the audience shouted for more and for a minute I was afraid the band wouldn't do an encore and the fans might rush the stage. But fortunately they came back out and ended the night with Esto Te Pone la Cabeza Mala.
And to conclude, I would like to present a few suggestions to Los Van Van, as contructive criticism. Guys, I would also have liked to hear Corazón and El Montuno from Chapeando as well as a few more oldies such as Ni bombones ni Caramelos and Llévala a tu Vacilón. The problem is that you need to do one 3-hour set or two 1.5-hour sets so that you can fit in more songs. So think about it, and I hope to see you again during your summer tour of Europe.
Monday, 19 March 2018, 08:15 AM