Concert Reports - Stockholm - March 2006
Fuera de Liga
by Michelle White ©Timba.com
This was a special night from beginning to end. Before the band arrived, we heard that Mayito's son Mario Rivera Jr. had been born that same day. On behalf of timberos around the world, Timba.com offer our congratulations to Mayito and his family. I'm sure he would have prefered to be with them that night, but such is the life of a musician. And speaking of family, 5-time Grammy winner Bebo Valdés was on hand talk with the band during dinner and later to watch his grandson, Cucurucho, play piano.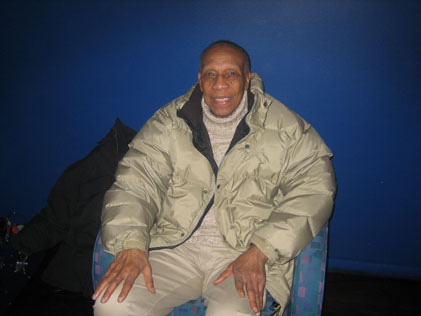 Bebo Valdés - How many others have 5 Grammys?
The dinner was provided in conjunction with SELAM by the club El Benny.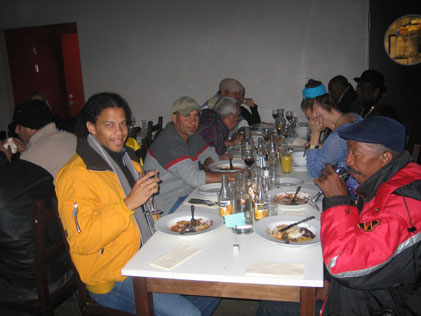 Irving, Hugo, Jorge, Yeni y Manolo et al.
Not everyone came. Some of the band members chose sleep over dinner and showed up later. After dinner the tables were cleared away and the restaurant became a dance floor. Just for fun, here is a 4 minute video of Dinner with Los Van Van (or if you use a modem, click here).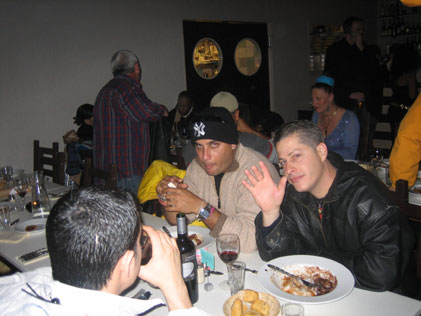 Pavel & Boris
The concert began promptly at 11:00 PM. Since I was on special assignment to help Kevin with his gears studies, I was not able to film the concert or take pictures from the audience point of view. So these are all backstage perspective pictures, and let me once again register my displeasure with the guys who think blowing smoke all over the place makes a concert better. Come on, if you can't smoke indoors, why is it OK to fill the venue with fake smoke? It makes for bad pictures. But I digress.
The current playlist is very heavy on the Chapeando repertoire, which is fine by me. Los Van Van has been around for so long because of their ability to maintain the Los Van Van sello without ever becoming complacent or dated. The Chapeando repertoire is a great example of this. It is an exceptional CD, and as I mentioned in my report when Chapeando was released, the album is packed full of dance hits. And did I hit the mark when I guessed it would be nominated for a Grammy or what?
They started the concert with Chapeando, the audience singing "Oromi Mama Yocoda" right along with the band. Selam has been using a venue called Deiselfabriken recently, and it is really a great venue for concerts. It has a good dance floor and good accoustics. I was told that from the audience the sound was great once they solved some initial microphone problems.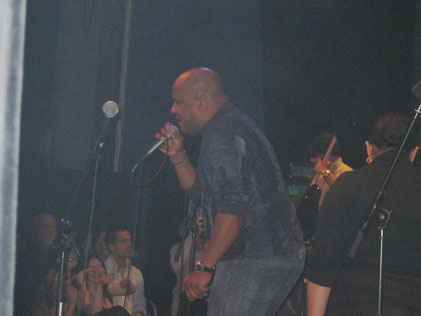 Robertón - Suiza y Suecia
The band was in a good mood, teasing the audience a lot. During Chapeando, Robertón said "la gente de Suiza". When he did it again and the audience corrected him and said Suecia, he just joked and said "manos arriba la gente de Suecia y la gente de Suiza".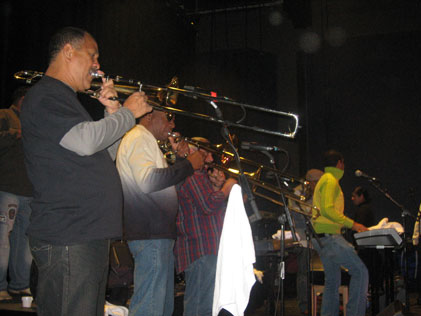 Los metales
The only song not from Chapeando was El Sol Natural (Tim-pop con Birdland). Despite rumors that Juan Formell would be with the band, he was not. Instead Lele is doing the introduction to Tim-pop. Speaking of people not on the tour, I also noticed that Julito Noroña was subbing for his father Julio Noroña.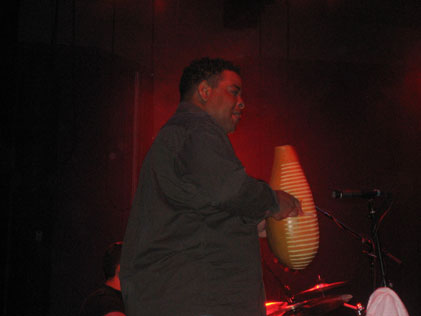 Julito Noroña on güiro - a break from Pupy?
The third song was Después de Todo. I love this song, and I know all the ladies of Stockholm were singing along from start to finish. Yeni is just such a charismatic singer, that seeing her perform this song live is fantastic. I love the part at 4 minues where it switches into high gear and she sings "y yo durmiendo sola, solaaaaaaaaa". This time she took it up about half an octave and made it even more intense. She also lived up to her reputation as a superb improvisor, singing a section about "la Sueca en la Habana", and had the whole audience singing a "pa' la calle" coro.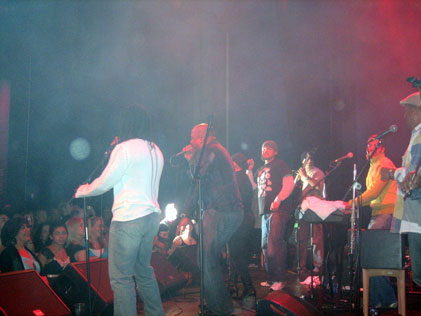 Los cantantes
After Después, Lele took a moment to ask Bebo Valdés to come on stage where he introduced him to the audience passing on greetings from his family in Havana.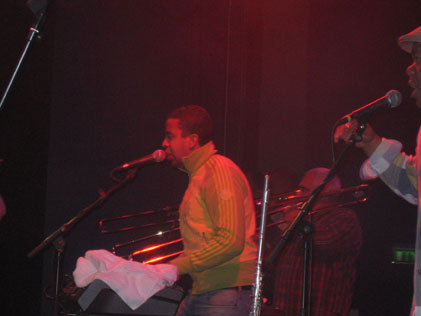 Cucurucho - do you think he was nervous with Bebo watching?
Then Lele launched into Anda Ven y Quiéreme, another huge hit from the Grammy nominated CD Chapeando. Lele stopped to let the audience fill in part of the lyrics such as Lele: "El malo" - audience: "El feo y el negativo". Just thinking about it starts getting me in a Los Van Van frenzy again.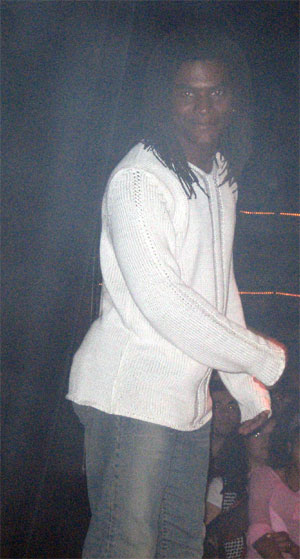 Mayito through the fog
In keeping with the Chapeando theme for the evening Mayito, followed with No Pidas Más Presta'o and then it was Robertón again with La Buena. They added a reggaeton coro to La Buena, although just the lyrics; it was not played with a reggaeton beat. See if you can find it when they play in your town.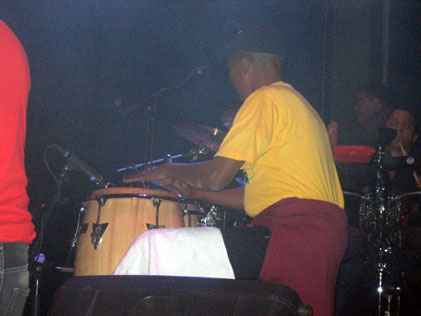 La percusión - not playing reggaetón
The final two songs were Corazón and Agua. Both are hugely popular, and I've noticed that Agua seems to be the favorite song during the couples competitions on the Cuban dance show Bailar Casino (aired on Cubavision on Sundays). Instead, in Stockholm it was the song for despelote competition. I don't think I've ever seen so many women swarm on stage at once. There must have been at least 12 ladies wanting to show their stuff. Mayito had to take them in groups or it would have taken all night. When all was said and done his comment was "I didn't see anything spectacular here."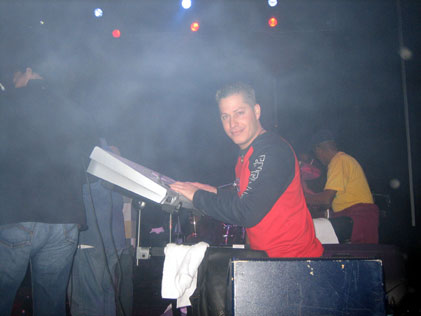 Boris Luna
When the band left, the audience was still wanting more, so they came back and performed Esto Te Pone La Cabeza Mala, the song that won Best Timba Dance Song. Robertón couldn't resist joking with the audience again singing "Suecia, Suiza, Suecia". After the concert the fans danced for another 2 hours in the concert hall or in the restaurant, where most of the band went after the show.
What can you say about Los Van Van? I kept hearing from people that this was the best concert they'd seen in Stockholm with Los Van Van, and I agree. I know there are skeptics out there who think that the "new generation" of Van Vanero won't be able to live up to the legacy of the past 37 years. But these people owe it to themselves to go to a concert. The band is truly fuera de liga and they will be at the top of the first-line for years to come.
Monday, 19 March 2018, 08:15 AM