Concert Report - Stockholm - February 27, 2008
El Tren Se Mantiene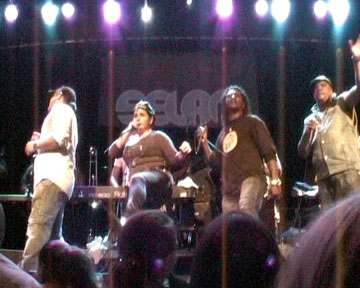 by Michelle White ©Timba.com
good photos by Tina Ahlzén - less good photos by Michelle White
Los Van Van has just returned to Cuba after spending one month performing at sold-out concerts throughout Europe, and Sweden was no exception. Despite the fact that the concert was held on a Wednesday night, the vanvaneros filled the venue to capacity. Who cares if you move like a zombie at work the next day? Llegó el tren!

This concert was a night to remember and there are a few gold stars that should be handed out. A gold star goes to SELAM for their excellent organization of the event and their choice of a great venue in the center of town. A gold star to DJ Soto-Mayor for playing timba na'má' before and after the show. A gold star to the soundmen for audio that rivaled the studio albums. A gold star to the band for their energy on stage despite the exhaustion of touring. And the biggest gold star goes to the fans themselves. The audience was amazing! The enthusiasm of the fans was without question one of the main sources of inspiration for the band, who responded to the affection of the vanvaneros with equal passion.
As over the past three years, Roberto Carlos "Cucurucho" opened the concert with his piano introduction to Chapeando. Already one of Cuba's top pianists, Cucurucho is making an ever greater mark on the Cuban music scene as a composer and arranger, not only for Los Van Van, but most recently by contributing the title song to the soon-to-be-released CD by Manolito y Su Trabuco.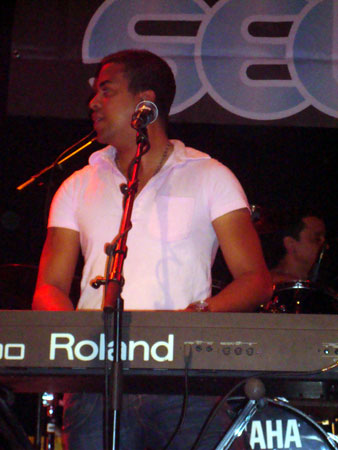 Roberto Carlos Rodríguez Valdés...
or you can just call him Cucurucho
Roberto Hernández, better known as Robertón or El Guayacán, sings lead on Chapeando. If you have seen him in concert you know what a formidable stage presence he has. He is a big man with a big voice and gets the concert moving with all the power of a locomotive. I think he was quite surprised when he asked the audience "Who understands Spanish?" and was answered by a roar. Although the audience was probably at least 50% native Swedes, it was by and large made up of people who at least know enough Spanish to follow the banter at the concerts.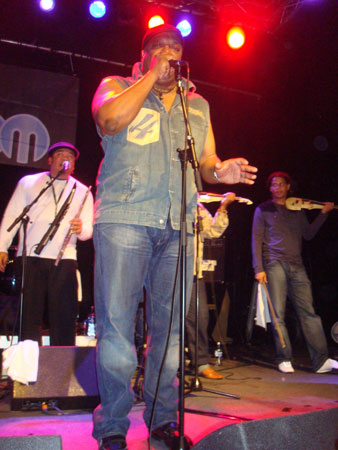 Robertón "El Guayacán"
The Los Van Van repertoire has held rather stable over the past few years. They follow Chapeando with El sol natural, also known as Timpop con Birdland. During this song it became apparent what a good mood Mayito was in that night. He has gone from a rocky start where he even tried to resign from Los Van Van to being arguably the most popular singer of contemporary dance music in Cuba. He certainly is considered the Best Timba Singer by Timba.com readers, and the Grammy nomination for his solo album Llegó La Hora confirms his status as a major artist in his own right.
However, he is also known for having a low tolerance for on-stage audio problems and has, in some previous concerts I have attended, done nothing to hide his frustration. While the audio for the audience was excellent, the on-stage monitors were not good. At the beginning of the concert Cucurucho couldn't even hear his own piano, and his monitor had to be replaced during Timpop. Rather than seeming irritated with the problems, Mayito simply improvised a couple of lines about "Caballero que no tengo el piano que sigo cantando yo". Those few who didn't understand Spanish probably never even knew anything had happened.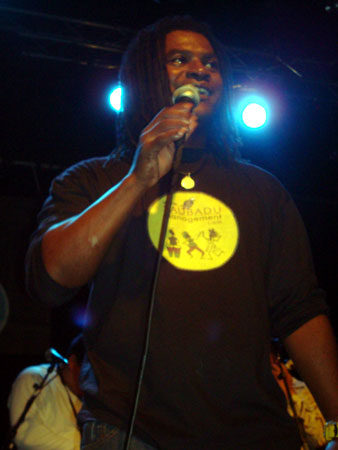 Mayito was in quite a good mood
Moreover, Mayito was dancing that night more than I have seen him dance at previous concerts. Was he inspired by the presence of Chiqui Dixon, former primer bailarin for Conjunto Folklorico Nacional, and Hector Oviedo of Yoruba Andabo? Or was it just the number of friends in the audience? More than once he gave a shout out to the Swedish all-women band Zarandea with whom he has recorded previously.
While we women who are Los Van Van fans can call ourselves vanvaneras, there is only one who can say she is La Vanvanera, Yeni Valdés. In a recent interview with Timba.com, Juan Formell told us that after the departure of Pedrito Calvo he deliberately brought in two new singers: Lele and Yeni. He knew that it would take the heat off Lele because fans would be so focused on criticising the first woman to join the group. That sounds a little harsh, but Yeni was strong enough to handle it.





As always Yeni was very expressive when she sang Después de todo
It's been about seven years now since Yeni joined, ah how time flies, and since then she has made believers out of most of her critics. There are still a few people who think she is over the top, but I love her. In addition to having a voice that rivals the great women singers of Cuban history, she is a sonera capable of improvising right alongside the men. In fact one of my favorite things about her singing is that she always sings a little bit differently from concert to concert. Even when she is on coro she is constantly dancing and engaging the audience with her whimsical antics. And just check out the response from the ladies in the audience in the video below when she says "In Cuba there are four people who solve the problem when we are left alone. If you leave me alone honey, there's the butcher, there's the barkeeper, there's the baker, and there are the vanvaneros". You've gotta love it!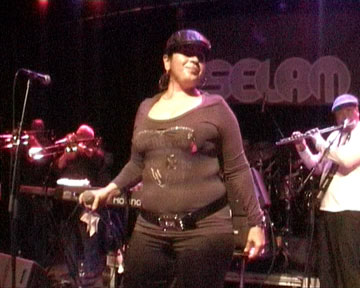 Click here to see Yeni in action in Stockholm
Up next was Lele with Anda ven y quiéreme. During this megahit from Chapeando, Lele sings "Quiéreme como te quiero y nunca te defraudaré". Without question the audience loves him. He has a great sense of humor and, like Yeni, he is just as interesting when he sings coro as when he is on lead. He never forgets the importance of the connection between the singer and the audience. Lele has triumphed as a second generation vanvanero and it seems that every song he sings is a hit. Check out the fans' response to him in Stockholm by clicking on the image below.
Mayito performed the classic Van Van anthem Soy todo followed by Robertón and La buena. Then came the first estreno of the evening, Me mantengo. Composed by Cucurucho and sung by Lele, the demo has already become popular around the world as we wait for the release of the new CD, Arrasando. I know you would probably all like to see video of the new song, but you're out of luck. I couldn't stop myself from dancing during this song and the camera was swinging around just a little too much. Sorry, but you try standing still with your arms extended straight over your head for two hours and see what happens.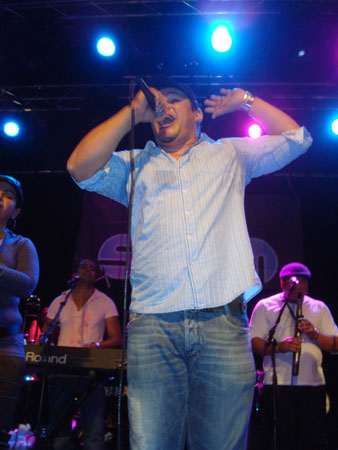 Lele listening to the audience sing along
The most intense song of the evening had to be Agua, written by Samuel and performed by Mayito. Mayito's delivery was pura candela, but that wasn't all. Part way into the song Cucurucho invited Oldrich Gonzalez, also ex-Charanga Forever, to take over piano for a while. Then violinist Santiago Jiménez took Irving's violin and played an incredible, scorching solo. Shortly thereafter Hector Oviedo of Yoruba Andabo came on stage to dance a little columbia. When Hector finished, Mayito invited up one Sueca and one Cubana to shake their thang. Click on the picture below to see bits and pieces of what I'm talking about.
Robertón sings the other new song in the Van Van repertoire, Dale Dos (El Plan B). It's not exactly new, but a remake of a song originally released in 1976. In an interview on the recent DVD Aquí el que baila gana, Formell said that it has the subtitle El Plan B because you always have to have a Plan B in case things don't go as you expected. Well this song seems to be right on track, no Plan B necessary. It feature a nice passage by the violins as well as a great solo by Jorge Leliebre on his electric soprano sax. Click the image below to watch the video.
At the end of Dale dos, Robertón invited Chiqui Dixon up to dance. Chiqui is affectionately called Chiquitico, which is amusing because he is a giant of a man who carries himself regally. And why not? He was the primer bailarin with Conjunto Folklorico Nacional for many years before moving to Sweden.
To close the concert they performed Somos Cubanos from the Grammy winning album Llegó...Van Van. Mayito started out singing rumba, including a Cuba Linda passage that is found in the song Te recordaremos by El Cigala on Chapeando. Towards the end of this number Samuel took the opportunity to play a torrid solo on the timbales and drums.
Of course the fans wanted more and after a couple minutes the band returned to perform the ever-popular Te pone la cabeza mala. There was much dancing after the show ended, and everyone I talked to agreed that this concert was something out of the ordinary.
There are those who have had a hard time accepting the departure of Pedrito Calvo and Pupy Pedroso from Los Van Van. I hope they take the opportunity to see the current incarnation of Los Van Van in concert. They are forging ahead, maintaining the sello of Los Van Van but bringing their own ideas to enrich the sound and spirit of the band. It is part of the process of maturation, separation and renewal that has allowed the great Cuban bands to remain in step with the times. As they say "Ahora vengo como vengo, sigo ahí, por eso me mantengo".
martes, 22 marzo 2011, 07:31 pm