SpanishEnglishConcert Report - Bamboleo - Paris - 2004 - The show began with ...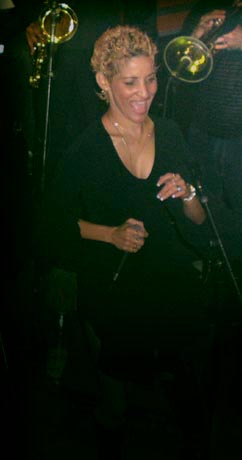 The show began with a song called «No puedo vivir sin él», written by Lázaro Valdés himself. It is somewhat of a promiscuous piece, that among other things contains one of my favorite contemporary Timba coros (audio 2). The song is about a woman lured by insiduous passion to leave her significant other for another man. Unfortunately, sound issues did not allow for those present to hear the lyrics, a slight problem that was resolved once the general gain was brought down a notch— in this case thanks to the Paris police department who asked to lower the music! Tanja Pantoja, the radiant female lead singer performed this and many of the other acclaimed songs, including the Timba classic previously popularized by Vannia Borges, title track of "Ya No Hace Falta". During the first set, a brief preview of this number was sung, not by Tanja, but by the La Galerie crowd, when the singers turned the microphones out; a moment of great excitement. I must say that Tanja has earned a difficult spot in Bamboleo, replacing Cuban celebrities such as Haila Momprié and Vannia Borges. A year ago we were still hearing worried Timba fans who doubted her ability to replace divas like Haila, Yordamis or Vannia, yet all of that is now water under the bridge. Tanja's performance was outstanding, not only in that she carried half a room of people who had never even seen her before to great emotional heights, but there was nothing remotely criticizable the whole night, she was deeply inspired, (perhaps she secretly knew it would be her last night in Europe!), and her voice fit neatly with the current sound of the band. It is this that perhaps impressed me the most. Tanja's style has matured nicely with Bamboleo's global approach.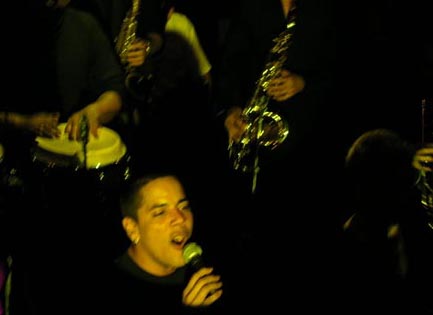 The second stellar character, who has been part of the band for a good three years, and who has also yet to record an official album, is Alain Daniel Pico. Apart from being a great singer, with a unique voice and great presence, Alain is a young composer who has contributed a number of solid pieces to the group's repertoire. These songs are quite popular in Cuba and surely had an impact here in Paris as well. The "Blablabla" tune (as he called it, to be named "Aparentemente Ideal" on the upcoming album -- and also known as "Te Quedó Fatal" among CD-pirates) has its very own hand gestures and an obvious reference to the well-known Charanga Habanera song, which make it easy to remember. But it is perhaps "Los tipos que están de moda" the song that most got us bamboleando. Very catchy indeed, filled with Rock, Funk, Salsa and Timba influences, it also has a driving arrangement and a truly infectious title coro: (audio 3). An added coro at the end that reminds me of another well-known timbero, Paulo F.G.: "ayayay dime tú, me gusta ella y me gustas tú" (I like her and I like you)... Alain Daniel does something different here, but isn't it the same idea?... in my opinion I rather his "y si te gusta uno, si te gustan dos..." ("if you like one, if you like two" -- audio 4- compare Paulito with Alain Daniel). Perhaps he is answering back to Paulito (note that the first guía is precisely "te gusta Paulito o te gusto yo"; "you like Paulito or you like me?")... in any case, it makes for a great hook even if the reference is not intentional. There are other songs written by Alain: «Es simplemente puro amor» —quite an interesting ballad that he performed in the second set, and two others we didn't get a chance to hear: «La Suegra» and «Un Tipo Enamorado». We can also say that Alain has an extremely interesting vocal identity, perhaps even more so than that of the ladies, which also adds to the new sound of the band.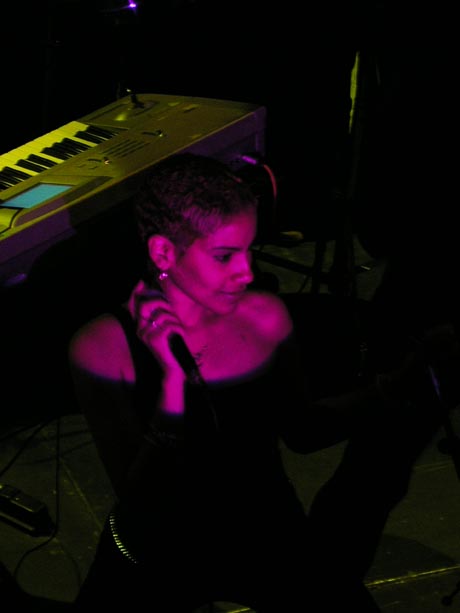 Bamboleo has always had two female singers. The beautiful Liena Hernández completes the list. She is less of a protagonist than her co-singers, which does not mean that she isn't a great singer nor that she is a replaceable piece of the band. Apart from delivering in-tune backup vocals and supporting the coros with an extra female voice while Tanja sings lead, Liena covers «Recapacita», for example, originally recorded by Yordamis Megret. Young and less-experienced perhaps than Tanja or Alain, Liena already has a strong presence on stage. Only time will tell, but my guess is that she will probably become every bit as dominant as any of the other bamboleras that came before her. It has been a year since she transfered to the group and one already feels the chemistry between the three. It makes for a wonderful show.
But if Liena arrived a year ago, it is Lipsael Jiménez, the conga player, the most recent addition to the band (three months). One also feels something fresh and original with Lipsael, which undoubtedly sets Bamboleo apart from other bands and from their own past. Be it percussion effects, accents, general marchas, his style is very attentive (like any quality conguero). The rhythms, like in all Timba, sometimes seem to surpass all notions of time —we see Ludwig, drummer/timbalero, with some space alotted to improv —but while looking at Lipsael one notices the importance of control, intelligence and precision as central to the rhythmic patterns of not only Bamboleo or timba in general, but of all Cuban music. Just watching him a couple of seconds, especially as gears shift, is very interesting, and makes me think about salsa that is neither Cuban nor Timba. The beat seems to be "drowned in habit" in such music...Lipsael is dynamic, strategic, mathematic. The whole rhythm section in itself —percussion, the bass and Lázaro's keyboard, his tumbaos and his left-hand in the air signaling, like in the middle of an open battle, what strategy to adopt next —is earth-shattering. The rhythms are so diverse, and they arrange themselves quite perfectly, the shifting is yes... exact... but also thrusting... it actually pulls your body away... and these variations seem to gage what happened before and what will happen next. Ludwig is one of the great drummers of this day and age. He is an exceptional musician whose strongest talent is the attention he places on his instrument and its importance as corner stone on which others will build upon. His strength is precisely this consistency, a kind of Rock-Funk Timba drumming that, coincidentally, fits like a glove with Valdés' musical ideas.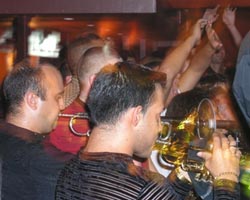 The brass, as always, didn't waste a single note the whole concert, emitting Valdés' arranging thoughts with a different kind of precision. They represent more of a synchronic unity. Carlos Valdés had a chance to improvise on his sax, a classy player by the way — we already knew him before, as well as Ray, the trumpet-player, who is also new. But what best identifies «los metales de Bamboleo» is that flawless performance of complex frasing in unison, every once in a while inserting a colorful harmony here and there. They don't really shine as individual soloists, but their perfectionism is quite amazing.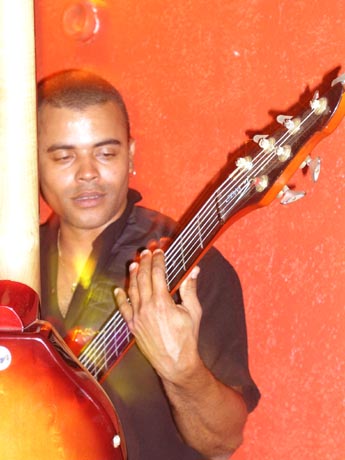 One can say that like many Timba bands Bamboleo divides it's vantage points into three... brass, percussion and voices, which live their own shared history on stage. It is also a Timba characteristic that the bass (played by Osmani Díaz), and piano (Lázaro Valdés) are much more ambivalent, they can adjust to any one of these groupings as melody, harmony or mere rhythm... Lázaro is surely the freest of the musicians, he solos a lot, decorates with intergalactic sounds, dynamite improvisation, displaced tumbaos and other nutty ideas that come to his mind. As he told us after the show, "Bamboleo is in my head".
In a few words: go see the band. Even if that means you have to go to Cuba! "El Maíz" and "El Chisme" will probably be the big hits of the new CD and may shadow those great songs that identified the band in the past. All of the new songs are strong, ballads and homenaje tunes (Ran Kan Kan and Kimbara Kimbara) included (both which are virtuosic pieces both instrumentally and in terms of the arrangement). The concert concludes with the full treatment of the classic hit "Ya no hace falta" with a special new coro at the end: (audio 5) The party is sure to get your blood flowing.
There is really nothing better than to come home with an unexplored world thumping inside your head. I'd say it is necessary for our survival. It is only when music is this good that there is no need for recordings... all that matters then is the fact that you were there, that you danced, that you enjoyed yourself. An artist couldn't be happier with his work when his audience leaves satisfied, and an audience couldn't be happier than discovering new flavors and ways of living joy. Go see them.... es lo que se usa!
Paris, May 30, 2004
Continue to the entrevista with Lázarito Valdés
Photo list: courtesy of Maia Gambis and Ilán Greenfield ©2004 (1) furia y temperamento; (2) génesis; (3) tanja; (4) alain daniel; (5) liena; (6) alain y lipsael; (7) osmani; (8) maikel y ray; (9) ludwig de espaldas. Here for more photos
* los extractos de audio 1, 3, 4 son de un concierto anterior!
Tuesday, 22 March 2011, 07:31 PM