New Stuff
[hide]
Photos of the Day
[hide]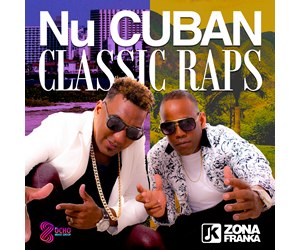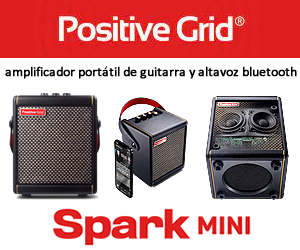 YISSY GARCIA & BANDANCHA @ SABOR A CAFE 2021
YISSY GARCIA & BANDANCHA AT SABOR A CAFÉ, CHICAGO, ILLINOIS
DECEMBER 4, 2021
PHOTO GALLERY AND COMMENTARY BY BILL TILFORD, ALL RIGHTS RESERVED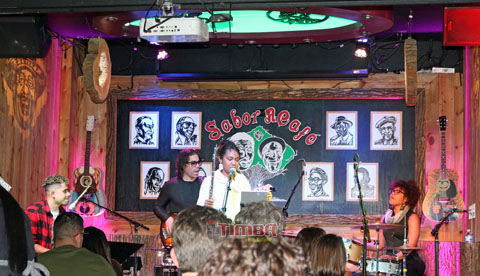 ENGLISH: This is the first concert attended by this writer since the COVID lockdowns began in 2020, and it was a pleasure to see a sold-out venue with an enthusiastic crowd in these still-difficult times.
Bandancha has performed in New Orleans in the past, but this was its first trip to Chicago (Yissy herself has been up north with Maqueque several times.
This iteration of Bandancha is more acoustic than the original formation, but it is no less interesting. Yissy, the leader, continues on drums, Magela Herrera is very impressive on flute, vocals (and occasionally rap), . Braulio Fernandez plays bass and Miguel Angel De Armas, whose resume includes Isaac Delgado's group, plays keyboards. This combination, while it sounds very different than Pedrito Martínez' early group, brings a similar energy level to its music, and the crowd responded accordingly.
I hope that Bandancha (in English, Broadband) has opportunities to play in other cities in the United States - Yissy is long overdue for a national tour with her own group. Meanwhile, readers should know that Sabor a Café's entertainment calendar is worth following. Before the pandemic, it was often a place to hear first-rate Cuban artists that larger venues would not dare to hire, and the owner, Elio Erraez, tells me that he plans to do so again now that things are opening up again.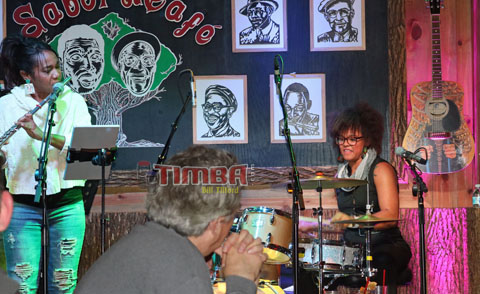 ESPAÑOL: Es el primer concierto asistido por este escritor desde que comenzaron los cierres de COVID en 2020, y fue un placer ver un lugar vendido con una multitud entusiasta en estos tiempos aún difíciles.
Bandancha ha presentado en Nueva Orleans en el pasado, pero este fue su primera presentación en Chicago (la propia Yissy ha estado en el norte con Maqueque varias veces).
Esta iteración de Bandancha es más acústica que la formación original, pero no es menos interesante. Yissy, la líder, continúa en la batería, Magela Herrera es muy impresionante en la flauta, la voz (y ocasionalmente el rap). Braulio Fernandez toca el bajo y Miguel Angel De Armas, cuyo currículum incluye el grupo de Isaac Delgado, toca los teclados. Esta combinación, aunque suena muy diferente al grupo inicial de Pedrito Martínez, aporta un nivel de energía similar a su música, y la multitud respondió en consecuencia.
Espero que Bandancha (en inglés, Broadband) tenga la oportunidad de tocar en otras ciudades de los Estados Unidos. Yissy hace mucho tiempo merece una gira nacional con su propio grupo. Mientras tanto, los lectores deben saber que vale la pena seguir el calendario de entretenimiento de Sabor a Café. Antes de la pandemia, a menudo era un lugar para escuchar artistas cubanos de primer nivel que los lugares más grandes no se atreverían a contratar, y el propietario, Elio Erraez, me dice que planea hacerlo nuevamente ahora que las cosas se están abriendo.

Click on the images below to enlarge them / haga clic en las imágenes por debajo para ampliarlas.














Bill Tilford - Monday, 06 December 2021, 12:20 AM