Washington D.C. OFFICIAL DC Cubans Meetup Group
Official Washington D.C. Cubans Meetup Group
http://www.meetup.com/DC-Cubans/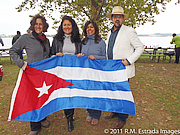 Is your favorite food Boliche and you cant stop eating pastelitos de guayaba?! You love Celia and you're obsessed with Timba! You memorized Jose Marti but you've totally get Reinaldo Arenas?! Whether you were born in Cuba or the U.S., the purpose of the group is to provide a forum for Cubans and others interested in Cuban culture in the D.C. area to find each other, socialize and keep in touch. Our members live, work and hangout in the DC Metro area, and the majority are white-collar professionals and/or others involved and interested in the arts. While most members are transplants from Miami, the Mid-west and the East coast with a rich diversity in upbringing, everyone is united with the strong common bond of our Cuban roots and influence.
We organize events we think would be of interest to anyone interested in Cuban Culture. Our past events have included live concerts with Cuban musicians, plays and movies about and related to Cuba, "comelatas", picnics and even a dominoes tournament! Please, read the contents of the "About Us" link on the left-hand pane, answer all the questions and post a picture prior to joining.
¡Lo que se va formar aqui es candela mi son!
Disclaimer: The Official Cubans DC Meetup group is not affiliated with any political or religious organization. We are entirely non-partisan and do not support any particular political views. Our mission is to grow a close, tight-knit community of Cubans in DC who can meet and form long-lasting friendships over time. From time to time, we will post Cuba-related events that may be of interest to you that may be of either a political or artistic nature and that may be somewhat controversial. Please use your own discretion in attending.
Requirements for Joining the Official DC Cubans Meetup Group
1. Am I Cuban?
You were born in Cuba, or one or both of your parents were born in Cuba.
2. I'm not Cuban, can I still join?
It wouldn't be a DC Cubans Meetup without Cubans living in DC. So, our first order of business is for Cubiches to meet other compatriates in the city. However, we are not exclusive and we do accept non-Cubans on a case by case basis. However, demonstration of a strong connection to Cuba will be one of the factors in that evaluation (eg, you have already been to Cuba, you studied Cuban-American relations in grad school, etc). A simple "I love Cuban food or culture" is not sufficient. I'm sorry.
3. But, I love Cuban culture and I want to practice my Spanish.
We don't mean to be mean, but if you want to practice your Spanish or enjoy Latin culture, this is just not the right fit.
4. Do I need to fill out a profile?
Yes. In order for us to understand why you want to join, and determine if you are eligible, you must fill out the profile and add a picture. We reserve the right to decline any membership requests. Those that do not properly fill out the profile questions and do not include a picture in their profile will be rejected immediately. IMPORTANTE/OJO: YOU MUST POST A PICTURE!!!! And, yes, this must be an actual current picture of you This is a small group and anonymous requests will NOT be accepted. No picture, no membership! Any member found to have misrepresented (eg. claiming to be Cuban or posting a picture that is not them) themselves will automatically be banned from the group!
5. How Often do I need to Participate?
The intent of the group is to provide a forum for Cubans to interact with other Cubiches and individuals with a strong interest and understanding of the Cuban culture. You must RSVP to at least three events in a year and actually attend in order to remain a member of the group. Your membership will be suspended after one year if there are zero RSVPs and zero attendance at our events. If you are only interested in receiving information on events in order to attend on your own, this is not the group for you.
Monday, 21 November 2011, 01:08 PM