New Stuff
[hide]
Photos of the Day
[hide]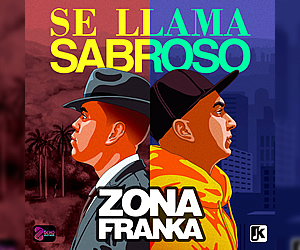 Los Angeles Timba Report Archive
December 13, 2010: Los VAN VAN in L.A.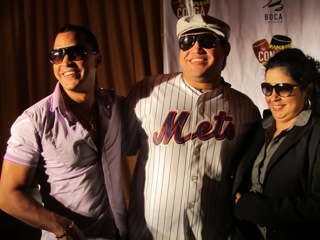 Samuel Formell, Lele Rasalps, Yeni Valdés
Checking in before heading out for the Los VAN VAN L.A. concert! ...Upon their arrival from San Francisco yesterday, Juan Formell, along with Samuel , Robertón , Jenny , Lele and Conga Room CEO Brad Gluckstein held a press conference for the Latino press at the Conga Room. Formell lamented the issues that precluded Los Van Van from performing in L.A. on the originally scheduled concert dates of December 2 and 3, but promised the band would give the Southland two unforgettable concerts! The newly scheduled dates of Tuesday, December 13 and Wednesday, December 14 have hard core VanVaneros unflapped, but a few who have been disappointed this year by the June cancelation of their performances, and then of the December 2 and 3 dates, have seemed reluctant to pre-purchase tickets. The press conference and buzz (whoa! saw una pila de fellow Angelenos at Yoshi's last week!) hopefully will inspire a big turnout at the Conga Room these two nights! During the press conference Formell mentioned that though they would have liked to have done a more comprehensive U.S. tour, they are committed to perform at the Feria de Cali which comes up around Christmas dates. A little chisme : LOS VAN VAN were invited last night to JAMIE FOXX' s birthday celebration at the Conga Room ! Ahh! LOS VAN VAN LLEGÓ a HOLLYWOOD!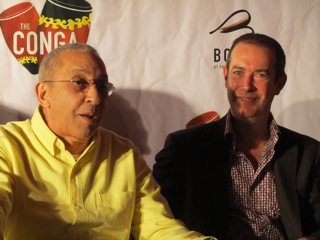 Juan Formell with Conga Room CEO Brad Gluckstein
June 15, 2010: PUPY y LOS QUE SON SON in LOS ANGELES
PUPY y LOS QUE SON SON wowed an audience of about 300 at the Sportsmen's Lodge in LOS ANGELES last FRIDAY, JUNE 11. Much to our delight, each set lasted about one hour! For most of the first set they played early hits from LOS QUE SON SON, but wrapped it up playing a potpourri of songs from that endless list of Pupy's music made famous by LOS VAN VAN. If the first set was a smash, the second set's momentum was even more intense. After Pupy's explosive extended solo, the group went into a new arrangement of NI BONBONES NI CARAMELOS , with inspired lucumí coros, the rhythm section ratching it up, and the horn section blowing and grooving ... wow! Is this paradise or what? An all-time favorite anyway, I admit at first I thought, "But I love the way Robertón sings this song!" So sorry. Kudos to RUSDELL, EL NORO and MICHEL, and this dynamic new arrangement. LOS QUE SON SON owned this new version. And yes, I confess (and I know I'm not alone) that I was a little concerned that I'd really miss the voices of MANDY CANTERO and PEPITO GÓMEZ, and wondered how El NORO, THE VOICE of MAYKEL BLANCO y SALSA MAYOR w ould fit in and still shine in LOS QUE SON SON. Forgive me, all three vocalists were amazing, and it is exciting to anticipate what we can expect as the genius of PUPY creates new songs for them. PUPY will always have the talented personnel he needs to fly with his musical vision.
Athough most all agreed the entire evening was a spectacular musical treat, what were special, personal highlights for Angelenos? For Cuban dancer KATI HERNÁNDEZ , "Báilalo Hasta Afuera-La Machucadera!" For GLORIA HERRERA , long-time friend of Pupy and Latin music specialist, it was that extended solo by Pupy. DJ SAOCO can't stop singing "Un Loco con Una Moto " (percussion accents included!). For CURUYÉ , you know it was "Ni Bonbones Ni Caramelos".
Angelenos and Southern Californians, eat your heart out! San Francisco has PUPY y LOS QUE SON SON performing in no less than ELEVEN concerts this week! And they'll probably all be packed by music lovers and Cuban music connosieurs! Over the week they''re bound to play all those songs from TRANQUILO QUE YO CONTROLO that they didn't have time to play in L.A. ... so tempted to go up for more of PUPY , but with ELITO performing in the Bay next month, maybe I'll save that plane ticket pa' el norte !
---
May 8, 2010 3:43 AM: MANOLITO y SU TRABUCO ACABÓ EN LOS ANGELES! SAN FRANCISCO YOU'RE IN FOR A TREAT! Just came back from the Sportsmen's Lodge that was filled to capacity tonight for the TRABUCO 's first concert on their U.S. Tour 2010! Before hitting the sack I wanted to let you know that it was a great night in L.A. and the concert-goers were thrilled with the group's energy and musicianship. The only disappointing thing is that they couldn't possibly do everyone's favorite song--Let's face it, their repertoire is just too vastt The enthusiasm was LARGE! Talked to a musician who said he'd turned down two gigs to attend the concert..Fans drove up from San Diego. Manolit y el Trabuco played two long sets which allowed those attending a salsa extravaganza down the street with Oscar D'León, Willy Chirino, Gilberto Santarosa and Luis Enrique, to catch Manolito's full hour last set. We proved to Albert Torres we're ready for PUPY y los QUE SON SON on June 11 (June 12 in the Bay Area) and other Cuban groups he has mentioned he'd like to bring like ELITO REVÉ, PAULITO F.G. and others. CAN'T WAIT!
---
ATTENTION! MANOLITO SIMONET's RADIO INTERVIEWS in CALIFORNIA SCHEDULED FOR SAT. MAY 1 (per ALBERT TORRES) :
-NO. CAL : 8:30PM (PT) w/ LUIS MEDINA-KPFA 94.1 FM. Live on the web . hope I got that address correct!)
-SO. CAL : 9:00 PM (PT) w/ KATHY DÍAZ, Canto Tropical KPFK 90.7 FM Live on the web.
-Sometime between 6 AM-6 PM on ALMA del BARRIO KXLU 88.9 FM ( time not yet confirmed!) Live on the web
---
April 30, 2010: BOOTS ON THE GROUND! Yes, we can be sure that MANOLITO y su TRABUCO will be performing for us! ALBERT TORRES r elayed the news that MANOLITO has arrived in Miami!
This has been a crazy week of tension as rumors spread that new U.S.visa requirements might impede DAVID CALZADO y LA CHARANGA HABANERA' s arrival for their May U.S. tour, but ALBERT TORRES had a trump card for us. When he called to relay the bad news that the CHARANGA concerts had to be canceled, he had a BUT to illuminate the gloom! MANOLITO SIMONET y su TRABUCO would perform in the CHARANGA 's place, for both of their California dates: May 7 in Los Angeles, and May 8 in San Francisco. Tickets purchased for the CHARANGA concerts would be honored for MANOLITO 's concerts. Both DJ SAOCO and CURUYÉ 's fans and friends on Facebook reacted positively. "Wow! Not a bad booby prize!" commented one fan. Albert reported that a few diehard CHARANGUEROS de verdad asked for a refund, but he is hopeful that MANOLITO fans will come through and purchase tickets in these days. Given this last minute change, we're really encouraging all of you out there to go to one of these concerts to show Albert how much we love Cuban music and appreciate his efforts to bring our favorite groups to us.
When confirming the MANOLITO gigs earlier in the week, Albert mentioned teasingly that "another good thing is in the works." The text arrived yesterday afternoon affirming, "PUPY y los QUE SON SON in L.A. Friday, June 11, and in San Francisco on Saturday, June 12." (In L.A. @ the Sportsmen's Lodge; in San Fran @ Cocomo's). It may take a few days to get the PUPY ticket sales up on his website since Albert and his staff are frantically trying to manage all these exciting new developments. (Check http://www.atpevents.com soon. Ticket sales are usually posted under the "STORE" link on his website.They'll also be on sale @ the Manolito concerts.) And in case you're wondering, YES! PUPY y los QUE SON SON have their visas in order! Woohoo!
LIFE IS GOOD! (More about L.A. on curuye.com )

P.S. Lean el artículo que salió hoy sobre el promotor de salsa ALBERT TORRES en VÍVELO HOY. Habla no sólo de su vida y su trabajo en promover la salsa por todo el mundo, sino también por su pasión por la música cubana y los planes que tiene para futuras giras de nuestros preferidos grupos musicales de la isla.
---
THIS FRIDAY, APRIL 23 JENNIFER PAZ PRESENTS "LA CHARANGA HABANERA @ LA TROPICAL" - NEW FILM @ KAOS NETWORK, LEIMERT PARK, L.A.! NOT TO BE MISSED!
---
April 20, 2010: Saludos desde Los Angeles! Curuyé saluting all you Cuban music and dance lovers!/timberos , and inviting you to come to Southern California!

Cuban music fanatics here are gearing up for our first direct-from-Cuba live timba concert in eight long years! Thanks to ALBERT TORRES , the first to bring us Los Van Van, the Charanga Habanera, Adalberto Alvarez, Bamboleo, Isaac Delgado, NG, Orquesta Aragon, Septeto Nacional to California back in the late 1990s, he's now bringing us back the CHARANGA HABANERA !

Okay, okay, we don't have the numbers of timberos as the California's Bay Area does (a lot of us love to go up to the Bay Area for a Cuban concert, or a night @ Añejo's La Tropi_Cal) , and maybe there are more of you up there that can sing an entire Cuban song than here, but we can cover the coros on most songs, and we have a hardcore of Cubans and Cuban-music lovers who have sustained an interest and love of contemporary Cuban music in the Southland over the years.
The way I see it, over the last eight years, the travel restrictions between the island and the U.S. have seriously diminished the energy and awareness of Cuba's incredible music and dance, and there is a new generation of dancers here who have never had the blessed opportunity of seeing these musicians LIVE ! although they love dancing to the music. We're hoping that with the CHARANGA HABANERA to kick off the wave of groups expected to come, that energy will be revived.
On Friday, April 23 Curuyé hosts filmmaker JEN PAZ who will show never-before-seen film footage of "LA CHARANGA HABANERA @ LA TROPICAL" her new documentary filmed at the Charanga's recent 20-year anniversary at Havana's legendary dance venue. JEN will be present to discuss her film, the band, new Cuban music, and her other acclaimed film on the CHARANGA , "POPULAR !" that many of you have probably already seen.
We look forward particularly to MAY! Aside from the concert of the CHARANGA HABANERA on MAY 7, during May there are two big CUBAN MUSIC FESTIVALS that take place here in L.A. May 2 you have the 8th ANNUAL MI SON CUBANO FESTIVAL featuring REY RUÍZ , held in northeast L.A. county; and on May 23, the 16th ANNUAL CUBAN MUSIC FESTIVAL in ECHO PARK- La presencia cubana en Los Angeles! also known as 'the people's Cuban Music Fest', that is amazingly still free, takes place in the heart of the community, just west of downtown L.A.on the side of Echo Park where you'll find a monument to JOSE MARTI. There you can spend the entire day eating lechón y yuca, dancing to live music, including this year RUMBANKETE (DENIS JIRÓN' s band headlining Cuban singers IRIS CEPEDA and CHALO CHOMAT) Curuyé 's favorite L.A. band of the moment (and of Timba.com as well, who recently invited them to Oakland for a concert at YOSHI's).. DJ SAOCO (Vicente Lantigua) , L.A.'s resident master-spinner-of-Cuban dance music, will keep us all dancing between the bands. Bring a blanket or lawn chair if you think you might want to sit a moment, and hey! I can assure you there you'll find yourself an "I LOVE CUBA" visor/cap and tank top for sale appropriate for So Cal's sun.
TRIBUTE to ZABUMBA: Curiously, and sadly as I began this LA contribution to www.timba.com , I report the temporary loss of one of LA's favorite venues for listening and dancing to the best and latest dance music from Cuba. ZABUMBA . A tiny Brazilian restaurant-bar in West Los Angeles. It started its original Thursday CUBAN MUSIC NITES back in 1998 when ANGELICA SEPULVEDA, DJ SAOCO and DAVID LENEMAN approached the then-owner, RUY MOTTA to use the space for an exclusive night of new Cuban music. CUBAN MUSIC NITE flourished, and expanded to Sunday nights as well. under the ownership of its subsequent owner MONICA BURGOS . At its height the place would be packed with dancers both inside its tiny confines, and out on its front patio. PEDRO MUÑECO AGUILAR would bring his socios and drums and a spontaneous rumba would often occur. On the night of the arrival of a young Cuban immigrant to this country, his family literally brought him from the airport to Zabumba so he wouldn't feel the shock of being in a new country! Every age group and nationality was represented, and as one visitor marveled, "What a friendly place! You see younger people asking older people to dance... people who don't even speak the same language dancing with total joy... " Could this be the true L.A?.! Five couples met, danced, fell in love and are now happily married after meeting at one of Zabumba's Cuban music nights. When a Cuban rumbero was cut down in an act of violence on the streets of L.A., Zabumba was the place we raised money to help bury him. The Cuban music community rallied together at Zabumba to help pay expenses for another one of the 'family' debilitated with cancer. Musicians from bands and folkloric groups visiting from Cuba inevitably made a stop there if they stayed in L.A. long enough. BAN RRA RRA , the Afro Cuban folkloric company, performed and taught classes there, and brought more fans to the place. Members of Los Muñequitos , Bamboleo , Pachito Alonso y los Kini Kini , Perú Negro , have all been known to drop by the spot when in the Southland, and to this day in Cuba when you mention to one of these artists that you're from the City of Angels, you might be asked, "¿¿Y Zabumba?? Over the last few years the failing economy has hit Zabumba. A $5 charge was initiated and the crowds diminished, though SAOCO and timba diehards continued to come. Lately the attendance has surged a bit with PATRICIA MARTINEZ bringing new ruedistas into the fold. MONICA was killed a few weeks ago while vacationing with her two small children and husband in Cancún. Her homicide is being investigated The future of the venue was in question.
BREAKING NEWS! Monica's family has just decided to keep the venue happening, and has invited Sunday CUBAN MUSIC NITES TO RESUME APRIL 25!
I'll soon be reporting back to you, but in the meantime, take a moment to check out www.curuye.com to see what events are coming up, especially if you'll be in the Southern California any time soon. You can see DJ SAOCO 's 'Pick Song of the Month' on the Features page, and check out the Media Picks page as well. In future entries, I'll be telling you more about L.A.'s musicians, dancers and happenings.
In brief, are upcoming up in the Southland in the next few weeks: Visit www.curuye.com for all the details!
Friday, April 23: Film screening, "LA CHARANGA HABANERA at LA TROPICAL" , meet filmmaker JEN PAZ !
Sunday, April 25: Revival of (Yes!) CUBAN MUSIC NITES @ ZABUMBA w/ DJ SAOCO and a LIVE RUMBA JAM to celebrate
Saturday, May 1: CURUYÉ's CUBAN DANCE PARTY w/ DJ SAOCO spinning the latest timba.
Sunday, May 2: 8th Annual MI SON CUBANO FESTIVAL , San Dimas ($25)
Friday, May 7: DAVID CALZADO y LA CHARANGA HABANERA @ the SPORTSMEN's LODGE , DJ SAOCO spinning, Cuban dancer KATI HERNÁNDEZ loosening up the public w/ a pre-show class,
Saturday, May 8: DAY-AFTER-the-CHARANGA PARTY: DANCE WORKSHOPS, CUBAN DANCE PARTY w/ RUMBANKETE's LIVE SOUNDS, and DJ SAOCO @ CAL TECH, Pasadena
Sunday, May 23, 16th Annual 16th ANNUAL CUBAN MUSIC FESTIVAL in ECHO PARK -La presencia cubana en Los Angeles! (FREE!)
Saturday, 04 June 2011, 01:31 PM