Eleven (Big Label Records) Released August 2014
CD Review: Eleven by Daniel Peña (Big Label Records August 2014)
Review by Bill Tilford, all rights reserved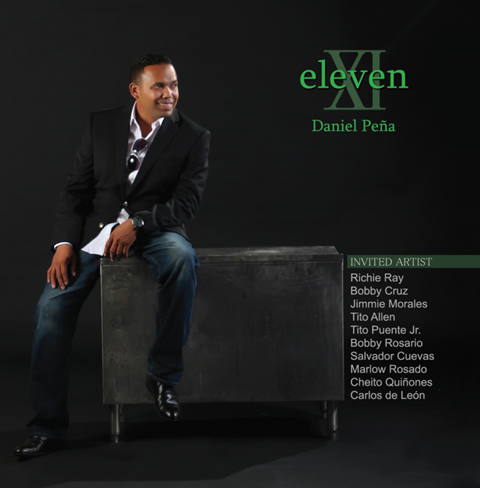 Eleven is the debut album as leader for Dominican-born percussionist Daniel Peña, who has already built up an extensive resume in the Salsa and Latin Jazz communities. The title is inspired by the birth of his son on 11/11/11, and as you can see from the guest artists in the roster below, a number of heavy hitters such as Richie Ray, Bobby Cruz, Tito Puente Jr. and Marlow Rosado (with whom Daniel performed on the GRAMMY-winning Retro) appear as guest artists. Marlow also did many of the arrangements in the recording. The songs are all originals by either Daniel and/or other artists.
Musically speaking, much of this album has the sound and feel of what Eddie Palmieri's La Perfecta might have done if it had been a lot more more Jazz-oriented (although the Jazz Plena tracks remind me a little of William Cepeda's work.) There are, of course, some differences - saxophonist Oscar Dudamel wails on the opening track, 30 Thousand Feet. The second track, El Taxi, is a rousing descarga; On the Road starts fast and then settles into a tasty guajira. Tito Puente Jr. shows his timbal chops on La Sangre y La Experiencia, which has the same kind of groove as Eddie Palmieri's original Azucar but with more advanced solo passages. Jimenologiía en Danzón includes an amusing trombone quote from Soul Makossa. El Tren opens with over a minute of intense percussion before settling into a smouldering Jazz plena. Percussion To Go, is, as the title implies, a descarga that gives the conga and bongo plently of room to stretch out. Inseparable is danceable (and has a vocal line). The last two tracks are both extended, richly orchestrated and very pretty danzón tracks which specially feature violin, accordion, vocals and Richie Ray's piano.
If I were to point to any one thing that makes this album of interest beyond the musicianship, it would be the quality of the arrangements, which are very intelligent and not without a sense of humor now and then. Listen carefully, and you'll hear a musical shout-out here and there to Herbie Hancock, William Cepeda, Manu Dibango, Eddie Palmieri and many others. As to the danzones at the end, it bears remembering that Cachao also included a lot of these in his later recordings. This is a worthy first solo outing for Mr. Peña, and worth having.
Tracks:
1. 30 Thousand Feet
2. El Taxi
3. On The Road
4. La Sangre Y La Experiencia
5. Jimenología en Danzón
6. El Tren
7. Percussion To Go
8. Inseparable
9. Lirio De Los Lirios
10. Lirio De Los Lirios (full version)
Personnel in Eleven
Role - Instrument
Name
Leader, Conga (except 6, 8), Bongo (9, 10), Timbal (6, 8)
Daniel Peña
Timbal (1, 2, 3, 4, 5, 7)
Bongo (except 5, 9, 10)
Gamalier Reyes
Bongo (6)
Minor Percussion (6)
Charlie Santiago
Piano, Keyboards
Marlow Rosado, Carlos Jimenez, Roberto Navarro
Bass (tracks 1-8)
Luis "El Guigui" Rodriguez
Trumpet
Julian Cifuentes
Trombones
Somar Poveda, Jose Ruiz
Saxophone, Flute
Oscar Dudamel
Lead Vocals
Lésmer Solensar
Vocals (2, 4)
Leon Cheva
Coros
Joe Arroyo, Juan Rivera
Accordion
Augustin Peña
Violin
Gerardo Aquillon
Guest Artists
Richie Ray, Bobby Cruz, Tito Allen, Jimmie Morales, Salvador Cuevas, Bobby Rosario, Marlow Rosado, Cheito Quiñones, Tito Puente Jr., Carlos de Leon
Musical Producers
Daniel Peña, Gamalier Reyes, Marlow Rosado
Executive Producers
Daniel Peña, Eddie Mandel
Recording Engineers
Gamalier Reyes, Marlow Rosado
Mix Engineer
Gamalier Reyes
Mastering Engineer
Michael Lázarus
Bill Tilford - sábado, 01 noviembre 2014, 07:14 pm