New Stuff
[hide]
Photos of the Day
[hide]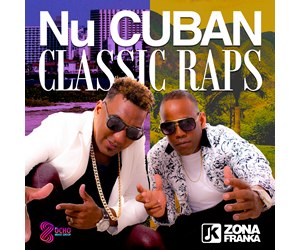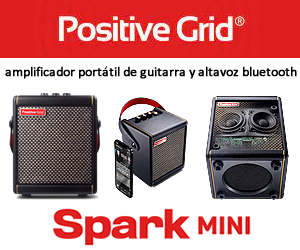 Discography - 2001 - Timba: The New Generation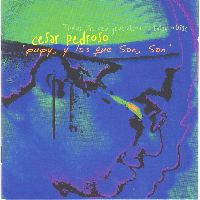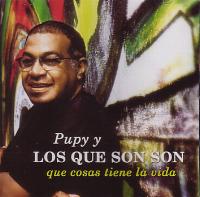 2000 - 2001
These two albums have similar tracklists but are very different. The first was recorded while Pupy was still a member of Los Van Van, using an all-star group, including Los Van Van members, and the second was recorded after his working group had already been performing for a period of months. On this page, we'll compare and contrast the two, preparing the way for Pepe Martínez full review of Qué cosas tiene la vida, complete with multiple audio excerpts.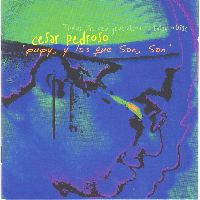 Timba - The New Generation of Latin Music. This album was recorded as a studio project before Pupy left Los Van Van and features an allstar cast of studio musicians and stars from other bands. Some, such as Tirso Duarte (thenwith NG La Banda), wound up joining Pupy's band as permanent members when it became a regular working orquesta. Among the guest artists of note are Manolito singer Sixto "El Indio" Llorente, Adalberto Alvarez/Maraca singer Donaldo Flores, Changuito, master conguero Tomás "El Panga" Ramos, trumpet greats Julio Padrón and Basilio Márquez, Candelita Avila, drummer Jorge Baglan of NG, and Van Van members Hugo Montejón, Boris Luna, Gerardo Miró, Pedro Fajardo, and Jorge Leliebre. Quite a lineup, and this CD created quite a stir when it was released. It's now somewhat overshadowed by the subsequent release of "Qué cosas tiene la vida" which has remakes of six of the songs performed by Pupy's working band and featuring all sorts of great additional material. However, this is still a very valuable album. In addition to the great individual performances, and the opportunity to compare the approaches of the two bands, the songs which were NOT included on "Qué cosas" are among Pupy's best. I would buy this CD just to get the opening track, "La Voluminosa" or just to get the closing track, "Vamos a gozar hasta fuera".
La Voluminosa - This song, the first that Tirso Duarte sang with Pupy, is irresistible. It combines the driving Timba groove with a bit of the flavor of a Cole Porter standard.
El vecino se mudó - both versions are described in the previous section.
Qué cosa tiene la vida - both versions are described in the previous section.
El gato no arana - both versions are described in the previous section.
Juégala - both versions are described in the previous section.
Te molesta que sea feliz- both versions are described in the previous section.
Las mujeres son - This merengue hybrid is sung by Jesús Bello.
Mamita pórtate bien - both versions are described in the previous section.
Vamos a gozar hasta fuera - This is true gem which is the epitomy of what Pepe Martínez' comments about Pupy's ability to achieve beauty through simplicity. On the surface, "Vamos a gozar" is no more than a descarga based on a simple repeated 2-bar figure, but it's completely addictive -- the song could be an hour long without becoming boring. The track begins with just piano and bass, playing a simple four note figure in unison. How simple? Well, three of the four notes comes on the downbeat and they outline the roots of one of the most common Latin chord progressions, I IV V V. For the life of me, I can't figure out why it sounds so fresh and so great, but it does, and it forms the backdrop for series of fantastic individual performances: first a lengthy Changuito solo, and then ecstatic and inspired guías from El Indio, Tirso and Donaldo Flores.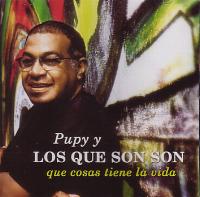 2002 - Qué cosas tiene la vida - This is the first CD to be recorded after Pupy's departure from Los Van Van. Eight of its ten songs were previously recorded by either Pupy or Los Van Van, but that doesn't stop it from being one of the very best Timba CD's of recent years. As the fiery performances show, Los Que Son Son had been playing and rehearsing together regularly for many months before this recording. Even songs which had been recorded within the previous year have considerable new material added.
Click here for Pepe Martínez' full review of this disc, with multiple audio examples.
Here's a brief rundown of the ten tracks:
Qué cosas tiene la vida - This was first recorded on the 2001 release, "Timba: The New Generation of Latin Music", sung by Donaldo Flores, whose regular gig is with Adalberto Alvarez. Armando Cantero's guías and style are completely different and the comparison of the two performances is fascinating. The new version also has an extra coro and timba breakdown with some exciting new bloques.
"Qué cosas tiene la vida" was also Pupy's final contribution to the Los Van Van repertoire and the first lead vocal for the singer who replaced Pedro Calvo, Lele Rosales. LVV hasn't recorded it in the studio but has played it live at virtually every show for several years, and with still a different set of coros, guías, and mambos. Ironically Lele at first used it as a vehicle for a long set of raps and guías debunking the rumors that Van Van was in conflict. "Look," he'd say, "there's Pupy Pedroso, still here, playing the piano. Van Van will continue!". Well, Van Van has continued, but without the composer of "Qué cosas tiene la vida"! As Pepe points out in the review, there's a good chance that Pupy's departure will benefit both bands by bringing in fresh blood and stoking the competitive fires.
El vecino se mudó - There's considerably less difference between the two versions of this one. Pepe Gómez sings lead on both versions. He repeats many of the same guías and the earlier version actually has some additional guías which are omitted in the new versions. However, the new version has a whole new coro at the end. As with all of these, it's interesting to compare the more subtle differences in time feel between the the two groups. "Timba: The New Generation" was recorded by an all-star group assembled just for the recording, while the new one is a working band.
El gato amaga y no araña - With this one the new version is drastically different, and greatly enhanced. The original lead vocals were split between Donaldo Flores and Gustina Azcuy -- now it's all Tirso Duarte and he really makes it his own. There's also LOTS of new material, including the coro "No hay duda, no hay duda, no hay duda -- no hay miedo, nosotros somos de Cuba" ("there's no doubt...have no fear...we're from Cuba!"). I can shed some light on the significance of this coro with an anecdote from the last time I ever saw Pupy play with Los Van Van in San José, California. After the show, I gave him and violinist Girardo Miro a ride to go look for auto parts in Silicon Valley, and among other things, they discussed their concern that Van Van was starting to sound too "American" with the extended quote from Weather Report's "Birdland" that Formell had worked into the arrangement of "Yes". With Los Que Son Son, they've obviously taken their own advice, as these arrangements are very pure in their adherence to their Cuban roots. The miracle is that they've imbued it with so much fire that my yuma ears find it just as exciting as the more sophisticated arrangements of some of the other Timba groups. Like Manolito y su Trabuco, Pupy has found a balance between Son and Timba that seems to leave everyone satisfied.
Mamita pórtate bien - Based on the information given so far, the person who only wants to buy one of Pupy's recent CD's is very likely to opt for "Qué cosas tiene la vida", and when all is said and done, it's the better choice. BUT, there are also numerous reasons why no serious timbero should be without "Timba: The New Generation"! One of them is the presence of the great Sixto "El Indio" Llorente. El Indio, a veteran of Orquesta Aliamén, is most famous for work with Manolito y su Trabuco, and his name is at or near the top of the list in any discussion of Cuba's greatest singers. El Indio is still with Manolito, but was able to participate as a guest artist on "TTNG", because it was a studio project which didn't entail live performances. On the new version, Armando Cantero follows El Indio's basic phrasing and guías, but adds quite a lot of melodic embellishments of his own. The first set of guías is shortened, as is the trumpet solo, but on the second set of guías, Cantero departs completely from El Indio's version, and with great results. Cantero has sung with several groups over the years, including Charanga Forever and Bamboleo, but now seems to be finding his own style. After shortening the earlier sections, the new version adds a lot of new material at the end. The verdict? You've got to have both versions!
La bomba soy yo - This was of course originally recorded by Mayito Rivera on LVV's Grammy-winning "Llegó Van Van", so for Tirso, whose voice is so frequently compared to Mayito's, it's the ultimate challenge and he more than rises to the occasion. Pepe Martínez' full review covers this song in great detail, including several carefully chosen audio examples that are not to be missed. Also listen for Tirso's clever quotes from his own compositions from his days with Charanga Habanera.
Ay Papá - This one, sung by Pepe Gómez is completely new. It features an interesting rhythm section "gear" where everything drops out except for piano, güiro and bloques, and some nice subtle work from Osiris Martínez on synth.
El pregonero - This is the other new song, sung by Armando Cantero. This one is burning hot with all sorts of bloques and gear shifts and an infectious final coro "bye, bye, bye, hasta luego".
Juégala - This one begins with one of Pupy's most unique piano tumbaos. On TTNG, this was El Indio's other lead vocal. The lyrics are an "homenaje" (tribute or homage) to the long history of Cuban musicians, and Pepe Gómez' version is in turn a tribute to El Indio. He respectfully and tastefully reproduces El Indio's rendition right up to where the earlier track fades out. But the new version goes quite a bit further with some fantastic new coros and bloques. Again, you have to have both versions.
Te molesta que sea feliz - Tirso sings this on both TTNG and "Qué cosas" but the two recordings are extremely different. The new version, in spite of being quite a bit faster, lasts a minute and a half longer and is packed with exciting new content, including some rapped coros. The original version also had a long tasty piano solo from Pupy, which the new one leaves out. (Pupy does take a solo on "La bomba soy yo").
Seis semanas - This must be one of Pupy's favorite songs. He recorded it twice with Los Van Van, once on his first (1995) solo CD, and now a fourth time. again with lots of great new material. (sometimes titles "Hoy se cumpen seis semanas".
Monday, 19 March 2018, 08:15 AM