Me Lo Gané Release Party
Calle Real celebrated the release of their second CD, "Me lo gané", on Monday night June 15th at Mosebacke in Stockholm, Sweden. The CD is currently available worldwide on iTunes or as hardcopy in Sweden. The hardcopy distribution for Europe and the US will be coming soon.
Their debut CD, "Con fuerza" won a faithful following for the Swedish-based band as reflected in the lyrics of the title track of the new album: Me lo gané/Siendo consecuente y fiel/Y que?/El aprecio de mi gente lo tengo yo/Cambie lo que cambie/Yo aguanto/En eso sí que tengo fé. The 12 man band has indeed kept faith with their fans, struggling from a position as underdogs to be taken seriously as an all Swedish timba band. Their hard work has paid off and the guys have a tight, modern sound that mixes salsa with pop, R&B and funk in a way that is just a little different and has won them respect and a following among timberos around the world.
The concert was planned as an outdoor concert on the terrace of Mosebacke, which commands a breathtaking view of the city below. However, this being June and the city being Stockholm, it poured down rain for three consecutive days and was still raining Monday morning. At last it seems that the Lord took pity on us and said "Let there be music!", and lo the clouds parted, or at least it was only partly cloudy, and it was good, as there would never have been enough space inside the club for all the eager fans that had gathered.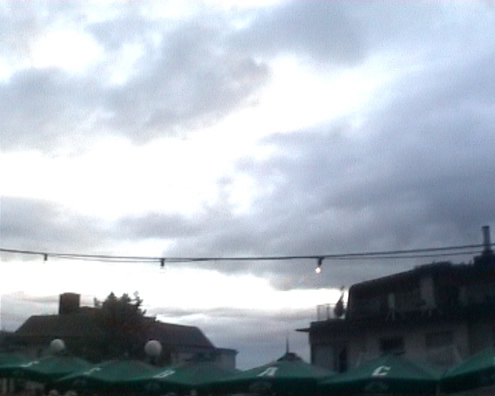 And lo the clouds did part and the concert could be held outside as planned
Before the concert everyone had an opportunity to mingle, have a drink and dance indoors a little to the DJ who was playing mostly timba and reggaeton. Calle Real has an unusually broad following including salseros, timberos, soneros as well has hip-hop and pop fans. The release concert on Monday was no exception with people dancing salsa, son, despelote and the non-salsa crowd just bouncing up and down and enjoying themselves.
Shortly after 8:30pm the concert began. Wait, strike that. It was not a concert, the guys emphasised that it was promo for the new CD. So the promo, which was much akin to a concert of 55 minutes, started with the explosive "Somos familia", a song that demands that you get to your feet and dance. It is a great starter because it encapsulates everything that is great about the band in a single song. They sounded tight, used a touch of choreography and even had a light show to go along with the bomba. With Frasse Hernandez managing the audio it was pretty close to studio sound.

"Somos familia" has an explosive intro
Being a release promo the band only did songs from the new album, which was fine by me since it is jammed full of hits. They followed with "El anillo" a song about a guy with commitment issues, yet refreshingly un-chabacano. Next was "Loco", which closes the album and is the first song on which trombonist Magnus Wiklund has written the mambos. It also starts with a catchy tumbao that won me over the first time I heard it. The rest of the playlist was "Los do sabemos", "Jugando Súper Mario Bros" and "Me lo gané".
You just knew the crowd wouldn't let the band go without an encore and they chose to do one of my favorites and a big hit from the Venezuela bootleg: "Ábreme la puerta". I've seen it performed several times before, but this was the first time I could get a good video of it. So let me share it here with all of you fans who also love this song and especially for the ones who have never seen Calle Real en vivo.

Ábreme la puerta ahora mami
After the promo, the mingling continued but the DJ played completely different music, or maybe it was a different DJ, but I didn't hear any more timba. I didn't dance but there were plenty of people to talk to. Musicians from La Tremenda, La Liga Habanera, Cubaniando, and Zarandea. Yanesito Bogdan from Soneros All Stars was there as were Teshome and Osiel from SELAM, not to mention many of my dance friends. I pity the poor fools who let the weather keep them at home.
For those of you who are still on the fence about whether or not to buy the CD, here's what people are saying about Calle Real at YouTube:
these guys are amazing!!! i saw them in paris? last month. they were just fabulous :-)
Estuve por Suecia.. y escuché sobre uds.. soy Peruano y me doy con la sorpresa de que en Peru su musica es un exito.. ahora solo esperamos que se den una vuelta por una de las capitales de su musica...
saludos !!!! y exitos..!
Brilliant Album! Downloaded it from iTunes and have been playing/singing it all day!!!
Tuesday, 22 March 2011, 07:31 PM