SpanishEnglishConcert Report - Bamboleo - Paris - 2004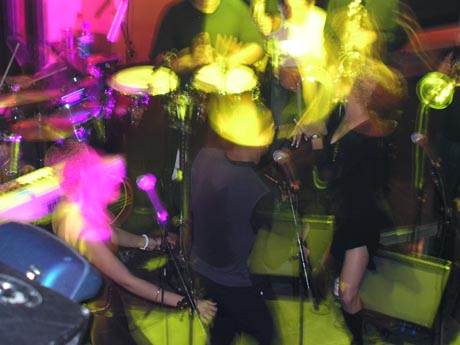 Bamboleo showed no signs of fatigue last night on rue Montmartre. Seemingly unaffected by the long hours across the Atlantic, followed by a concert that same night, another connection Madrid-Paris, a crazed trip from the terminal to the club, the unexpected delay, a last-minute soundcheck... Bamboleo came, played and conquered with electrifying energy that didn't flinch in the least for almost three hours of exhausting intensity. The band exploded over a faithful French audience that Bamboleo has begun to identify with, taking it time and again to the Timba frenzies and vibrations of fierce musical interaction that we all come to see. Dance blended with awe, as we also caught the wide-eyed mind-blown faces of the uninitiated, gazing blankly at the melting pot of rhythms, flavors, colors... in a few words: Timba Cubana!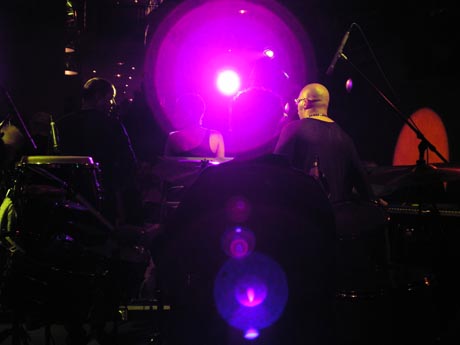 So how is a Bamboleo concert, you ask? Well, let me beginn from the top. The DJ has just removed his music from the speakers, light is dim, people move anxiously, quietly, take as good a spot as they can to observe the band, couples who know what's in store prepare their corner for a night of dancing. The musicians with instruments slowly find their places— everyone dressed in black— they stand on a small, cozy stage with a high-tech, mechanical aspect to them. Robotic sounds ooze from the amps, quickly transforming themselves into a minimalist Jazz. Before the tone is set, the three vocal actors take the stage (two females, one male) and a lop-sided salsa-funk shouts out the theme song: «Bam-Bam... Bamboleo... qué's lo que te gusta... lo que se baila, lo que se usa». The music behind it quickly comes to a boil. Merely a minute and a half has gone by. And then it surges... Timba delivered furiously across Paris: (audio 1)*. This number opens their third album entitled "Ya No Hace Falta" (1999) and is usually used to introduce the group live. From here on in, an increasingly enthusiastic show is built between musicians, singers, dancers and other witnesses.
¿New blood in Bamboleo?
Among the elite Timba bands, Bamboleo holds the unfavorable distintion of being one of the most inadequately represented bands in terms of official recordings. What we saw last night was nothing less than almost (if not already) five years of largely undocumented musical material, more than 60 % of the bandmembers have not participated in the major albums (even when many of them have been working with Bamboleo for three/four years) and more than 80 % of the songs are completely new since the last non-compilation release. Though all of Cuba and many internationally-based timberos already dance "El Maíz" at their parties and have gotten used to Tanja Pantoja's version of "Ya No Hace Falta", this is simply due to concerts they've had a chance to attend and the ungrateful CD-burning market that has plagued Havana for many years now. A five-year silence like this, which for any other popstar from any other part of the world would most probably represent bankrupcy, lack of inspiration or a change in career, doesn't seem to worry Lázaro Valdés, musical director and keyboardist, nor any other member of the band. Musical development within has been constant, quality has not faltered... simply put, Bamboleo is better than ever. They could very well have produced two albums in the meantime. Perhaps postponing this recording is even advantageous, especially in terms of the music. First of all, it seems that the songs couldn't reach a higher level of maturity. When the album comes out, there may very well be nostalgic sentiments of this peak moment in Bamboleo both compositionally as well as in terms of performance. Few Timba bands have done this. Most do the inverse. They record and later give the songs life. In the end, the recording turns out to be much paler and less developed than the final product the band plays live. Whatever the outcome, and being that there is so little airplay for such bands, it seems best to wait until the band has evolved in concert, hoping that an increasingly larger following has had a chance to see the explosive show. I honestly feel that most everyone there last night would avidly purchase what they saw with great pleasure.
Tuesday, 22 March 2011, 07:31 PM