SpanishEnglishFiesta del Tambor - Fiesta del Tambor - 2022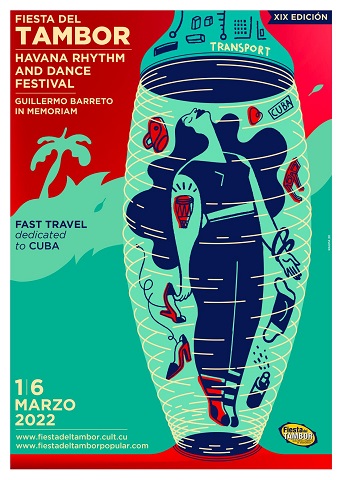 XIX EDITION OF THE INTERNATIONAL FESTIVAL"FIESTA DEL TAMBOR"
"HAVANA RHYTHM AND DANCE FESTIVAL"
GUILLERMO BARRETO IN MEMORIAM
2022
Artex, the Province of Culture and the Government of the City, convene the XIX Edition of the International Drum Festival Contest and Festival "Guillermo Barreto in Memoriam", which will be held in Havana, from March 1 to 6, 2022 in multiple venues such as: Hotel Nacional de Cuba, Arco de Belén (Old Havana), Amphitheater of Avenida del Puerto, among others.
In this year's program, only the percussion contest will be held.
Other activities
During the festival, Percussion Master Classes will be held at the Hotel Nacional de Cuba at 10:30 am from March 1 to 4; Casino and Rumba Dance Master Classes at the Hotel Nacional de Cuba at 10:30 am on March 1, 3 and 4, as well as the possibility of requesting Personalized Classes of these same specialties. For more information, contact the Organizing Committee and the Paradiso Agency.
Accreditation
Credentials can be purchased at preferential prices at:
www.fiestadeltamborpopular.com
www.fiestadeltambor.cult.cu (through the Paradiso Agency)
Payment methods for reservations include PayPal and credit cards.
General information:
Mr. Jorge Alfaro: fiestadeltambor@ra-marketing.com (International Producer)
Mr. Octavio Pérez Marrero: octavio@palco.cu, octaviopalco59@gmail.com (International)
Ms. Caridad Hernández: manager_eventos@paradis.artex.cu - Tel. 52865406 (Paradiso Agency)
Ms. Sussette: eventos@cnmp.cult.cu - Tel. 72069000 (Contests and Competitions)
Ms. Niurka Peña: niurka@msp.sld.cu - Tel. 76443157 (Contests and Competitions)
Mrs. Gretel Garlobo: gretelgarlobo@gmail.com - Tel. 58140800 (General Production)
Mr. Giraldo Piloto: pilot@cubarte.cult.cu, giraldopilotobarreto@gmail.com (General Director)
Mr. Daniel López: daniel@hpalco.palco.cu (Hotel Palco)
Ms. Ailet Planes: ailetplanes@gmail.com (Executive Production, Contests, Competitions)
Official Receptive Agency Paradiso, ARTEX:
Ms. Alina Lage: eventos3@paradis.artex.cu
Telephones: (+53-7 836 5381/ 838 3908)
Sincerely,
Giraldo Piloto Barreto
President Drum Festival Festival
Sunday, 20 February 2022, 08:55 PM