Discography - Into The 90s: Conquering Venezuela 93-2002
1993 - Triceratops - Sonorodven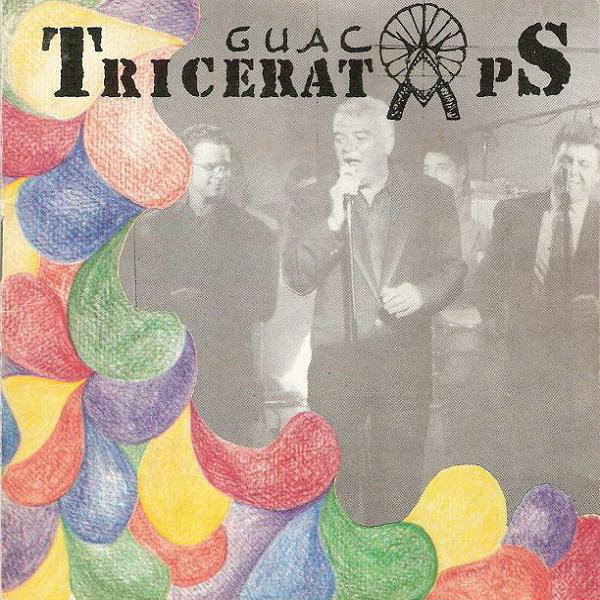 01- Todo Quedó Quedó (Jorge Luis Chacín) 3:44
02- Mi Tío (Rafael Greco) 4:40
03- Luciana (Rafael Greco) 4:12
04- Siempre Juntos (Jorge Luis Chacín) 4:10
05- Detalle En Falso (Jorge Luis Chacín) 3:52
06- Ahora No (Jesús Rizzos/Jorge Luis Chacín) 3:56
07- Quiero (Miriam Torres/Jorge Luis Chacín) 3:32
08- Cómo Poder Olvidarte (Jorge Luis Chacín) 4:26
09- Llegaste Tú (Jorge Luis Chacín) 3:23
10- Di Que No (Ramón Rosado) 3:34
11- Regalame Tu Amor (Omar Hernández) 4:35
12- Las Caraqueñas (José Quintero) 3:52
Personnel:
Vocals: Gustavo Aguado (tracks 04, 05, 06, 12), Nelson Arrieta (tracks 01, 03, 09, 11), Jorge Luis Chacín (tracks 07), Rafael Greco (track 02), Sundín Galué (track 08, 10)
Piano: Agustin Espina
Keyboards: Jorge Luis Chacín
Programming: Juan Carlos Salas, Rafael Greco & Fernando Valladares
Bass: Morritz Beroes
Lead Trumpet: Luis "Papo" Márquez
2nd. Trumpet: Juan Carlos Salas
Trombone: Norman Cepeda
Tenor Sax: Rafael Greco
Alto Sax: Marcos Salas
Tambora: Yonis Flores
Charrasca: Alexis Moreno
Timbales: Julio Rivera
Congas & Percussion: Nestor Pérez
Bongos & Percussion: Francisco Lujan
Drums: Fernando Valladares
Background Vocals: Gustavo Aguado, Nelson Arrieta, José Luis Chacín, Marcos Salas & Luis Papo Márquez
Guest Musicians:
Vocals: Kiara (track 04)
Guitar: Pedro Castillo (track 08)
Background Vocals: Guillermo Carrasco (track 04), Pedro Castillo (tracks 02, 04)
Bata Drums: Miguel Urbina, Jhonny Rudas & William Hernández
Production Credits:
Produced by Juan Carlos Salas, Jorge Luis Chacín, Rafael Greco & Gustavo Aguado
Recorded & Mixed by Hermes Carreño
Assistant Engineers: William Silva, Miguel Angel Larralde & Clemente Hernández
Recorded & Mixed at Estudios Telearte & Larralde Estudios (Caracas)
Graphic Design: Krearq Proyectos 4x0, C.A.
Photo: Viviam Marcuzzi
Just as there was a quamtum leap from 1979 to 1980, it also happened from 1992 to 1993. It was due to a variety of reasons. First, the drummer sold the Roland electronic drums behind Gustavo's back and went on to buy an acoustic Sonor drum set. A Sonor Force 3000 to be specific. See, in the electronic drums days, there was no monitor for the other musicians as it went straight to PA. So other musicians couldn't hear what the drummer was playing and he could barely hear himself. Worrying, as he was the guy supposed to be carrying the tempo. plus there was a variety of drum figures he wanted to try on the drums that were impossible to play on the Roland set.

Fun sidenote: I've actually seen both sets in the flesh. The Roland drums were sold either to a fellow gaita group or a church group. The pads were eventually parted out and sold individually. A fellow musician bought a pair and I got the chance to see ithem. Such is Guaco's legend around town. The Sonor drums were gifted to a student of Fernando, who still played it around Maracaibo in various working bands.
The second reason: Jorge Luis Chacín joined. The young man was already a Carangano veteran, where he played bass and wrote roughly a third of their material. He was already an up-and-coming songwriter for hire in the Maracaibo scene, he had even written some songs for Guaco in 1990 and 1991, but he got the invitation to join in 1993 and he was given free rein to write most of the material. Imagine if Angel Bonne had been given a chance to write most of Van Van's material and you can picture how such a move was brilliant. Chacín's songwriting is both warm, romantic and open-hearted, but also no slouch on the harmony department, as he also studied with Gerry Weil.
Also, but no less important: Francisco Lujan -from Carangano, yet again- joined in bongos and minor percussion (he actually had a big percussion set with guiro, shakers, bells and other gizmos), Morritz Beroes came in on bass and cuban trumpeter Luis Papo Márquez joined in lead trumpet. Finally, it was this line-up who were given the opportunity to record in the studio together and show off their collective chops. Machines were still there, especially present on some songs intros, but generally speaking they were free of their constraints.
The impact this album had was enormous, as half the album was a national hit, they were playing live almost daily and it showed the members that taking such a big risk musically could be rewarded with commercial success. From 1993 up till 2001 no band was bigger in Venezuela than Guaco, they could not be stopped, they had a dream team collection of musicians and each album they made was an absolute masterpiece.
The album opens with an absolute classic in Todo Quedó Quedó, a song that Guaco still features heavily on their set. Arrieta's performance is something of a milestone thoughout the album, but he was never finer than on this particular recording. The arrangements flip flops between romantic salsa and a heavy-set guaguancó con the chorus. Victor Manuelle later did a version, but it pales in comparison.
Mi Tío written by Rafael Greco is fan favorite by diehards everywhere. The song is based on a true story: Greco's uncle was an italian immigrant who made life in Venezuela and started a dance band. Luciana, also by Greco is a first-rate songo and an exquisite arrangement. It starts with a Game of Where's One?, displacing the downbeat for the entirety of the intro. The first mambo bridge at around 1:57 seconds in, the bass and drums go off in a Genesis-inspired 11/8 polyrhythm. It ends with bomba gear.

Siempre Juntos was yet another smash, a dued with pop star Kiara, she adds more of a rock n'roll vibe to her singing and the song is way better than their duet with Karina in 1990. Detalle en Falso is a gorgeous song and their purest tamborera recording since the 70s. Ahora No has many things in common with timberos of the time: for instance, the fact that it beings with a miniature composition as an introduction. It starts with batá drums playing in heavily swung 12/8 before playing a wicked bloque an entering the song proper. Just like in Todo Quedó Quedó, it switches between steady marcha in the verses vs guaguancó in the chorus.

Throughout the album the drums play the standard Guaco rhythm for drums on montunos: the hi-hat plays cascara (or campana, depending) and the snare falls on the backbeat on side 2 and then it is followed by an open hi-hat stroke on the upbeat. Compare this to the hi-hat work in the mid-80s, where the hi hat was opened every upbeat. The drum pattern became extremely influential for drummers across Venezuela and is part of Guaco's rhythm complex when studied abroad.

Quiero is a fiery guaguancó inspired piece (please note the melódica-and-bass intro) that makes great use of Sundin's mature and emotionally resonant voice. This was one of their preferred songs to play live around this era and they usually repeated the last mambo to extend the last montuno section. Como Poder Olvidarte marks the first recorded lead vocal by Jorge Luis Chacín. By 1993 he was in the back, playing keyboards but in the next album he would be brought forward to the singing line-up.
Llegaste Tú is just as good as Quiero, with a death-defying turn on vocals by Nelson, who spits out guías like a tonguetwister contest. Plus 2 batá breakdowns with bomba slides included! Dí Que No is a welcome respite from the fire. A personal favorite with fun bloques inserted throughout, the track ends on a 5/4 bass and drums jam that recalls a bit of Sting's Seven Days.
Now, dear reader, you might be wondering why is Regálame Tu Amor repeated on this album when it was released already on Guaco 91? Well, the story goes Gustavo was disappointed it didn't make enough of a splash (apparently it got some airplay in Maracaibo, but that was it), so they added tambora and charrasca and it was remixed and voilá, it paid off! The song was a smashing success and one of their most violent live vehicles. Trust your instincts!
Finally, this masterpiece ends with Las Caraqueñas, known to salseros worldwide by the version made by Ricardo Ray and Bobby Cruz. However, it must be noted the song was composed by José Quintero, Venezuelan born and leader of a son sextet. (His son, Frank Quintero would later go on to be one of Venezuela's greatest pop stars in the 80s and something of a yacht rock king). Apparently it was cuban Márquez, who added the last coro and some of the guías. I'm also guessing he may have given the band an NG La Banda cd, or maybe they found it on their own. Anyway, Las Caraqueñas was like the 8th smash single on the thing. It sounds weird, but this was kind of the Venezuelan Thriller. It was played on the radio straight though some days and the band toured the album for 2 years straight.

Not everything was perfect though. The album was recorded on a decaying studio, just about to close down. It was mixed on a makeshift console and most egregiously, it was never mastered! The mix is pretty good but there's a reason why the volume seems so low while playing it. Sadly, it seems like the masters have not survived or the band has little to no interest in remastering the album. tt truly deserves an anniversary deluxe edition, but that may never come to pass.
1995 - Archipiélago - Hecho A Mano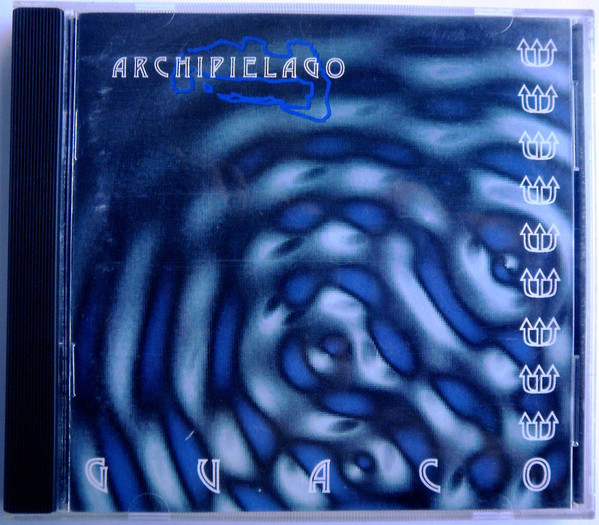 01- La Lechuza Blanca (George Gourdet/Adapt: F. Valladares) 2:37
02- Castígala (Omar Hernández) 4:10
03- Como Será (Jorge Luis Chacín) 4:32
04- No La Juzgue (Jorge Luis Chacín) 4:36
05- Noche Tras Noche (Jorge Luis Chacín) 3:42
06- Como Es Tan Bella (Jorge Luis Chacín) 3:32
07- Amor de Primavera (Jorge Luis Chacín) 3:34
08- Quiero Verte Hoy (Jorge Luis Chacín) 3:18
09- Que Cobardía (Omar Hernández) 3:53
10- Simplemente (Jorge Luis Chacín) 3:44
11- El Sueño De Simón (Jorge Luis Chacín) 4:32
12- Así Son Boncó (Joseito Fernández) 7:11
Personnel:
Vocals: Gustavo Aguado (tracks 02, 11, 12), Jorge Luis Chacín (tracks 03, 10), Luis Fernando Borjas (tracks 04, 06, 08), Nelson Arrieta (track 05), Sundín Galué (tracks 07, 09)
Piano & Keyboards: Agustin Espina
Keyboards: Jorge Luis Chacín
Bass: Morritz Beroes
Guitar: Roldán Peña
Trumpet: Juan Carlos Salas, Gustavo Aranguren, Germán Quintero
Trombone: Norman Cepeda
Tenor Sax: Rafael Greco
Tambora: Yonis Flores
Charrasca: Alexis Moreno
Timbales: Julio Rivera
Congas: Nestor Pérez
Bongos & Percussion: Francisco Lujan
Drums, Acoustic Guitar & Keyboards: Fernando Valladares
Background Vocals: Gustavo Aguado, Nelson Arrieta, Sundín Galué, Jorge Luis Chacín & Luis Fernando Borjas
Guest Musicians:
Vocals: Simón Díaz (track 11)
Tenor Sax: Julio Flores (on all tracks)
Tres: Pedro Vilela (track 02)
Quinto/Chekere: José Martinez (tracks 12/03)
Background Vocals: Carlos Esposito (tracks 02, 04, 11), Pedro Castillo (tracks 04, 07)
Narration: Iván Loscher (track 01)
Production Credits
Produced by Gustavo Aguado
Recorded & Mixed by Germán Landaeta
Recorded & Mixed at Sono Dosmil (Caracas)
Mastered at Bernie Grundman Mastering (Los Angeles, CA)
Graphic Design: Zaida Rodríguez N. & Rosa Alvarez M.
Photo: Teresa Carreño
Oh, boy. Full disclosure: Archipíélago is my favorite album ever by any artist, so I'm a little bit biased. But I also believe that on a song-by-song basis, but taking note of the pacing of the album, it beats both Triceratops and Amazonas by a hair. Anyway. The band was riding incredibly high on a wave of extraordinary success on a national level. So, there was some pressure on the band to continue that success but they ajusted well. First: the addition of Luis Fernando Borjas as a lead singer. He is Neguito Borjas' nephew and he had come from Gran Coquivacoa, of course. He entered the band at just 18 years old. Jorge Luis was brought over front and center, ditching the keys and so by 1995 the lead singer frontline looked something like this: Jorge Luis Chacín, Luis Fernando Borjas, Nelson Arrieta, Sundín Galué and Gustavo Aguado. 5 singers strong.

Marcos Salas left due to a misunderstanding during the album's production. He now lives in Miami and works for Univision. Germán Quintero came onboard in 1993 for the lead trumpet spot, assisted by Gustavo Arangueren, whom had already played with Guaco live on ocassions, but he was also the musical director for pop-star Franco de Vita, so he was splitting his time between both. Roldán Peña was also added in guitar around 1994, reactivating the guitar's role in the band left since Romer Quintero's departure.
Also of note, this album marks the return of the band to Sono 2000 studios where they recorded again with Germán Landaeta. Gustavo wanted to record again there because he was inspired by Pedro Castillo's album Algo Personal. Truth be told, that album sounds a bit like new age, but Germán mixed the album to perfection adding lots of ambiance and space to their sound, which just contributes to the magic. The rhythm section for this album was recorded live in studio, as well.
Jorge Luis continued undaunted writing well over half the album's tracks, with a couple of contributions by the great Omar Hernández, who had just moved to Miami, after Cuarto Espacio's dissolution. Legend states that Gustavo locked him in a room with a piano and didn't let him out until he had enough songs for a record. In true he just went one day to Sono2000 and knocked out 8 songs casually.What a flex.
The album starts with a quote from a Debussy book written by saxophonist Georges Gourdet that could be seen as incredibly pretentious if it weren't made true that the album that follows. The instrumental track skirts the line between smooth jazz and electronic music. Just as it ends a 3.2 clave can be faintly heard and we enter a straight ahead son (in 2-3, clave licence on display!) by Omar Hernández, Castígala. An incredibly infectious number, even including a tres. It heats up soon after and never lets go.
Cómo Será follows and words are hard to describe it. It is ostensibly a ballad, but the arrangement (a brilliant one by Agustin Espina) drew it up as a moderately paced number. The guitar runs throughout the track are just indelible, the keyboard patches (either an Oberheim Matrix R6 or a Yamaha DX7, I was told) amplify the emotional resonance of the tune, but best of all is the mix. Cavernous and spacey, every time the tom-tom runs at the end of the chorus start, I just lose it. Great vocal work by Jorge Luis as well. The band has never managed the capture the magic of this recording live and I'm certain is nigh-impossible. They do play it quite a bit still.
No La Juzque is a true-story. Jorge Luis did get his girlfriend pregnant, but it worked out in the end as they're still together. It starts on a 7/8 pattern on bass and drums, joined with tribal vocals by Pedro Castillo, but then it makes way for a creamy cuerpo and yet another wicked montuno section. Noche Tras Noche is something of a fan favorite, especially for the musicially-inclined. It begins with a harmonized guitar solo, which is promptly joined by the percussion section playing a modified songo rhythm. Afterwards it's just an incredibly vicious, rockin' track. Please take not of the bebop-inspired mambo sections.
Como Es Tan Bella begins with a game of where's one. (The studio version is a bit tricky, but live they always started on the 3 of the previous bar). The verses juxtapose a syncopated drum beat with a snaky guitar line followed by a devastating coro. A neat trick is that the rhythm section throughout the album is always going hard but the lyrics themselves are very romantic in nature. However, they are never saccharine or trite. They are fully realized explotarions of love, heart-warming and touching.
Amor De Primavera was recorded originally by Carángano in 1989 as a merengue, but this version, sung mightily by Sundín Galué is a pure tamborera that breaks into a guaguancó during the coros, Triceratops-style. It seems that Sundín always got the most emotionally mature tracks and he always did a great job with them. This would be his last album with the band, as he retired in 1996. He continued performing in Maracaibo though, he died in 2006 atter a heart attack. Quiero Verte Hoy is a pure 70s styled songo track, sung masterfully by the young Luis Fernando. It was the first track he recorded with the band, even before he had made his live debut.
Que Cobardía is an Omar Hernández composition. I think Mirtha Medina sung it first but haven't found a recording. It features very lenghty "a caballo" sections, but also a wicked displaced mambo on the montuno. Simplemente is the emotional peak of the album, very tricky, clave-wise. Just insanely emotionally mature track. I am very fond of the mambo section at the very end too.The playing of the rhythm section is an outstanding work, as well.
Lastly, El Sueño De Simón features Venezuelan folklore legend Simón Diaz on the introduction. The verses are a meaty guaguancó as Gustavo describes a dream (presumably by Simón himself, but that is never very clear) where all problems in his country were fixed. It's the only corny moment of the album, truth be told. It is also the first instance of having a James Brown funk-inspired section. More of that would be heard again in 1999. The album closes with a version of the old Orquesta Aragón standard Así Son Boncó. However, the band took inspiration from the arrangement on Johnny Pacheco's His Flute and Latin Jam LP. Hell, they even split the track, just like in Pacheco's album. (It was broken in two on the Pacheco album because the power went out while they were recording it, then they just resumed it from the mambo.) Pretty much a tune to show off their collective chops, the piano plays pretty jazz voicings, there's a great trombone solo, the rhythm section plays out and about and then we close with yet another quote that bookends the record. 10/10. Masterpiece. Tour de Force.

The record came out in pop-star Ricardo Montaner's vanity label Hecho a Mano, plus they had an ongoing marketing campaign with a popular brand of beer around this time. The record was a success nation-wide and roughly half the album was on steady rotation on the radio. There were a couple of outtakes, both remakes: Me Gustan Las Caraqueñas and Un Cigarrito y Un Café. However, Gustavo decided that such a forward-looking project would be marred by including two old songs. And he was right! Including those two tunes would've dragged the album's cohesion and pace. Nelson Arrieta departed for a solo carrer soon after, which may be one he only had one track to sing on this album. However, he did include Cuando Vuelvas, another Omar Hernández-penned track in his first solo album, which sounds like it comes from the same Archipielago sessions. Happy hunting.
1997 - Amazonas - Self-Released

01- Deshonestidad (Jorge Luis Chacín) 3:44
02- Esperándote (Abdénago Borjas) 4:29
03- Me Cuentan (Jorge Luis Chacín) 3:56
04- Remembranzas (Joe Torres/Papo Luca) 4:34
05- Cuando Recuerdo (Jorge Luis Chacín) 4:40
06- Deja (Jorge Luis Chacín) 5:02
07- Si Usted La Viera (Eusebio Blanco/Jorge Luis Chacín) 5:02
08- Seguiré Sin Soñar (D.D.) 4:25
09- Ella Sabe (Jorge Luis Chacín) 3:45
10- Causas (Jorge Luis Chacín) 4:58
11- Ese Rumbo Es De Los Dos (Jorge Luis Chacín) 5:27
12- Pronto Llegará (Jorge Luis Chacín) 4:21
13- Acere Bongo (Orestes Vilató) 4:11
Personnel:
Vocals: Gustavo Aguado (tracks 01, 04, 08, 13), Luis Fernando Borjas (tracks 02, 06, 10, 11), Jorge Luis Chacín (tracks 03, 05, 07, 09), Rafael Greco (track 12)
Piano & Keyboards: Agustin Espina
Bass: Morritz Beroes
Guitar: Roldán Peña
Musical Director & Trumpet: Juan Carlos Salas
Trumpet: Gustavo Aranguren, Germán Quintero
Trombone: Norman Cepeda
Tenor Sax & Bass Clarinet: Rafael Greco
Tambora: Yonis Flores
Charrasca: Alexis Moreno
Timbales: Julio Rivera
Congas: Nestor Pérez
Bongos & Percussion: Francisco Lujan
Drums, Guitar & Keyboards: Fernando Valladares
Background Vocals: Gustavo Aguado, Luis Fernando Borjas, Jorge Luis Chacín, Morritz Beroes
Guest Musicians:
Piano: Victor Mestas (tracks 12, 13)
Piano & Keyboards: Fernando Giovanetti (tracks 2, 6)
Trombone: Domingo Pagliuca (tracks 04, 05, 09, 10, 12, 13)
Tenor Sax & Bass Clarinet: Julio Flores (tracks 12, 13)
Flute: Huáscar Barradas (track 07)
Congas: Vladimir Quintero (tracks 06, 13)
Cajón: Vladimir Quintero (track 07)
Percussion: Carlos "Nene" Quintero (track 12)
Vocal: Frank Quintero & Ana Valencia (track 11)
Background Vocals: Guillermo Carrasco & Pedro Castillo (track 12), Carolina Landaeta (track 09)
Production Credits:
Produced by Gustavo Aguado
Recorded & Mixed by German Landaeta
Additional Recordings by David Pérez
Assistant Engineers: Antonio Jaric & Juan Carlos Arévalo
Recorded & Mixed at SonoDosmil Estudios (Caracas)
Mastered by Bernie Grudman
Graphic Design: Yaremy Manzano
Cover Art: Simón Cabrera
Well, they were due for a difficult album anyway. The first idea mentioned for this record around 1996 was to come to the logical extension tracks like Las Caraqueñas and Así Son Boncó had exposed. So in 1996 there were talks of making a salsa brava covers album. That idea did not come to pass, but still the album includes 3 covers. By 1997, the Hecho a Mano deal had flopped and Guaco were left adrift without a record label. So, they did a very risky move: they decided to put it out themselves. Now, taking on DIY record production is nothing new if you're a garage rocker and you're only printing 1000 copies, but Guaco's was Venezuela's biggest band. How could they meet demand?
The recording process was fraught with tensions on many fronts, there was the pressure of staying commercially relevant but also of becoming, essentially a self-governing business entity. Ergo, because the band was self-releasing this record, it had to have hits. They simply could not afford, literally, to have a record that did not shift copies. A lot of that burden fell on the laps of in-house songwriter Jorge Luis Chacín, who in turn, delivered another batch of beautiful and challenging tunes. It does seem that the band was divided around this time in the recording studio. Arrangement duties were delegated and split between various members of the band.
The Spitit of 97 was in full force here though. As timba was starting to seep into Guaco's sound. The album starts with Deshonestidad. I always saw it a bit as Castígala Pt. 2 but in retrospect I was off on that call. Deshonestidad goes harder and gets to the montuno in record pace. Chacín wrote this one for Nelson Arrieta as it was inspired by a girlfriend who cheated on him. However, he was gone from the band by the time they came to record it, so Gustavo took the lead. Esperándote is a sweet tune written by Neguito Borjas and arranged by Fernando Giovanetty. I've theorized maybe he was in the shortlist to replace Espina on piano? He would be one of the casualties left after the recording turmoil. If you compare both piano styles, you can see Espina has a more conservative way of playing tumbao.
Me Cuentan was inspired by Romeo & Juliet, not the play though, but the 1996 Leonardo DiCaprio movie. I'm a fan of fresh topics like these. Remembranzas is a cover by la Sonora Ponceña. Maybe it's because I was familiar with this one first, but I prefer it. There's a neat displaced pattern on drums at the start played with mallets. Guaco throughout the album starts expanding its use of coros, they are becoming more and more timba-like and most of the songs have at least two distinct ones. Also listen to the drum fills in this track. Just godly.
Cuando Recuerdo is a very interesting turn. Like Como Será on the previous album, it likely started life as a sad ballad, but the arranger had different ideas in mind and turned it into a kaleidoscopic trip of a song. Deja is one of Guaco's most beloved tunes and with reason, the percussion is hard, the melody is gorgeous, the lyrics are evocative, it's probably Guaco's finest recording and that's saying a lot.
Everything I wrote for Deja, applies as well to Si Usted La Viera. It is a guaguancó de cajón arranged by Valladares who played everything on the recording sans cajón, bass, lead vocals and flute. A truly spooky recording, all that with the monks singing and stuff. The lyrics are taken from a 19th century poem by Eusebio Blanco and the music was made by Chacín. The super mega latin star Ricardo Arjona heard the recording and asked the Guaco guys if he could put it on his album. Not only did he did a cover, but he literally used Guaco's tracks and sang on top.
Seguiré Sin Soñar is a souped-up version of an old cuban chestnut, known by timberos because NG La Banda did a version with Malena Burke, but Guaco most likely heard it from Ray Barretto, who recorded it for his great 1972 album The Message. It features bebop guitar lines in verse with heavy metal drumming. It's a fun arrangement. Ella Sabe is yet another winner by Chacín, this time written for his newborn daughter, whose laughter is included at the end of the first verse.
Causas starts the album's ending sequence and is another fan favorite, in spite of having never been played live. There was recently a petition on instagram for Guaco to add it to their live set. It starts with a drum solo that melds into a bloque and we enter a casually funky verse. The chorus shifts gears and after a repeat of both sections we enter (via clave license!) a bridge with a guaguancó rhythm by the time the montuno hits we are already in 5th gear and the band is a locomotive without breaks.
The back half of the album finishes strong with Ese Rumbo Es De Los Dos, with a crazy arrangement that is prog-like in its majestuosity. It starts with a heavy backbeat joined with acoustic guitar and then we enter an odd-meter phrase that links us to the intro proper. A short guitar-backed verse follows and then we enter a sort of merengue-styled conga marcha. Then another odd-metered phrase joins, this time gospel-influenced and finally we enter and second verse with the full band. The chorus then arrives joined by a funk-styled horn stabs. The songs reaches a climax by modulating away from the key and a blazing guitar solo closes the song out.
The last two tracks were the source of much concern, both arranged by Rafael Greco. It seems that these two tracks weren't going to be recorded had it not been for the intervention of engineer Germán Landaeta, who organized the sessions behind the back of the band's management and inviting only select members of the band to record in the wee hours of the morning. Because of the extreme experimental nature of these two arranegements, it seems it gave some of the members in the band (or maybe the management) pause to try and spend time and money on these wild, wild ideas Greco had in store. But love of music persevered and they close the album, so off we go.
Pronto Llegará was written by Chacín, shortly after his grandfather died. When it was time to record lead vocals, he just started crying in front of the mic. He couldn't do it, so it was left to Rafael to record lead vocals. Words cannot do justice to what happens musically here, but I'll give it a go. It starts with a piano introduction, followed by a low-passed drum and bass electronic beat. Then we get the full band playing marcha. Noteworthy: for this track Nestor Pérez played "prepared congas", just like there's a prepared guitar or a prepared piano, Greco had the idea of adding bells and pieces of paper to the three tumbadora set Pérez played on this track. A short chimbagle interlude connects the pre-chorus with the chorus. The second verse is just completely out there: an incredibly tricky beat on drums that plays in coversation with the written bass part, joined in the background with eerie guitar feedback. After another go at the chorus. We get a presión gear with an a capella coro, then it finally explodes when the full band enters in heavy metal fashion. How could the band top this? Well...
Acere Boncó is Guaco at its most avant-garde. They would never try to recreate such a recording like this, because it is truly a once-in-a-lifetime deal. It is ostensibly a Tipica 73 cover, and yes the words are the same and many of the guías are repeated from the original, but everything else went out the window with gleeful abandon. Whereas I can kind-of unsdertand what is going on music-wise on Pronto Llegará I have no idea what is happening on Acere Boncó. The song is such an assault on the senses, clusters of sound revolve around the listener's ear, plus a healthy dose of guitar and PA feedback abound on the mix, creating truly a completely desorienting feel. Once we enter the montuno, the bass, guitar and piano play a motivo figure and the drummer starts riding on his China cymbal. After that you're on your own. Listen to it, you'll love it. Look for the part when the band drops out at around the 3 minute mark. Oh and the ending quotes Descarga 73 from Tipica 73's debut album followed by a short recording of Maracaibera (a typical danza zuliana) and then it ends with crashing chords, Who style. One round of applause for Mr. Greco.
The album unsurpringly was not a huge smash hit. It did ok. It was released very late in 1997, way after the Feria festivities had passed. There were various pressings, the first one came out in digipak and the rest in jewel case. It actually came with a booklet where Chacín explained what each of his songs were about, albeit cryptically. For both Pronto Llegará and Acere Boncó, the band enlisted the great Victor Mestas at piano. And he would join the band permanently the following year. Not everything was a disaster, with Mestas now on piano, the band would go toe-to-toe with timba bands because he could play the displaced montunos that were in vogue at the time with ease. They started touring Europe, they started adding Klimax coros to their songs, they were still sounding like a freight train whenever they played live (and this was often) and by late 1998, Arrieta returned.
Time has vindicated Amazonas. It was seen for years as the dark horse of the holy trinity (that being Triceratops, Archipiélago and Amazonas) because it was uncommercial (nothing could be further from the truth, the band wanted money!) and difficult. In time, with social media and instagram accounts solely dedicated to sharing Guaco content, it seems that the album has earned it rightgeous place in the Guaco pantheon as one of their best, if not their absolute best. Musicians always loved it however. There's the oft-told story of Chick Corea casually coming across Acere Bongó and being flored by it. The album also came out in a reshuffled orded in 1999 via New York based label Ashé with an uglier cover. Oh and the mix, it's gorgeous, but completely different from Archipiélago. Whereas the previous record was helped by a heavy dose of reverb and space, Amazonas puts all the instruments close miced and front and center, packing a hefty punch. Germán Landaeta also mixed Alaín Pérez latest CD El Cuento De La Buena Pipa, so, there's that.
1999 - Como Era y Como Es - Latin World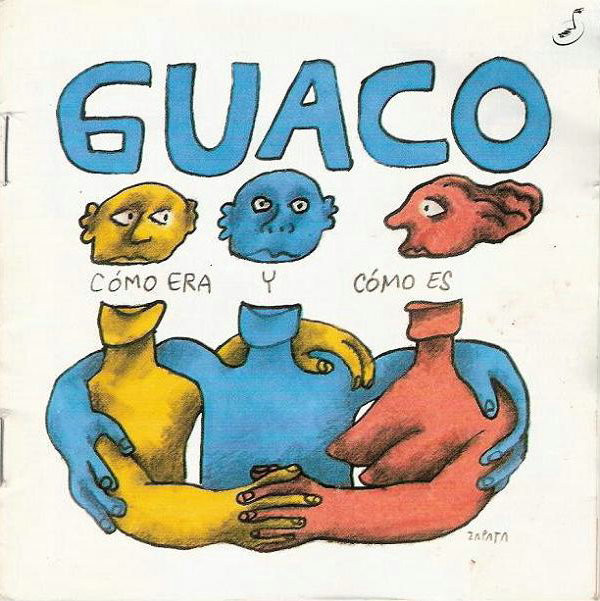 01- La Turbulencia (José Alfonso Quiñones) 4:39
02- Movidita (Ricardo Hernández) 4:24 (from Guaco 80)
03- Pastelero (Ricardo Hernández) 4:20 (from Guaco 82)
04- Para Ella (Ricardo Hernández) 5:50 (from Guaco 82)
05- Guaco y Tambora (Ricardo Hernández) 4:30 (from Bubu Guaco 1973 and Guaco 82)
06- Por Si Vuelves (Jorge Luis Chacín) 5:20
07- Cepillao (Ricardo Hernández) 3:53 (from Guaco 83)
08- Maracucha (Ricardo Hernández) 4:57 (from Guaco 80)
09- Billetero (Ricardo Hernández) 3:35 (from Guaco 81)
10- Sentimiento Nacional (Ricardo Hernández) 4:06 (from Guaco 85)
11- Si Mi Cama Está Vacía (Giraldo Piloto) 5:31
12- Aguas de Cristal (José Luis Suárez) 3:54 (from Tercera Etapa 1986)
13- Medio Loco (Jorge Luis Chacín) 3:51
14- Disco Guaco (Ricardo Hernández) 3:44 (from Guaco 81)
Personnel:
Vocals: Gustavo Aguado (tracks 01, 04, 08, 12). Luis Fernando Borjas (tracks 02, 07, 09, 11, 14), Jorge Luis Chacín (tracks 03, 06, 10, 13, 14), Nelson Arrieta (tracks 05, 14)
Bass: Morritz Beroes
Piano & Keyboards: Victor Mestas
Guitar: Pedro Navarro
Trumpet: Germán Quintero, Juan Carlos Salas & Gustavo Aranguren
Tenor Sax: Julio Flores
Tambora: Yonis Flores
Charrasca: Alexis Moreno
Timbales: Julio Rivera
Congas: Néstor Pérez
Bongo & Percussion: Francisco Lujan
Drums: Fernando Valladares
Guest Musicians:
Guitar: Juan Angel Esquivel (tracks 1, 4, 11, 13, 14), Eddy Pérez (track 6)
Cuatro: Rafael Salas (track 2)
Tenor Sax: Rafael Greco (tracks 2, 3, 6, 8), Konstantin Klichtornyl (track 7)
Chekere: José Gregorio Hernández (tracks 1, 10), José Martínez (track 11)
Djembe & Chekere: Rafael Solano (track 4)
Timbales: Vladimir Quintero (tracks 6, 9)
Piano: Joel Uriola (track 7)
Bass Clarinet: Rafael Greco (track 8)
Guiro: José Martínez (track 13)
Congas: José Gregorio Hernández (track 14)
Backing Vocals: Norma Hernández, Marycel González, Norma Barrero & José Alfonso Quiñones (track 1)
Production Credits:
Produced by Gustavo Aguado & Juan Carlos Salas
Musical Direction: Juan Carlos Salas
Executive Production: Samuel Quiros
Recorded by Juan Carlos Salas
Recording Assistant: Rafael Salas
Recorded at Guaco Estudios (Caracas)
Mixed by Eric Schilling & Cesar Sogbe
Mixing Assistants: Steven Reines & David Hecier
Mixed at New River Studios (Ft. Lauderdale, FL)
Mastered by Mike Fuller at Fuller Sound (Miami, FL)
Graphic Design: Carolina Zalles
Cover Artwork: Pedro León Zapata
Photos: Memo Vogeler
After the tough and trying times -and death deying peaks- Amazonas brought, Guaco decided it was time to relax and have a jolly good time. And that's what they did: they recorded a tribute album to themselves. And a hell of a good one, too. With a couple of twists included just for the sake of it. This is their first overt timba record, there are presiones, mazacotes, bombas and displaced montunos galore. It seems in 98, during a show in Colombia, Guaco got some one-on-one instruction with Giraldo Piloto and crew, who may have showed them the gospel of gears and given them the arragement for Si Mi Cama Está Vacía.
Now, it seems Guaco's gameplan after Amazonas difficult (but highly rewarding!) material was simply to shut up and play the hits, but of course the Pastelero and the Cepillao of old, their arragements would've seemed quaint when josted alongside such freshness as Esperándote and Deja, so they decided to update them. So they picked a handful of songs dating from 1980 til 1985 (highlighting the importance of Ricardo Hernández' pen while at it) and added four new tunes.
La Turbulencia was an absolute bombshell of a hit. You couldn't get away from the song. It was everywhere for months and months on end. I've heard the band describing it as "incredibly commercial" but it's really a very sophisticated arrangement, in spite of being based around a 2 chord vamp. The verse keeps changing and developing, new coros enter in and out, it shifts gears a couple of times before arriving a monster presion gear before collapsing around a guitar solo.
Movidita is a cool update of Homenaje a Jesús Lozano from 1980. This was around the time Luis Fernando started taking inspiration from Mayito and wasn't hiding it much. He even quotes Llévala a Tu Vacilón. Pastelero ups the ante and features a James Brown inspired intro (watch for these miniature electronic intros, they will become something of a crutch for arranger Juan Carlos Salas) and a devastating bassline. The drums are amazing as well, but you knew that. Listen to how the drums play to the vocal and certain aspects of the arrangement.
Para Ella is relatively unchanged and in recent years Guaco has played it live more and more. They claim is a good demonstration of how their fusion works. Half gaita, half tamborera-fusion. Guaco Y Tambora gets its third remake and this time it's a barnburner, with Nelson Arrieta riding the beats like a cowboy on top of his horse. The bpms on the version are off the charts, and by the end it becomes a Joe Cuba tribute. Neat.
Por Si Vuelves was another one of the new ones written for this album and it's one of Guaco's best. An absolute classic tune. Jorge Luis taps from the bottom of the well of emotion on this one, just a terribly sad story, backed by a wallop of a beat. It also features 3 distinct coros, so there's that. Apparently Rubén Blades was slated to sing on this one, but his label prohibited him from doing so. And I'm glad! As much as I respect Rubén, I do not think he would've been able to match Chacin's outpouring of emotion he displays on this track.
Cepillao was an arragement from Joel Uriola, sometime Oscar D'Leon pianist and very busy session man. It keeps the car-horn motif intact, but otherwise it is a devastating timba tune. This one was often extended live and with added bomba gears and additional coros. Something that Guaco, unlike the rest of the timba bands, rarely ever did. They seemed to keep the songs nice and short for the live show, so they could play as many songs as time allowed. Billetero features a cool arranging trick, I've never heard before or since. There's a new piano tumbao introduced at a slow tempo and it keeps speeding up until it reaches the desired bpm, very cool!
Sentimiento Nacional, I'm not crazy about the new arrangement, but it will do. Si Mi Cama Está Vacía, as mentioned previously, is a Piloto composition and arranagement. Guaco recorded it and released it first, they also added two new coros, two mambos and two distinct piano tumbaos, courtesy of the great Victor Mestas, who is brilliant throughout the album and deserves and big round of applause. Medio Loco is a neat cha-cha-chá by Chacín, who sings it with aplomb. The arranging of the backing vocals is very tricky, but Guaco seemed to love this one in the live show.
Disco Guaco got remade as a funk workout, especially on its Bootsy-channeling bassline. I find it really hard to top the original arrangement though, but as a closer, let's-flex-our-chops muzzo way, it kinda works. I later came to see it as Guaco trying to do another Acere Boncó, but one that could actually be tackled in a live setting. Of course, it's been in the live set ever since, whenever they need a flex tune. This means it mostly gets played in International shows. All in all, a very strong showing from Guaco, but also one that raises some doubts.
As forward-looking as these arragements are and as great as the musicianship is, you can also wonder, why the decision to take a step back from new and original material that could continue what Amazonas started and instead retread to tried-and-true hits from the 80s? Was Amazonas such a big wall they felt they couldn't top? Were band relations so strained they needed to just lay loose and have fun with oldies? It is tempting to think what this band might've made with another batch of Chacín penned tunes and this temporary timba-influenced arrangements. Maybe the answer lies in the next album.
Line-up changes: the great Rafael Greco departed midway through the recording. He went on to record and play with tons of people as a session musician, he was replaced by Julio Flores who'd recorded with the band on their previous two albums. Roldán Peña left shortly after Amazonas was released, he was replaced by Pedro Navarro, but the album features Juan Angel Esquivel heavily. It seems he was on the shortlist to enter, but they just couldn't get it together, sadly. The rest of the lineup stayed the same.
Also of note: this was the best live line-up Guaco has ever had. This band was just firing on all cylinders, playing all songs with menace and tenacity, often the rhythm section was well-ahead of the beat, like a 6 headed monster driving the band to new heights, night in and night out. Victor Mestas was dropping tumbaos straight-up unhinged. Now on to the next one.
2000 - Equilibrio - Latin World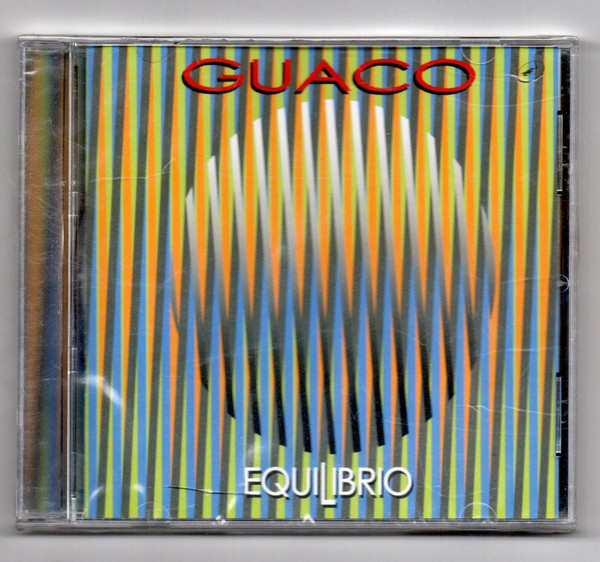 01- Mami's Bogaloo (José Alfonso Quiñones) 4:06
02- Señor Weiss (Jorge Luis Chacín) 4:10
03- Como Camina (Alejandro Silva) 4:38
04- Bailaora (José Alfonso Quiñones) 3:46
05- Sólo Con Sus Recuerdos (Jorge Luis Chacín) 4:10
06- I Want To See Me In Your Eyes (Jorge Luis Chacín) 3:49
07- La Culpable (Marcos Chacín) 4:00
08- Una Estrella Como Tú (Fernando Molina/Jorge Luis Chacín) 4:12
09- Si Las Paredes Hablaran (José Alfonso Quiñones) 3:23
10- Hay Fuego En El 23 (Arsenio Rodríguez) 4:17
11- Equilibrio (Abdenago "Neguito" Borjas) 3:53
Personnel:
Vocals: Luis Fernando Borjas (tracks 01, 06, 09), Jorge Luis Chacín (tracks 02, 05, 10), Nelson Arrieta (tracks 03, 08, 11), Gustavo Aguado (tracks 04, 07)
Bass: Morritz Beroes
Piano & Keyboards: Victor Mestas
Guitar: Pedro Navarro
Trumpet: Juan Carlos Salas, Germán Quintero & Gustavo Aranguren
Tenor Sax: Julio Flores
Trombone: Norman Cepeda
Tambora: Yonis Flores
Charrasca: Alexis Moreno
Timbales: Julio Rivera
Congas: Néstor Pérez
Bongo & Percussion: Francisco Luján
Drums: Fernando Valladares
Guest Musicians:
Guitar: Juan Angel Esquivel
Congas & Percussion: Vladimir Quintero
Trombone: Domingo Pagliuca
Backing Vocals: Javier González (track 08)
Production Credits:
Produced by Gustavo Aguado & Juan Carlos Salas
Musical Direction: Juan Carlos Salas
Executive Production: Samuel Quiros
Recorded by Juan Carlos Salas
Recording Assistant: Guillermo Govea
Recorded at Guaco Estudios (Caracas)
Mixed by Joe Smith & Eric Schilling
Mixing Assistant: Matthew T. Ryan
Remix by Cesar Sogbe
Mixed at Transcontinental Studios (Orlando, FL)
Mastered by Mike Fuller at Fuller Sound (Miami, FL)
Graphic Design: Virtual Imaging Systems
Cover Artwork: Carlos Cruz Diez
Equilibrio finds the band trying to split the difference between commercial success and high-falutin arrangements and it actually goes down pretty smoothly, Although by now Jorge Luis Chacín was not contributing as many self-penned songs to the band. He was spreading himself pretty thin at the time, really. He was a hot-shot songwriter for hire and he was coming off monster success co-writing some songs for Ricardo Montaner. He would leave the band after this album in order to concentrate on his songwriting career and relocate to Miami.
Mami's Boogaloo finds Luis Fernando doing his best Mayito impression and features one of my favorite coros ever, the one that goes: "gimme the pillow and the feet". Supremely weird, supremely inspired. Señor Weiss is a song I was always scared of as a child. I couldn't comprehend what the lyrics were on about, plus Jorge Luis goes into this strange stream-of-consciousness speech right at the end. Keeps the weirdness going, I guess.
Como Camina is a drop-dead-when-you-hear-it hardcore timba track written by Barrio Obrero's leader Alejandro "Nano" Silva. It features Arrieta in very fine form. It got played a bit through the years 2000 and 2001. Bailaora was the set opener for a while, but unlike the record, it was sung by Luis Fernando. Around this time Gustavo was having health issues, so he would miss plenty of shows. It also got covered by Spain's La Barberia del Sur. Like Arjona, it seems they used Guaco's backing tracks and added stuff on top.
Solo Con Sus Recuerdos starts the unwelcome trend of conceding ground to the techno-vallenato fervor that was overtaking Maracaibo by storm at the time. What is this techno-vallenato I'm referring to, you might wonder? Well, imagine Carlos Vives mixed with well, Guaco and all the songs are either crass joke or saccharine love songs. It totally shook things up. Anyway, this one here, it's the unofficial sequel to Ahora No from Triceratops. I don't really care for it, really, except the last minute of it, when I wish another coro would enter and prolong the song for 5 more minutes.
I Want To See Me In Your Eyes is a criminally underrated song. I've never seen anybody mention it, either in praise or disgust, except Luis Fernando reveleaed recently on his instagram feed that t was a favorite of his too. Check the clave license from the verse to the coro too, plus a sly Nube Pasajera quote. Una Estrella Como Tú has beautiful verses backed by an udu drum, but then it gets going funstyle. By now, the drummer was starting to distance himself from his patented drum groove and was approaching things more with a rock outlook, banging on the snare on 2 and 4 regarless of clave orientation and you can hear it on this one.
The big daddy single from the album wasn't a dance track, but rather the soft, fretless-assisted ballad called Si Mis Paredes Hablaran. It was a sign of things to come. Guaco undoubtedly appreciated the response and would subtly (at first) start to tilt its arranging style towards to Venezuelan pop market. In some ways I hate this song, because it's the beggining of the end, but as far as Guaco's ballads can go, this is probably their best.
There's another salsa remake here, but this time results are uninspired. They went for an Asernio classic, Fuego en el 23, and I don't think it holds a candle to their other salsa brava covers. The lone turkey from the album. Equilibrio is a very interesing cha-cha-chá, bossa nova fusion, written by Neguito Borjas. I really love it. Musicians get a chance to show off their chops (a running theme on the album). Arrieta is a excellent from yet again on this one, a nice way to send fans off.
I don't have a complaint against Equilibrio. Maybe what it's missing was a sense of drive. It does seem they were treading water here, with a somewhat worrying lack of risk-taking, yet every time I listen to the record I forget about such things. I do think the album could've used an extra song. And you can find it on Huascar Barradas's Candela album, released in 2001. It was the last song Chacín wrote while being a Guaco member and it features Borjas, Chacín and Arrieta trading vocals. Add it to your playlist, see how it plays!
2002 - Galopando - Latin World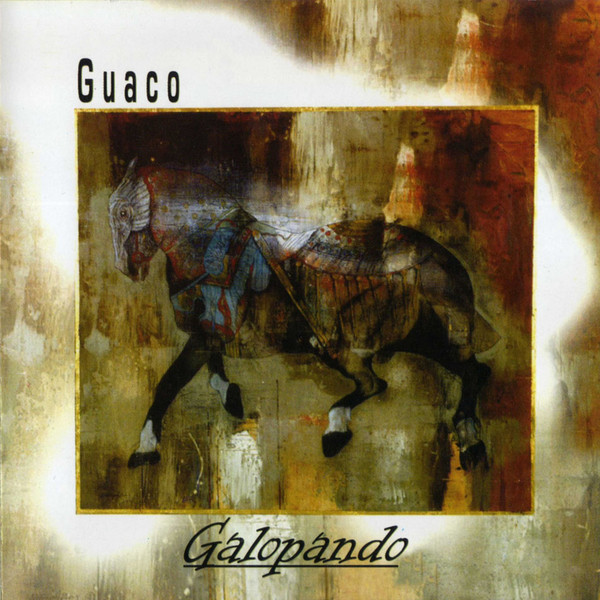 01- El Buzo (Alejandro Silva) 4:26
02- Ella Es Esa Estrella (Julio Fowler) 4:20
03- Te Lo Dire Al Oido (Luis Javier Márquez) 4:45
04- Por Ti y Por Mi (Luis Javier Márquez) 4:35
05- Pa' Colombia (José Alfonso Quiñones) 4:03
06- Dulce y Bonito (José Alfonso Quiñones) 3:55
07- Dale Mambo (Julio Fowler) 3:41
08- Para Volar (Luis Javier Márquez) 3:21
09- Ahora Si (Fernando Valladares) 4:56
10- Tumbalo (Julio Fowler) 3:53
11- La Reina (Armando Molero) 2:06
Personnel:
Vocals: Gustavo Aguado (tracks 01, 05), Nelson Arrieta (tracks 02, 04, 09), Luis Fernando Borjas (tracks 03, 06, 08, 10)
Bass: Morritz Beroes
Piano & Keyboards: César Orozco
Guitar: Carmelo Medina
1st Trumpet: Germán Quintero
Trumpet: Juan Carlos Salas
Sax: Julio Flores
Trombone: Norman Cepeda
Tambora & Percussion: Yonis Flores
Charrasca & Percussion: Alexis Moreno
Timbales & Percussion: Julio Rivera
Congas & Percussion: Néstor Pérez
Bongo & Percussion: Francisco Lujan
Drums & Percussion: Fernando Valladares
Guest Musicians:
Trombone: José Rada (track 01)
Backing Vocals: Group Shesura (tracks 03, 05, 08)
Vocals: Julio Fowler (track 07)
Production Credits:
Produced by Gustavo Aguado
Musical Direction: Juan Carlos Salas
Executive Production: Samuel Quiros
Recorded by Juan Carlos Salas, Rafael Salas & Hermes Carreño
Recorded at Guaco Estudios (Caracas)
Mixed by Cesar Sogbe at South Beach Studios (Miami Beach, FL)
Graphic Design: ABI Gerencia Gráfica, C.A.
Cover Artwork: Alirio Palacios
Photos: Daniel Machado
All great things must come to an end. And like the saying goes: "don't be sad it ended, be glad it happened". It was clear that things weren't well in Guaco around the time of Galopando. The country had come to a standstill due to an oil strike and Guaco went from playing 6 shows per week to a grand total of zero. Plus the technovallenato craze wasn't dying anytime soon. Also an up and coming rag tag of misfits (put together by ex-Guaco keyboardist Agustin Espina) called Mermelada Bunch was stealing their mojo.
You know how Rolling Stones fans have a particular dislike for Goat's Head Soup, not because it's bad or whatever, but because it symbolizes the band's fall from grace. It marks a line in the sand, where everything before seemed effortless and beautiful, and everything after seems corrupt and decayed. I went through this journey with Guaco myself, and I couldn't believe my ears at how Guaco had delivered this mess of a record, when it came out.
On the line-up front: Mestas left and was replaced by Cuban-born Cesar Orozco. He was a young santiaguero who had already recorded piano with Sabrosura Viva, and he ended up in Venezuela in an exchange program with the youth national orchestra, playing violin. His father, a musicologist was a Venezuelan folklore fanatic and Cesar became one too. He ended up falling in love and remained in Venezuela for 15 years, eventually getting the double nationality. Also, Carmelo Medina arrived in the guitar spot, and hasn't left since. A true son of Gambale and other fusion guitarmen.
El Buzo, the album's lead-off single, probably wouldn't pass muster these days and it tells the tale of a creep who follows women around parties in order to snoop them (really!). It could be argued that the band is mocking such practices but that is never clear. Ella Es Esa Estrella is the first of the techno-pop songs and is the only one that is worthwhile. I could see it being a legit salsa track, had a proper arrangement been done.
Te Lo Diré Al Oído is probably the album's crown jewel: a labyrinthine arrangement that travels through many styles and moods yet remains perfectly accesible. Para Mi Y Por Ti does more of the same, with a crushing guitar solo. Pa Colombia is another wink at the colombian audience. Dulce Y Bonito is one of my personal favorites, maybe it's a bit too corny, but I think it really catches steam and is overall just a very sweet track. Then the album takes a deep nosedive.
Dale Mambo was written by cuban trouvadour Julio Fowler, just like Ella Es Esa Estrella, it seems Guaco took his backing tracks and just sang on top. Here's the problem: they are all heavily sequenced, pro-tooled-to-death techno-pop songs that don't carry any of Guaco's signature DNA. I have a pet theory something must have gone terribly wrong in the middle of recording the album and the techno pop tracks were an attempt to salvage the sessions.
Para Volar is a soul-crushing ballad, with little of interest. Clearly Guaco were trying to repeat their success with Equilibrio's Si Mis Paredes Hablaran, but that was just a way better song, with detail and nuance. This one is trying to play for the bleachers.
Ahora Si is the last song the drummer wrote for Guaco and is a fitting goodbye, with very interesting displaced and rumba-influenced drum beats, plus a genuinely intriguing breakdown section spearheaded by bass tapping (it sounds like a Chapman stick at times!). The album ends with a metal version of a traditional tune: La Reina.
It's a record that's extremely confused. It really doesn't know what it wants to be. On one hand you've got great timba tracks that carry the style over from Equilibrio, but then you've got very misguided techno-pop tracks that have no business sharing space with the best tunes of the album, then you've also got some vallenato styled songs that try to make headways into the Colombian market and just to close things out a metal song right at the end. It doesn't cohere in an album, the production value is all over the place and it clearly marked a band in a moment of crisis of identity.
It would all coalesce further up in the year: the drummer left after an European summer tour, because he felt he'd done everything he could inside of Guaco's structure. Then in early 2003, some members of the band traveled to Miami to play some shows in order to make some quick cash. Either they promoted the shows using Guaco's name (a big no-no) or they were just plainly unauthorized. When word got back to Gustavo, he fired them all on the spot and the free agents decided to remain in Miami. These days, the band blames the incident on their former manager, it seems it was just a matter of miscommunication. What a sad end to a truly epic run.
Tuesday, 13 July 2021, 05:32 PM