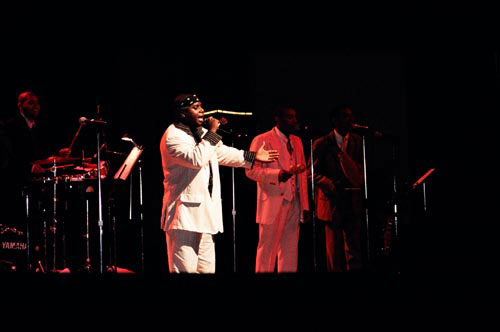 photo by Cristian Muñoz
Tirso Duarte (1978-2023)
Tirso Duarte was a truly remarkable talent. He was one of the most creative and innovative pianists in Cuban music history and was the subject of at least 3 volumes of the upcoming Beyond Salsa Piano - The Cuban Timba Piano Revolution series. Duarte was also a great songwriter. One of his compositions, Charanguero mayor, was nominated among the top 5 in timba.com's reader poll for "Best Timba Song of All Time" with two others, Confianza and Riki Ricón, although making the list. His arranging talents also played a critical role in many songs written by others on two Charanga Habanera albums - Charanguero mayor and Chan Chan Charanga.
It's as a lead singer, however, that Tirso gained the greatest recognition. He was the strongest vocalist Charanga Habanera during his tenure with them and since leaving he was recruited by NG La Banda, The Afro Cuban All Stars, and most significantly, Pupy y Los Que Son Son.
He released 4 albums under his own name while in Cuba.
While Duarte had no musical weaknesses, his band-leading prowess fell well short of his previous employers, David Calzado, Pupy Pedroso, El Tosco and Juan d'Marcos. He was unable to keep a top-tier performing band together long enough to achieve the success that his talent warranted.
In 2011 Tirso relocated to Cali, Colombia and continued his solo career. He had a succeful career in Colombia, releasing numerous singles and two albums "Lucharé" (2012) and "Te Quiero y Más" (2016) Sadly he died before the promise of his potential was fully realized. He died on September 29, 2023 after being brutally attackked and beaten following a concert in Tumaco, Colombia. He will be remembered for his unique personality and for his important contributions to Cuban music as a singer-songwriter and pianist.
Kevin Moore - Friday, 06 October 2023, 06:18 AM