New Stuff
[hide]
Photos of the Day
[hide]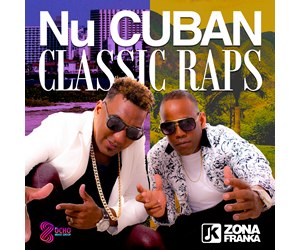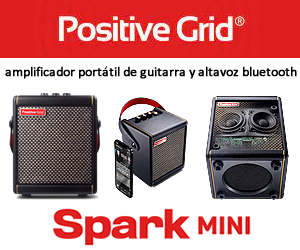 Lise Gilly on Jazz Plaza 2014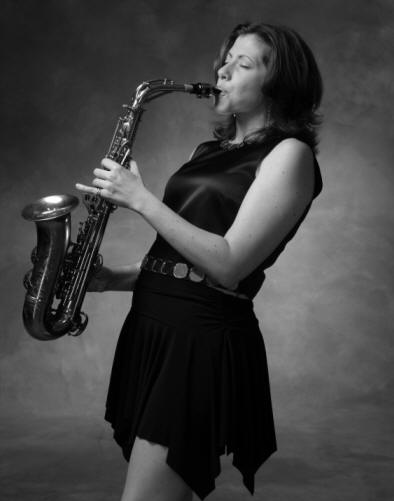 LISE GILLY'S IMPRESSIONS OF JAZZ PLAZA
LA HABANA, CUBA 2014

In December 2014, Chicago-area flautist/saxophonist and bandleader Lise Gilly went to Cuba for Jazz Plaza with a group of musicians traveling with flautist Andrea Brachfeld. The following are excerpts from her impressions of her trip. You can lear more about Lise and her group, Grupo Cha Cha, at their website, Grupochacha.com

--Bill Tilford

(Photo from the Grupo Cha Cha website; all photos below supplied by Lise Gilly)
Impressions of Cuba and Havana Jazz Fest 2014 by Lise Gilly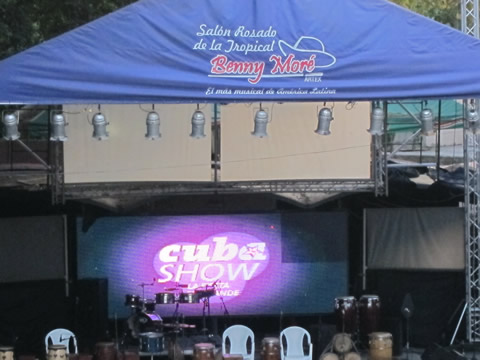 "Did you hear? Did you hear?!" our friend Susan said as she ran up to greet us as we got off the airport shuttle bus. None of us knew what she was talking about because it had taken from 6am to 1pm just to travel the 90 miles between Miami and Havana. "President Obama announced that the US would reopen diplomatic talks with Cuba!" she said. We all were in shock! We had planned this trip since September, going through a licensure company from New York to get all the appropriate visas and paperwork—and now as we landed in Havana on December 17th things just suddenly got easier!
There were 10 of us in this artistic study group led by legendary New York Jazz flutist Andrea Brachfeld. In case you're not familiar with Andrea's work: she was the first female flute player to break into the Latin scene in New York. Charanga '76 fans? Yep, that's her on all of those classic recordings including the smash hit, Soy. In all, four flutists (including yours truly), two percussionists, a trumpet player and three enthusiastic friends were about to have a life-changing experience.
The main purpose of our trip was to have a cultural exchange with the artists and students in Havana and to attend the Havana Jazz Fest to watch Andrea perform with a variety of Cuban acts. Opening night was fantastic as she performed with Cuban Jazz giant Bobby Carcasses at Teatro Mella in Havana.
Bobby Carcasses launched Cuba's first jazz festival with musicians Paquito D'Rivera and Chucho Valdes but unlike his fellow musicians Carcasses had remained in Cuba and taught young musicians, like the drummer Dafnis Prieto and saxophonist Yosvany Terry, both now residing in New York. Carcasses welcomed the audience before fronting a big band in a rendition of "BabaLu", with scat singing like Mel Torme. Did you know he plays piano, trumpet and percussion also? Most Cuban musicians we met played at least three instruments very well! Andrea arranged for us to have Bobby speak with us about his life and musical experiences. Later in the week we went with him to rehearsal at the Havana High School for the Arts . Their amazing Jazz Band was preparing Bobby's charts for the Havana Jazz Fest performance. Highlights were his arrangement of Night in Tunisia and an original Afro Cuban Blues.
One of the last groups of the night was the Roberto Fonseca Trio (piano, bass and drums) although no one knew this at the time because the programs were wrong—but we found out eventually who these talented men were and we can assure you they are montuno masters in 4/4 time and 7/4 time! Very original soloing and beautiful tones out of all of their instruments.
Opening night was definitely a star studded line up of internationally known artists along with up and coming Cuban Jazz groups. The problem was that the programs we received the day before the Jazz Fest ultimately were changed three times before the Fest actually started. So when we showed up at any given venue—sometimes we were watching a different group than we expected and sometimes we couldn't find out who they were. We were so happy to go see our compatriots play at the Casa de Cultura---who would have known that 60 Minutes was flying down the next day to interview you and the school board policy? LOL!
For me as a sax doubler, another big highlight was the Magic Sax Quartet from the Southeastern Cuban coastal city of Matanzas. They performed two stellar arrangements by heart and even added dance steps! Their music is reminiscent of French Classical saxophone composer Eugene Bozza mixed with Ragtime and Latin Jazz. The arrangements were very complex with the four parts nimbly jumping around and the melody being tastefully juxtaposed between all four sax voices. Their tone encompassed a full palette of color. Later on in the week, we would see them again perform an hour and a half set fully memorized at the famous Hotel Nacional. Truly amazing!
One night the festival venue Teatro Mella featured the Arturo O'Farrill Afro-Latin Jazz Orchestra, with guest pianist Michelle Rosewoman, and Arturo's son Adam on trumpet. Arturo's arrangement of "Afro-Cuban Jazz Suite" was an upbeat, hard swinging melody. He also featured the dance troupe Compania MalPaso, an artistic, high-stepping modern ensemble. Arturo and the orchestra were also busy recording a new CD across town. It was nice to see one of my old school mates from University of Miami, John Bailey, on lead trumpet.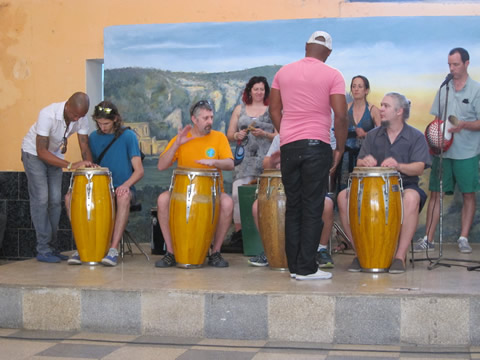 Masterclass with Los Munequitos de Matanzas

We traveled two hours to Matanzas the next day to study music and dance with the world renowned folkloric group, Los Munequitos de Matanzas. Their language is folkloric Rumba, not the Rumba that eventually became Salsa, but one coming straight from their ancestors in West Africa. Andrea had arranged a beautiful Masterclass with this very special group. We each were invited on stage to learn an instrument and the appropriate rhythmic pattern. I felt so honored to play clave then solo on flute with them! We were all treated to a dance performance then a dance lesson. If you want to know where James Brown got his footwork—look no further than folkloric African dance! During my dance lesson, I kept thinking how similar some of the African steps were similar to basic Salsa steps. The last stage of the class was that all four of us flutists got up and jammed with them. At the end, Dios Dada came up to Andrea and exclaimed, "We have to play with you flute players again!". We were all riding on a serious musical high!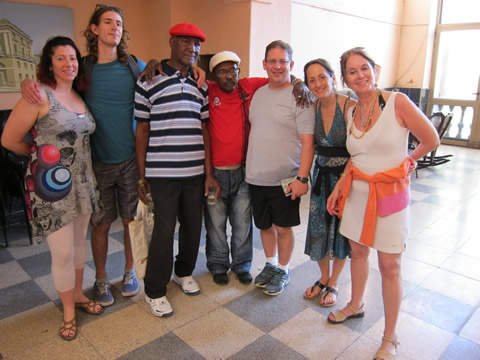 After the Masterclass
The next few days visiting the various Havana Jazz Fest sites were filled with sunshine, riding in vintage 1950's American cars as taxis, enjoying local fare such as Ropa Vieja (pulled beef in red sauce) and Congri(rice and black beans with spices) all the while hearing some of the most talented, interactive, creative and emotional performances I've ever experienced. Many of the Havana Jazz Fest groups were spread out around town at venues like Pabellon Cuba, Casa de Cultura and Teatro Tropical. There was a trio we saw at Pabellon Cuba that had no listing in the festival program nor any on stage that killed free form Jazz similar to the Miles Davis group of 1971. We all really wished we knew who they were and we had to get back to the hotel so we couldn't stay afterwards to ask. They were so tight and took the standards so out that no one knew what they were until the head came back in. It seemed like a local group because after a set many different musicians started sitting in including a BeBop oboe player!
Another highlight was of course to see our Chicago friends Orbert Davis and his quartet play at Casa de Cultura. We were laughing that we have such a hard time getting our schedules together in Chicago but here we are in Havana getting to hang out! It was great to see my good friends Leandro Varady, Steve Eisen and Ernie Adams! They sounded great although they didn't go on until 1am! An all female vocal quartet reminiscent of the 90's group En Vogue singing with tracks and a rapper opened up for them.
Did you all see the 60 Minutes episode from December 21st when Scott Pelley came down to Havana after President Obama's declaration? Orbert Davis and Mark Ingram made it on TV! They were working with the University of Havana students while my group was working with the Havana High School for the Arts students! Congrats guys!
We were also entertained by so many local musicians in bars and restaurants----mostly women! Two guitars and vocals with percussion were very popular. The best all woman band we saw was by far Grupo Canela performing at the Club Prive. There are at least 15 women on stage that have the tightest rhythms and song interpretations I've heard in a long while! There's no disputing Cuban time in music—count it off and they will deliver big time! Andrea was their guest soloist---wondrous things were happening that night!
Another one of our highlights was visiting the Havana High School for the Arts and the Amadeo Roldan High School Music Conservatory. I was of course very excited to hear them play and take some videos to show to my students back at my school, Lincoln Park High School in Chicago. The students were so cute dressed in the latest fashions with colorful baseball caps. Many of the girls wore high heeled wedge boots and pumps. We arrived on the last day of school before the Winter Holiday and got front row seating for Amadeo Roldan's Friday assembly. The lineup was a trio of opera singers, the Jazz combo, the Salsa combo, and the Charanga orchestra. I was blown away at their level of musicianship! Everyone was between the ages of 16-18 and they were fantastic! It did break my heart to see the cellists holding up their instruments with their legs since they had no endpins to use! The instruments were all older models, the piano was a little out of tune----but the message they were sending was very clear!
One of the Havana Jazz Fest venues was called Teatro Tropical. It was about a 20 minute vintage cab ride outside of Havana Vieja. When we arrived, we realized it was really called Teatro Beny More—well wow! Who wouldn't want to go there? The featured group that night was Yoruba Andabo, a very popular Cuban band that was scheduled for 5pm. Little by little the crowd filled in, bottles of Havana Club appeared at many tables. The opening band started at 6pm and the crowd acted as if nothing was on stage. The band was singing, dancing and chanting folkloric music and they still weren't moving the crowd. Everyone kept talking and ordering more drinks. As soon as Yoruba Andabo came on at 8pm-- the crowd exploded! Yoruba Andabo as you may know is a folkloric music group similar to Los Munequitos de Matanzas. They are a huge band of many singers, percussionists and dancers. Their chants are spiritual/sacred as well being touching secular topics. Everyone knew the songs and everyone was dancing! Both the opening band and Yoruba Andabo were big bands of at least 10 musicians and 6 dancers. Was the response so strong because we all had waited so long or that this band is so immensely popular in Cuba? I personally, had never been to an arena this large where everyone was dancing! It was terrific! People in the "VIP" area where we were in the balcony were extremely friendly and wanted to dance with all of us—which eventually happened.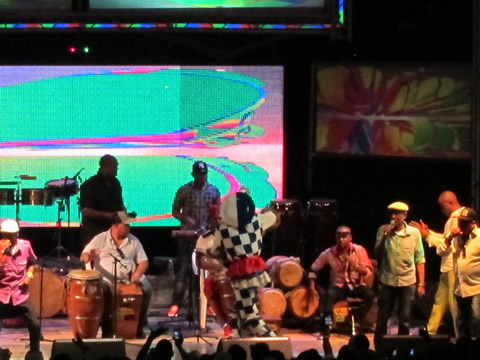 Yoruba Andabo

After a few numbers, Yoruba Andabo had Orisha characters come out on stage to dance and the singers improvised lyrics about Obama liberating the Cuban people. The crowd moved as one huge wave synchronized with the pulse of the band. It was definitely the biggest party we had been to! The next day our host at the bed and breakfast, Isaac, made it a point to ask us how the Yoruba Andabo concert went. He said that this group is his favorite and that they are very popular in Cuba. The huge crowd we saw the night before definitely was proof!
Saturday, 28 February 2015, 02:58 PM