Timba in Washington D.C., Maryland, Virginia
Timba Street - DC's Hottest New Timba Band set to perform in Washington, DC.
November 21, 2011 - The Washington, D.C. metropolitan area Cuban community will be out in force to watch Timba Street's first performance ever at the Kennedy Center's Millenium Stage on Monday, November 21st at 6:00pm. If you get there by 5:00pm, you will catch a rueda class by DC. Casineros.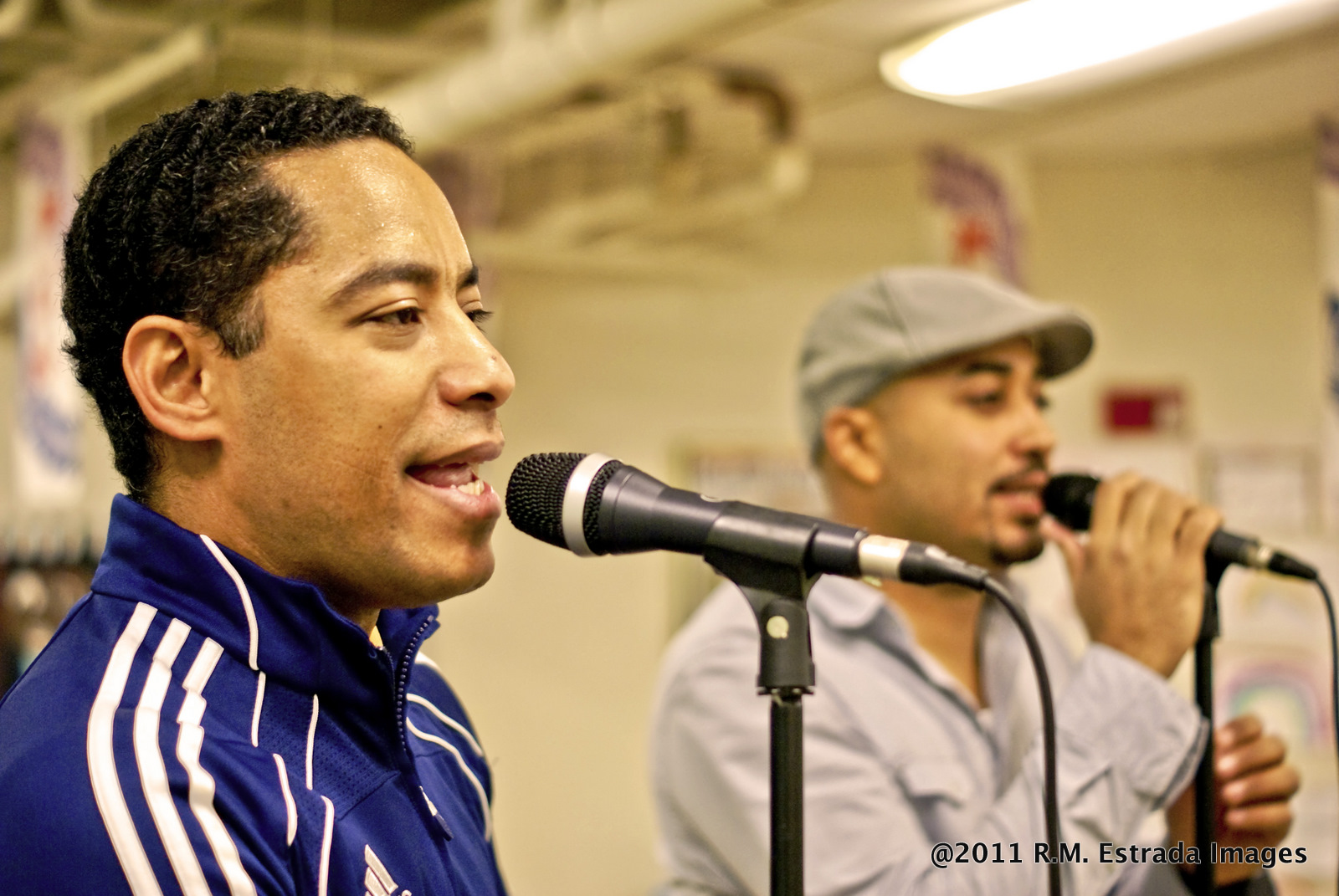 DC's newest and hottest Cuban salsa band, Timba Street, not only takes it's name after they style of music they play, but is also derived from a gift received by musical director and vocalist, Aramis Pazos-Barrera. Formerly the founder and vocalist for Orquesta Ashé, Pazos, after taking a much needed year-long break from performing, needed a sign, literally, to give him renewed inspiration and creative energy. After receiving his sign, a gift from a friend with a sign that read, Timba Street, and with much support and enthusiasm from his friend and drummer Paul de Castro, the new band Timba Street was formed.

The newly assemmbled band features a whole new lineup of professional musicians who have been working hard since March of this year to bring us a little Bamboleo, Maraca and Pupy right here in Washington, D.C. This is the only 13-piece big band sound you will hear anywhere in the D.C. area.
Last week I had an opportunity to sit down with Aramis Pazos and his band members to talk about Timba Street while they practiced late into Sunday night at Joe's Emporium. With all of his members holding full-time jobs, Aramis explains how much of a sacrifice it is for them, and understandbly, to give up so much of their personal time to practice and perform with the group. He beamed as he emphasized how committed they all were to to the band and most importantly to perfecting the Timba sound.
Not surprisingly, many of his band members have never played Timba before. Pazos explains, "most salsa musicians are scared of timba.... but not these guys," referring to his band members who spent their childhoods and adult lives honing jazz standards under intensive professional music training.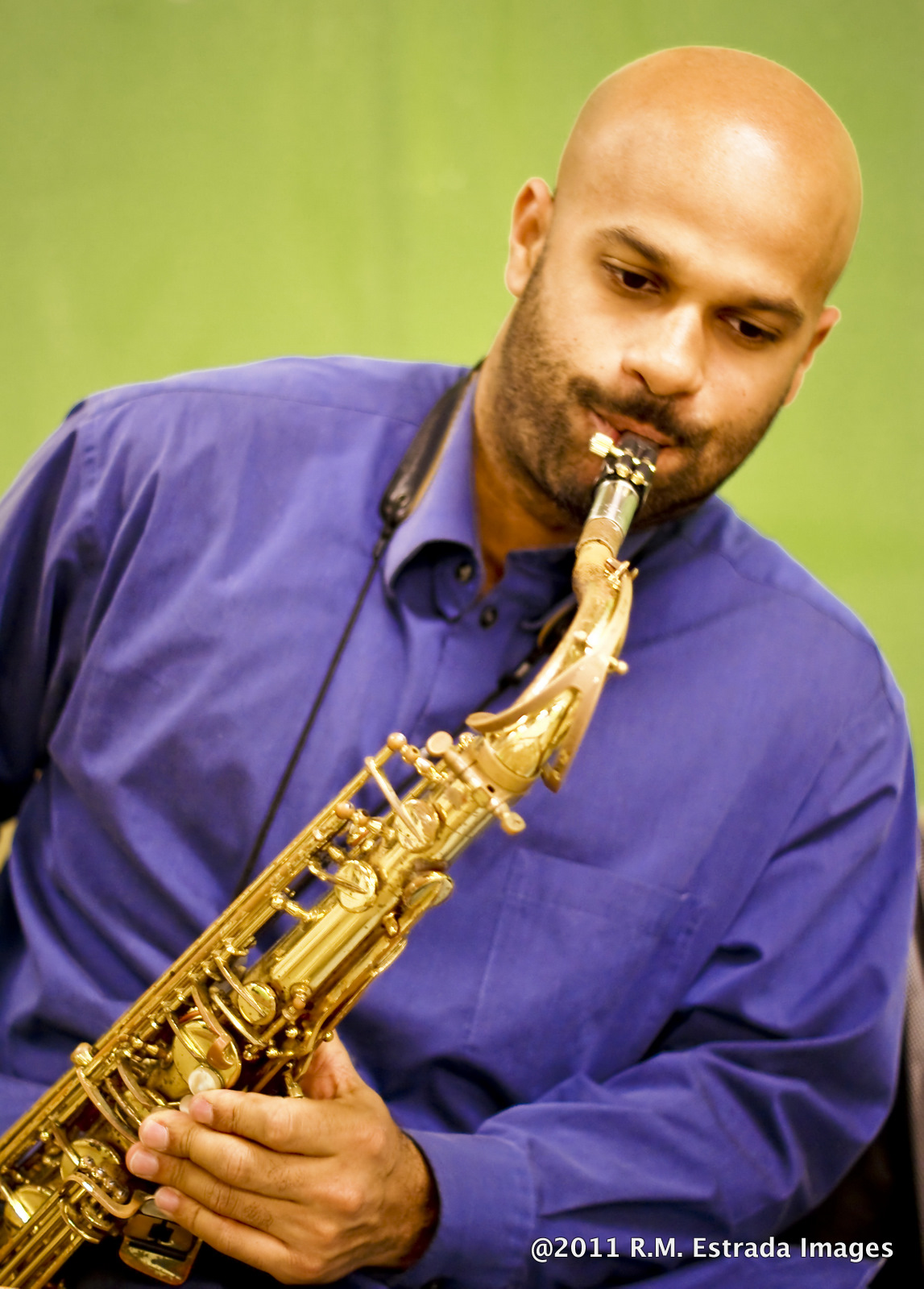 Josh Carr, the band's tenor sax player and full-time music instructor for the DC public schools Fillmore Arts Center, explains, "there are intricacies and nuances that I'm still learning. You have to be aggressive, and you have to be on time." Carr warms up with fellow band members by spontaneously breaking out into a jazz standard, improvising and jamming with Daniel Hones, bass player, Paul de Castro, drummer and timbalero, and Michael Montaniez, on congas.
If you miss today's Kennedy Center performance, you will have another opportunity to watch Timba Street perform at The Salsa Room, in Arlington, Virginia, on Sunday, December 11. Click on the DC Offical Cuban Meetup link below for more information or stay tuned for the next Timba en la Capital report!
http://www.meetup.com/DC-Cubans/events/41721132/
Timba Street Band members
| Musician | Instrument - Role |
| --- | --- |
| Aramis Pazos-Barrera | Director and Vocals |
| Vanessa Díaz | Vocals |
| Drako Díaz | Vocals |
| Shannaon Gunn | Trombone |
| Mike Matarazzzo | Trombone |
| Leo Maxey | Trumpet |
| Alvin Trask | Trumpet |
| Josh Carr | Tenor Sax |
| Paul de Castro | Drums |
| Benito López | Bongos |
| Micheal Montañez | Congas |
| Daniel Hones | Bass |
| Jorge Luis Martínez | Piano |
---

Orlando "Maraca" Valle

Electrifies Washington D.C. - July 25, 2011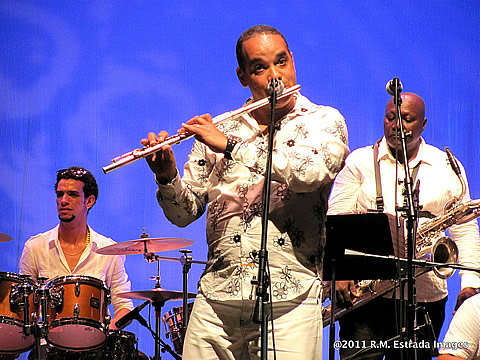 ---
Maraca ended the first leg of his U.S. tour to promote his unreleased CD/DVD set with an enthusiastic performance at the Kennedy Center's Millenium Stage on July 25, 2011 in Washington, D.C. They opened the performance with a faster-paced version of Castigala, and got the audience dancing in their seats with a longer reggaeton section and a bit of "Dale Don Dale".
Maraca's 2011 return to DC was marked by a whole new lineup of musicians that excited DC audiences as much as his 2008 Maraca and the New Collective. The Kennedy Center's Millenium Stage welcomed and hosted Maraca's Salsa & Latin jazz Band members: Andy Rubal (23-year old pianist), Yosmel Montejo (bass), Ivan Yanes (drums). Rafael Valiente (congas), El Nene (Vocalist), Andres perez (baritone saxaphone), Ariel Perez ( trombon), Josiel Perez Y Eduardo Martinez (trumpet).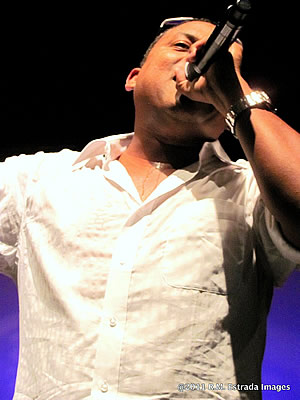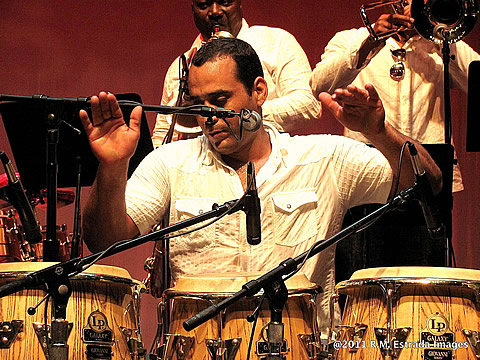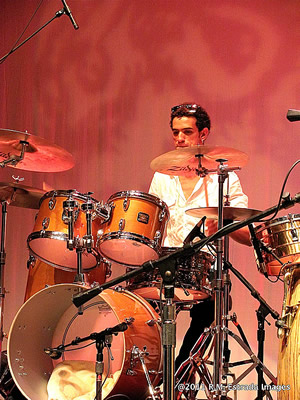 Most timba songs were followed by some beautiful jazz standards. Maraca also treated his audience to a sneak preview of Danzón Siglo XXI, a danzón from his yet unreleased CD/DVD Reeuncuentros. Recorded live in El Gran Teatro de la Habana, it was selected by Downbeat Magazine as song of the month (for August). His mastery of the flute brought out the beauty of the danzón with amazing respect for this cuban genre of music.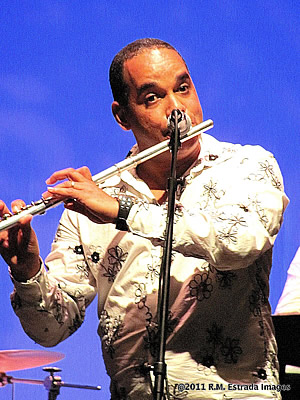 It's really amazing how american audiences can easily recognize forms of Cuban music other than salsa cubana and timba. As I whispered under my breath, "you really dont hear any professional musicians play danzones anymore," an older African-American lady turned around in agreement and said, "you know that's right!" I smiled and knew that this audience was just loving Maraca!
Dancing in the aisles at the Kennedey Center is somewhat frowned upon, but Capital timberos rushed the stage with Preguntale a Mi Mujer and entertained Maraca as much as he entertained his audience! Maraca closed the show with enough energy that the audience threw down with guaguanco, an impromptu conga line, and lots of meneo. The best part about the show was that it started promptly at 6:00pm and it was free. Although many of us in the audience would have gladly paid to see him even for the one hour that he played. For those of us who live in Washington, D.C., we are always anxiously awaiting the next timba musician arrival. Maraca's one hour performance left us hungry and wanting for more.
The Official DC Cubans Meetup Group was on hand to greet Maraca after the show and talk to a few of his musicians. Watch the official Kennedy Center recording of the show by clicking here. Maraca is currently in L.A. working on a final lineup of concerts around the U.S.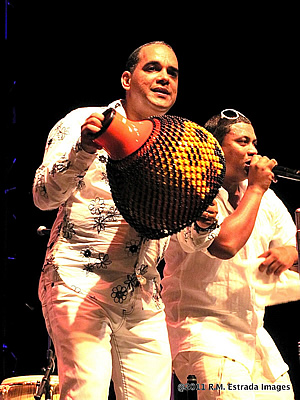 Saturday, May 29 2010 - Manolito Rocked The House !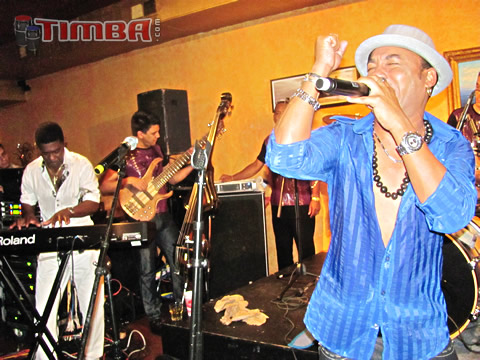 Yes! Literally. On May 29th, Manolito's 16-piece band played their hearts out to an enthusiastic crowd of crazed fans at a small restaurant and club in Arlington, VA. Their only show in the Washington, D.C. area, Manolito y Su Trabuco brought the house down with sound equipment that would blow the socks off timberos even in Madison Square Garden. As a last minute addition to their U.S. tour, Washington, D.C.'s typical popular and larger music venues were already booked. The fans arrived early and the crowd waiting anxiously for Manolito to play that night, and when he did, everyone sang every song in unison. Between the crowd, the unbearable heat outside and the band's musical energy, everyone was drenched in their own sweat, including vocalist ÁZARO ALEJANDRO DÍAZ CASANOVA who peeled his shirt off! The caliber of technical precision is not something we have an opportunity to see and hear everyday here in the Washington, D.C. area. Manolito fans, many of them Cubans who live in the D.C. area brought Cuban flags, broke out the Cuban Salsa moves and sang along to Manolito's most popular songs.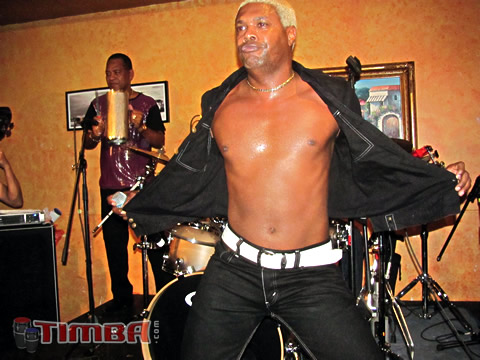 lunes, 03 diciembre 2012, 04:41 am